The Bridge, BBC Four |

reviews, news & interviews
The Bridge, BBC Four
The Bridge, BBC Four
Latest Scandinavian import offers grotesque killings and a startlingly weird heroine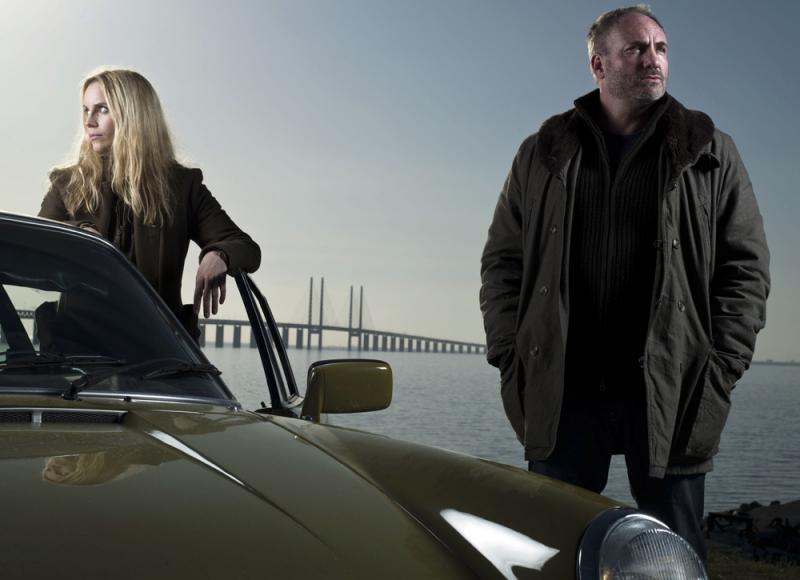 Can Saga Noren (Sofia Helin) and Martin Rohde (Kim Bodnia) bridge the gap in their approach to policing?
"Does he know she's a bit odd?" asks one of Saga Noren's Swedish police colleagues, on hearing that Danish copper Martin Rohde (Kim Bodnia) is working with Noren on a new murder case. Well, he's begininning to get the idea. He's seen her forbid an ambulance to cross her crime scene perimeter, even though it was carrying a new heart for a critically ill patient.
She drags Rohde out of bed in the middle of the night to track down a piece of evidence, then when he delivers it to her at police HQ she barely says thanks and shuts the door in his face. Apparently she never eats meals.
With her long blonde hair, model-like bone structure, tight leather trousers and classic Porsche, Noren (played by Sofia Helin) outwardly resembles a caricature of a Nordic babe, but Helin's research for the role found her swotting up on Asperger's syndrome, which is apparently what makes Noren that little bit different. "Saga does not really know she has Asperger's," said the actress, "and she is very intelligent so she can cover it up." But she can't hide that fact that she's so deep frozen that she could have sunk the Titanic if she'd been floating off Halifax, Nova Scotia on the relevant night. Woks and vacuum cleaners have more highly developed conversational skills, and she seemingly has no idea that other people have families. "You got children?" Rohde asks her. She stares at him and says: "No. Why would I want to?"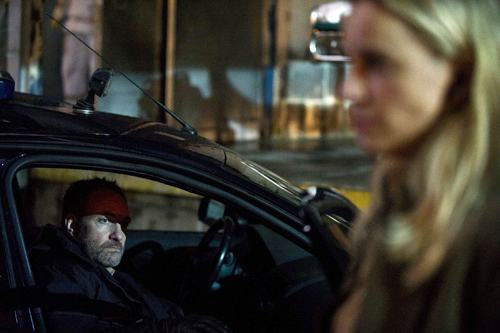 Rohde, by contrast, is a big, bear-like slob, and has so many children (five) that's he's just had a vasectomy, which is giving him a bit of gyp. He finds himself dragged into this odd-couple relationship with the alarming Noren when the body of a woman is found on the Öresund bridge, which links Denmark and Sweden (The Bridge is a Danish-Swedish co-production, as is the investigation itself). Actually, to the surprise of the police, the corpse turns out to be parts of two bodies pushed together. The top half was Kerstin Ekwall, chairman of Malmö city council, while the legs belonged to junkie and prostitute Monique Brammer.
Clearly we've embarked on a long, dark and labyrinthine trail of the sort which will be familiar to fans of The Killing, and this opening pair of episodes merely began to lay out some of the component parts of what looks like being an enormous grid, spanning several strata of Scandinavian society across many years. The killer has been laying his macabre plans with infinite patience, since a recorded message from him turned out to have been made three and a half years earlier, while he kept Brammer's body in a cold storage facility (raided by the cops, pictured below) for over a year.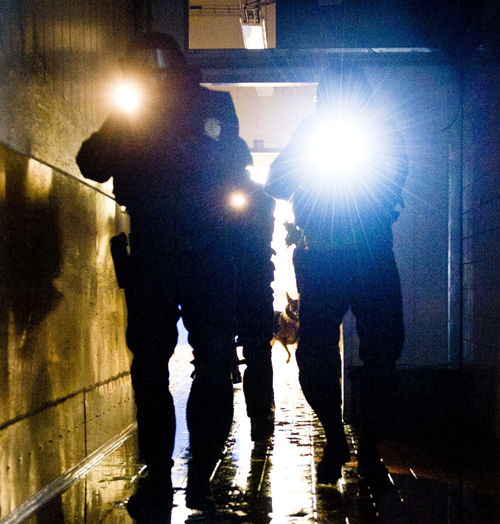 Part of his scheme - revealed by dropping ominous clues, not unlike the perp in David Fincher's Seven - involves wreaking a terrible vengeance on homeless people, achieved by dropping off cases of poisoned wine in locales frequented by the indigent. Somehow, this is linked to the story of Veronika (Tuvalisa Rangström) and Stefan Lindberg (Magnus Krepper). Lindberg, whose hair, suit and moustache have been incongruously marooned in the 1970s, has some sort of supervisory role in social services (I think), and has rehoused Veronika and her kids on the condition that she abandons her abusive husband. Plenty more back story to come on this, as is there on the subplot of Stefan and his long-lost junkie sister, Sonja.
Meanwhile, the killer has adopted the bumptious journalist Daniel Ferbé as his conduit to the outside world, and has given him a stark lesson in obedience by booby-trapping his car with a fake but horribly convincing bomb. This episode gave us a glimpse of another side of Saga, as she unemotionally pumped Ferbé for information over the phone as he watched the bomb's timer ticking down to zero. She instructed the gibbering hack not to worry about the impending explosion because "the body won't have time to register pain."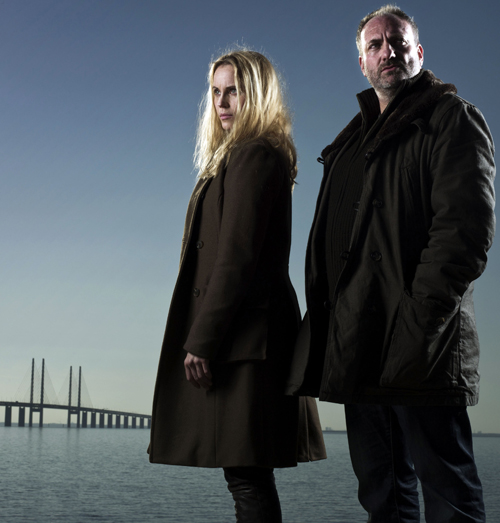 Yet though Saga is cold, she isn't frigid. In a show-stopping sequence, we saw her decide she wanted sex (we could tell because she shoved her hand down her trousers and started playing with herself), and then went to a bar to pick up a bloke. She eyed up her target, brushed aside his offer of a drink and inquired: "Do you want to have sex at my place?" Having carried this out, she rolled over and went to sleep. Then she woke up and began studying lurid crime scene photos, which her hapless escort took as a signal that it was time to leave. "Thanks," she called after him, as if he'd just delivered a pizza.
How well The Bridge is going to work may depend on how much of Saga's strangeness we can cope with before it turns into a set of annoying mannerisms. It's unfortunate that her arrival coincides with the bipolar Carrie Mathison in Homeland, who I'd say has a clear edge over Ms Noren so far. The Bridge also presents symptoms of being addicted to freakish twists and gratuitously grotesque deaths, though these are emerging as defining Nordic traits. Worrying, really.