Monroe, Series Finale, ITV1/ Rubicon, BBC Four |

reviews, news & interviews
Monroe, Series Finale, ITV1/ Rubicon, BBC Four
Monroe, Series Finale, ITV1/ Rubicon, BBC Four
Medical angst, surgical trauma and a vast conspiracy theory
So Monroe reached the end of series one, and I still couldn't read what its tone was supposed to be. Some artsdesk readers have expressed enthusiasm for the theme tune, but I find its jogging Celtic jauntiness symptomatic of Monroe's wider problems. Obviously you can't expect too much from a bit of title music,  but surely it should give you a clue as to whether the show is a hard-hitting drama about life and death or a sitcom?
Quips and badinage abound when Monroe (James Nesbitt) and his team are in action, and staff and patients alike are lucky to survive the barrage of one-liners flying around the hospital like molten shrapnel. For instance, Dr Springer wakes the sleeping Monroe and tells him there's an emergency. "Does the patient in any way resemble Debbie Harry?" shoots back the ever-sharp Monroe.
When the trainee Dr Wilson protests that Monroe has been picking on the socially inept Springer, his instant riposte is: "Of course I pick on him, he's Springer!" When Monroe's estranged wife pays him a visit, he's startled to hear she's been having therapy. "Don't you think I'm a living, breathing picture of mental health?" she asks. "I was wondering how mad you'd be if you hadn't had therapy!" retorts Monroe hilariously. I was reminded of Groucho Marx, taking a patient's pulse and concluding that, "Either this man is dead or my watch has stopped."
Perhaps the idea is that all this deadpannery is a necessary counterbalance to the emotional stresses of neurosurgery. This week, Monroe was faced with a severely brain-damaged 13-year-old girl whose father was desperate for the surgeon to go the extra mile to try to save her, even though the medics knew it was hopeless. It rekindled Monroe's memories of his own dead daughter, and triggered a bout of emotional trauma that looks very like a set-up for a reconciliation with his wife Anna (Susan Lynch) in a putative series two. But that's the trouble - it feels like a calculated set-up, rather than an organic blend of character, action and motivation.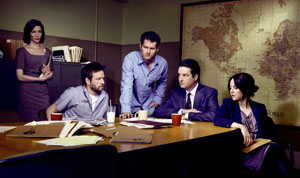 Rubicon, BBC Four's new buy-in from the American AMC network which brought us Mad Men, has decided that it's going to take us on a very slow burn across its 13 episodes. In fact its star, James Badge Dale (who played Private Leckie in The Pacific), has admitted as much. "We want to do something subtle," he said. "We're asking people to sit down and be taken on a ride, albeit not a very fast one" (Rubicon cast, pictured above).
Dale plays Will Travers, an analyst for a federal intelligence agency called the American Policy Institute (API). Solemn and introspective, Travers is still nursing the anguish of the death of his wife and daughter, and we get the idea that he's burying himself in his work as a way of dealing with it. When he finds an apparent pattern of clues in crosswords spread across several different newspapers, he brings it to the attention of his boss, David Hadas (Peter Gerety), who happens to be his father-in-law. Hadas seems strangely reticent about the potential significance of this discovery, but before we can learn much more he's abruptly wiped out in a train crash. It may not have been an accident. Before long, Travers is pretty sure he's being followed.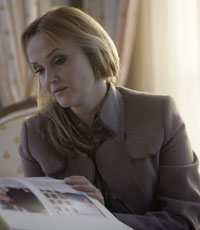 Rubicon's makers like to link it back to Seventies conspiracy thrillers like The Parallax View or All the President's Men, and it does evoke something of their alienation and paranoia. There are faintly abstract scenes where Travers gazes at the patterns formed by buildings and the sun reflecting dazzlingly off their windows, as though he's a rat trapped in a vastly elaborate cage. Tension is subtly raised by the way characters rub irritably against each other, expressing frustration at the way their secret work isolates them from friends and family. Amid a superior cast, it's nice to see Miranda Richardson (pictured left) playing Katherine Rhumor, whose billionaire husband has killed himself, leaving her a lavish Manhattan town house she never knew he possessed. In fact it's crammed with clues about a whole other secret life that he lived in it. Can't really tell what's going on yet, but it's going to be big and scary.
Watch the trailer for Rubicon