London Road, National Theatre |

reviews, news & interviews
London Road, National Theatre
London Road, National Theatre
Ipswich prostitute murders make extraordinary music theatre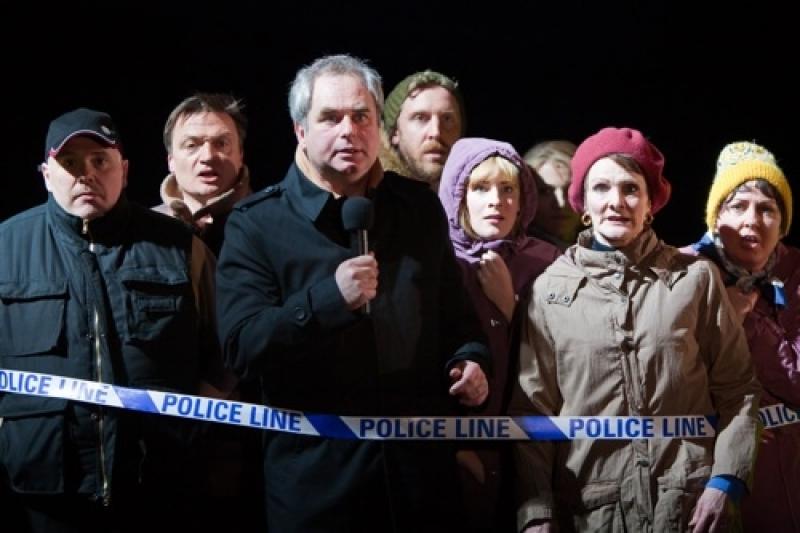 Suffolk in shock: The company of 'London Road'
The murders of five prostitutes in Ipswich: it's hard to imagine a less likely subject for a musical, not least because the memory of the crimes of forklift-truck driver Steve Wright, committed in late 2006, is still so horribly fresh. But there is nothing lurid about this exceptional piece of theatre, created by Alecky Blythe and composer Adam Cork, and directed with restraint, tenderness and potent simplicity by Rufus Norris. It's moving, fascinating and even funny.
And if it is also occasionally shocking, it's only because of its startling directness and honesty.
Blythe habitually uses a very specific technique to build her verbatim dramas: she interviews members of a community, tape-records the results and encourages the actors to deliver the words just as they hear them, every um, er, splutter, cough and chuckle included. Here, the addition of Cork's music takes the process one step further. Speech patterns, rhythms, the rise and fall of a vocal cadence – all are skilfully delineated in melody. The results are enthralling, and rivetingly authentic.
London Road is the street where Wright lived; it's also home to the work's core set of characters, among them anxious-to-please, cardigan-clad Julie (Kate Fleetwood), organiser of a gardening competition to brighten up the area and reclaim it from grisly notoriety. As she and the local residents begin to share their experiences at a Neighbourhood Watch meeting, bright blooms burst forth from the tea urn. It's an arrestingly affecting image, a flowering of optimism in the aftermath of tragedy. But through the recollections of Ipswich townspeople, of police and press, and of the working girls driven by fear off the streets they walked to feed their habits, the production leads us back through darker days.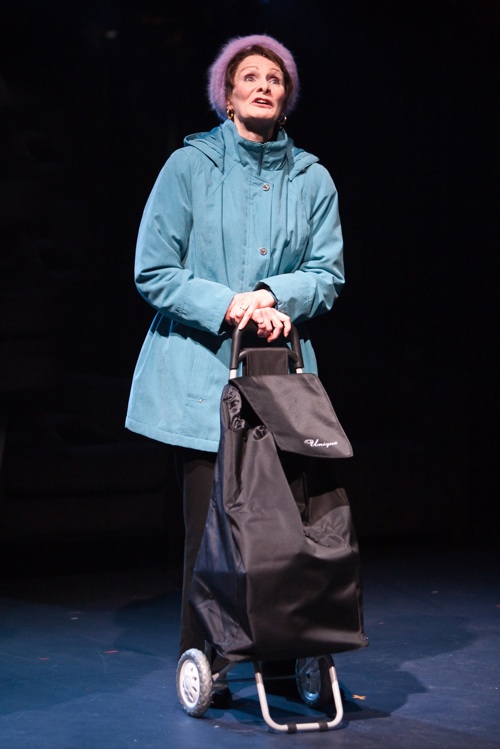 At times Cork's score has the obsessive, repetitive elegance of a Bach fugue; elsewhere it's jittery, jagged, and now and again it soars. Meanwhile Blythe's text reveals a kaleidoscope of scenes. We encounter Christmas shoppers, frenetically singing "Everyone is very, very nervous" to an incongruous background piped-music soundtrack of The Most Wonderful Time of the Year emanating from an illuminated plastic Santa. Teenage girls recoil from passing men – could he be the murderer? Or him? – though one admits with a kind of giddy hysteria, "It's exciting 'cause nothing ever happens in Ipswich." Blokes flinch under the prickling gaze of suspicion, or swap serial-killer theories in the pub. As the situation escalates, the London Road residents find their street full of uniforms and news crews, and in Javier de Frutos's nimble movement direction become trapped in a strangling cat's cradle of police tape. In their ordinary lounges, they watch the horrifying story unfold on their television screens, relayed by reporters standing outside their front doors.
There are testimonies of distress and disbelief. And there are shameful words too: casual bigotry ("We hoped it was an immigrant... a Polish bastard"), misogyny ("skanky little whore"), and, worst of all, a suggestion that Wright was doing Ipswich a favour by cleaning up its streets ("They made our lives hell – why should we feel sorry for them?... They're better off 10 feet under. I'd shake his hand"). Thankfully, though, there is also humour, as when a woman who, thinking there might be one or two police officers in front of her house, offers to make tea, and then goes out to discover, in a panic, that there are dozens of them; or the TV news reporter who despairs of being able to present his piece to camera, "because I can't use the word 'semen' at lunchtime".
Perhaps the most powerful moment of all is a silent one: when three prostitutes presage their response to the murders with a long, unbroken pause, filled with the unspoken knowledge that they could have been victims, that it's a risk they have routinely taken. Perhaps Blythe could have employed a stricter editorial hand; the piece feels slightly overlong. But it is a rich experience, intricately observed and quietly penetrating – and it adds a rewarding new dimension to the music-theatre form. Extraordinary.
At times Cork's score has the obsessive elegance of a Bach fugue; elsewhere it's jittery, jagged, and now and again it soars
rating
Explore topics
Share this article