Globe to Globe: Othello, Shakespeare's Globe |

reviews, news & interviews
Globe to Globe: Othello, Shakespeare's Globe
Globe to Globe: Othello, Shakespeare's Globe
Put up yo bright sword: hip-hop Moorish general tells of the anthropophagi in the language of da street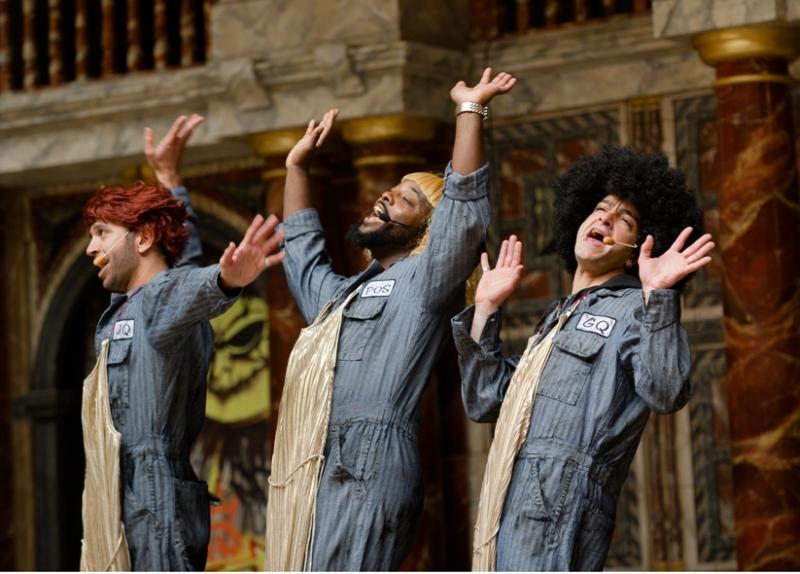 Chicago Shakespeare Theater turn Othello into a play about bromance gone sour
The masterstroke of this take on Othello was to draw its focus away from race. It might seem odd to say that of a production in the rhyming vernacular of hip hop in which the Moor was African-American and the rest of the cast were not – but it was deftly done, and as a result avoided any number of crass parallels that could have been drawn, instead focusing on the meat of the play: love and betrayal among men.
Acted and narrated, and occasionally sung and danced, by a cast of four men (plus DJ) taking all roles, the action was transplanted from the original's military campaign far from home to a hip hop tour, and Othello became a Jay-Z figure, a self-made megastar and businessman. Hip hop frequently refers to its participants as "soldiers", and this script perfectly drew out the parallels: particularly the loneliness of command for someone who's risen through the ranks.
The fluency of the company in hip hop itself was faultless
Othello's officer-class right-hand man Cassio became a cheesy but urbane pop-rap star, while his embittered adviser Iago was the (literally) battle-hardened rapper of greater skill but lesser charisma, furiously jealous of Cassio's success and place in Othello's affection. This recasting may all sound trite but, played out in the language of hip hop with many direct musical and lyrical allusions to the genre's conflicts and rivalries, it became immensely plausible.
Iago's dowdy wife Emilia and Cassio's intense groupie/lover Bianca were both played in crass drag, but even though painted in the broadest of strokes, strong characters emerged – and as in Shakespeare's text the frustration of women denied agency in a male-dominated structure was apparent. In one rare misfire, this was overly spelt out in a girl-power setpiece song-and-dance number, which though a crowd-pleaser felt like an unnecessary mea culpa for the treatment of women by men.
It was unnecessary because the structure of the production itself was all about the failings of male relationship structures. Desdemona, the core around which all the play's jealousy revolves, was never on stage, always spoken to or about as if high on a pedestal, a fantasy figure of all that is lacking in the male world. The tragedy lay in the fact that she was absent – the mechanisms that led to her death were all in the bromance-triangle between Othello, Cassio and Iago.
This update, devised by Q Brothers for Chicago Shakespeare Theater, was successful for many reasons. The fluency of the company in hip hop itself was faultless, with endless usage of its bawdiness and sometimes vicious incisiveness to echo Shakespeare's common touch, and the references to specific and general themes in its culture – including, touchingly, to the Beastie Boys – were done with real understanding of where these would be of value to the story. But most of all, the dissection of the macho culture through these brittle male relationships, done with love for that very culture still intact, proved that the archetypal power of the plot itself needed no updating at all.
Othello became a Jay-Z figure, a self-made megastar and businessman
Explore topics
Share this article