Lenny Henry: How I Came to Play Othello |

reviews, news & interviews
Lenny Henry: How I Came to Play Othello
Lenny Henry: How I Came to Play Othello
Comedian turns tragedian in the West End
Thursday, 17 September 2009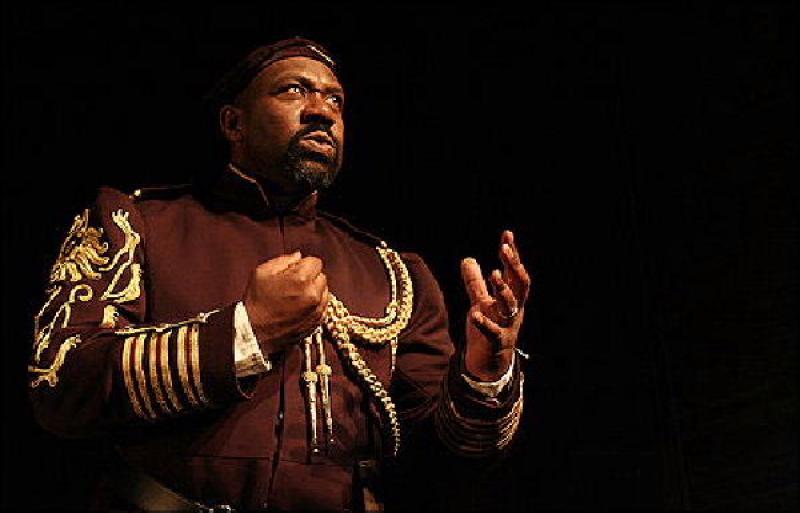 I never used to understand Shakespeare at school. We didn't know it was sexy, we didn't know it was violent, we didn't know it was moving. We just thought it was this crap archaic stuff we had to read. Then I was taken to see Romeo and Juliet with Leonard Whiting and Olivia Hussey at the pictures. Extraordinary colours. Really fantastic movement and light. For a 14-year-old boy, it blew my mind.
I got asked to do Shakespeare a lot throughout my career and I kept saying no. Jude Kelly asked me to do Iago in a reversed version of Othello. Trevor Nunn said, "It would be good experience." My gut said, "Nooooo! You've never done Shakespeare before. Why would you start with the hardest part in the canon?"
The only time I got close was when I was doing a film called True Identity. There was a bit in the script where my character had to understudy James Earl Jones's Othello at the Lincoln Center in New York and for various reasons the Mafia nobbled James Earl Jones and I had to go on so they can assassinate me. Dumb movie. The big thing was I got to have three or four conversations with James Earl Jones about playing Othello. I had to rehearse the handkerchief scene in standard American. Because back then I was 30 and didn't know how you did this kind of stuff, my research was to watch the Olivier version something like 45 times. It was really bizarre. I was learning how to be a black guy from a white guy pretending to be a black man.
After my mum died, the centre of my world just disappeared and I thought, "Wouldn't it be great to do something to make myself proud now, to give me something to focus on?" I was doing Hope and Glory, Lucy Gannon's drama for the BBC set in a failing school. My character, the head teacher Ian George, was quite inspirational and I was talking all this talk about education so in the make-up room I wrote away for the Open University syllabus. It came back in two days and I looked at the English literature BA and said, "Let's do it."
It took six years. Six years! You don't get to sit in your pants eating beans out of a tin and watching Countdown. You're just having a normal life doing gigs and the sketch show and then you've got to do four hours of study as well. It was tough.
For one year of the BA I did a Shakespeare beastothon. I listened to a play every day. It's an hour into London on the motorway every day so I listened to the first hour on the way and then the second hour on the way back. I watched a play every other night. So I saw James Earl Jones do King Lear in Central Park. When he did the big long speeches the crowd would go, 'Woo! Right on! Yeah, that's my man!'
At the time I was doing a stage show about my mother called So Much Things to Say. A producer from BBC Radio called Simon Elmes came to interview me backstage and brought his son. I had all my textbooks out. His son said, "Oh I see you're doing Othello." I said, "Yeah I am, why?" He said, "I'm doing it for my A levels and I don't get it."
Apparently – I don't remember it at all – I came out with this strange stream-of-consciousness thing about the themes and the relationships and the hierarchy of the characters, Iago's unmotivated hatred and all that kind of stuff. And it went on for about an hour. It was like I'd been injected by FR Leavis.
Simon said, "That's a radio show, you should do that." I did Will and Me with Simon on Radio 4. It was me saying, "Now this Shakespeare, why is it any good?" People like Trevor Nunn, Peter Hall, Judi Dench, Paterson Joseph, Adrian Lester and Barrie Rutter told me why.
Barrie talked about Shakespeare being rock'n'roll and percussive and the text as groovy. He just has a very modern approach to it, a very open and demonstrative and untricksy approach to performing Shakespeare. We did a workshop on the penultimate speech of the play. All morning on one speech. At the end I asked him if he thought I was up to doing one of the plays.
Doing it as a performer is very different to doing it as a student. They bang on about the key scene because it comes up in the exam. When you're studying it and listening to other performers you suddenly start hearing things. What's interesting about Barrie is he's not interested in psychology, sitting in a circle there on the floor talking about your motivation and your character arc. He basically wants the play done with theatricality and honouring the rhythms of the text. Shakespeare actually does it all for you. He describes the emotional and the physical weather. So you say how you feel. "O, hardness to dissemble." You tell the audience and you demonstrate outwardly, rhetorically, how you feel.
Or as Olivier once said to Dustin Hoffman, "Try acting, love."