Lenny Henry: A Life on Screen, BBC Two |

reviews, news & interviews
Lenny Henry: A Life on Screen, BBC Two
Lenny Henry: A Life on Screen, BBC Two
The long march from the West Midlands to the West End
Tuesday, 20 December 2016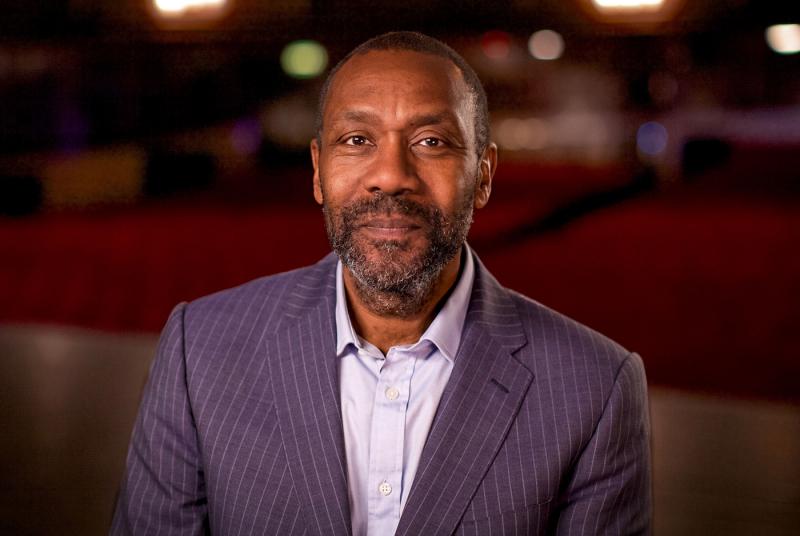 Sir Lenworth George Henry, KBE: 'a big man in every sense'
You couldn't make him up – a big man in every sense, outspoken, spiky, adored, coming from a black working-class family to move from the proverbial nothing to become so much more than something. How to make a documentary tribute without it being sycophantic or a hagiography? By putting the man centre stage. Arise, Sir Lenny, the subject of a BAFTA tribute.
We were given a straightforward chronological narrative from our star, sitting alone on a vast and empty stage, looking to camera, no interviewer visible. His informal monologue was interspersed with clips from stage, screen and television and interviews with colleagues and collaborators. Among them were Sir Michael Grade who commissioned Lenny for ITV, Richard Curtis, screenwriter and co-founder with Lenny of Comic Relief, fellow performer Griff Rhys Jones, and Sir Trevor McDonald, hero first and then as now a close friend (Red Nose Lenny, pictured below).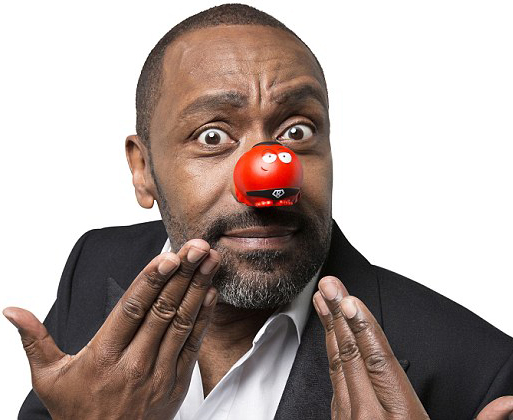 Born in Dudley, West Midlands, his mother a recent immigrant from Jamaica – they had heard in the West Indies that you could make as much as 30 shillings a week working in the UK – he went to school just down the road as his mother could see it from their house. They were a big family, and though Lenny only learned later that his mother's husband was not his biological father, they were always close.
They were among the first wave of immigrants, a tiny minority then in Dudley, and Lenny discovered that he had a talent for mimicry and comedy: he called himself a comedy jukebox, and he killed his friends with his improvised acts. The teenagers crowded into the Queen May ballroom in Dudley, illicitly smoking, drinking and listening to music, where Lenny experienced the addictive lure of performing and fell for what he saw as the joys of show business.
He bunked off school, his mother all unknowing, and got to Birmingham to audition for New Faces. He wowed them with his take on Tommy Cooper. His back to the audience, red fez on his head, he slowly turned around: "You've heard this impression before, but not in colour." He was on the television aged 16 in 1975, and his world changed forever. In Leicester a Jamaican bus driver initiated a traffic jam in the centre of the town by stopping his bus and getting off to congratulate Lenny on his TV appearances.
As Michael Grade remarked, at the time there were hardly any black faces on view. Henry, under the guidance of his first agent, even appeared in The Black and White Minstrel Show, the programme that became infamous for white men blacking up. He said frankly he had accepted out of ignorance and fear, feeling that he had to take anything that came his way.
The career unrolled, clip by tantalising clip: The Fosters, a black family sitcom, playing the clubs, then Tiswas with Chris Tarrant, with Lenny's beloved mum baking Christmas cakes which, Tarrant said, were probably 96 percent rum. Even the real McDonald turned up to surprise Lenny doing his sterling imitation. On to Three Of a Kind and The Lenny Henry Show, featuring his improbably convincing Tina Turner, and Beyoncé rolling about in a tight dress and high heels.
He branched out into writing, a film company, and an unsuccessful foray into Hollywood. This century has seen an ambitious and exhilarating sideways move into Shakespeare, with Othello followed by The Comedy of Errors at the National. Strangely, I didn't hear any mention of his amazing role in August Wilson's Fences, as yet his only West End theatre appearance (Henry in Othello at West Yorkshire Playhouse, pictured above).
From 1988 there has been the continuing commitment to Comic Relief, a genuine engagement with the dispossessed and poverty-stricken. For himself lately he has done an Open University degree in English, with more degrees to follow, and a new public campaign for more diversity in the arts, explosing the lack of representation both behind the scenes and upfront.
His immense attractiveness, even charisma, burst forth from the screen. What was clear was an uncanny intelligence, extraordinary resolve, and a determination to try almost anything. It also seemed his talent was fully formed from the beginning, as though he sprang straight into stardom.
And yet all remained tantalisingly mysterious. Where did the urge to do so much and that almost maniacal energy come from, how did he pick up in his early teen years on the stars he imitated with such virtuosity, where did the enviable zeal for effective campaigning come from? And nothing but nothing was said about his personal life beyond his adolescence: the anecdotes were all about professional moments.