The Comedy of Errors, National Theatre |

reviews, news & interviews
The Comedy of Errors, National Theatre
The Comedy of Errors, National Theatre
Lenny Henry makes his National Theatre debut in Dominic Cooke's crazed urban take on Shakespeare
Wednesday, 30 November 2011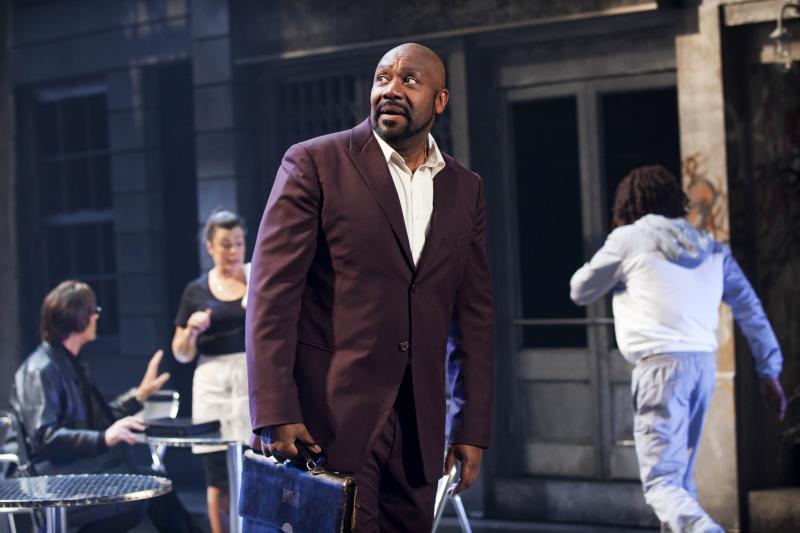 Tales of the city: Lenny Henry as Antipholus of Syracuse
Sex, spending, violence and debt: life in the city is lived raw in this caustic interpretation of Shakespeare's comedy by Dominic Cooke. The setting is grimy, graffiti-daubed; shiny apartment blocks vie with sleazy strip joints and brothels, and the streets are stalked by gangsters, chancers, trophy wives and gypsy buskers.
Shakespeare's action takes place in Ephesus, a town "full of cozenage"; Cooke's takes a tour of the urban Eurozone, with a flavour of Italy here, Greece there, winding up, for the maddest scene of all, in a location that looks uncannily like London's own Harley Street, where the sanctuary of the original drama's abbey becomes the Abbey Clinic in a sly nod to The Priory. We're all careering into craziness in a handcart, the production seems to imply; but if the vision is sometimes alarming, happily it's full of unhinged hilarity, too.
It begins, though, in an atmosphere of menace. Egeon, the hapless Syracusan merchant who ventures into forbidden Ephesian territory, is bundled into a strip-lit warehouse, hooded and bound, a gun to his head. His account of the shipwreck that caused his family tragedy, separating him and one of his twin sons from the child's brother and mother, comes complete with paramedics descending from a helicopter: a brilliantly dramatic solution to a lengthy monologue that, less inventively handled, can be deadly for audiences. It propels us forcefully into the gritty action, where Lenny Henry, making his National Theatre debut, is an African Antipholus of Syracuse, accompanied by his servant, Lucian Masmati's Dromio, both in search of their respective long-lost twins (Chris Jarman and Daniel Poyser) in a bewildering foreign town.
Bunny Christie's forbidding, multi-level set, filled with shadows, sickly yellow lamplight and the occasional splash of sunshine by Paule Constable, splits and rotates to transform into every seedy spot on this metropolitan odyssey. And with buskers striking up a selection of tunes, including Black Sabbath's "Paranoid" and Tears for Fears' "Mad World", it's not long before dangerous derangement sets in, with an ambulance screeching on stage, giant hypodermics and straitjackets brandished, and packs of creditors and relatives in hot pursuit of the two sets of confounded twins.
Henry is far more convincing here than he was in his first Shakespearean role, Othello, of which he made rather stolid work for Northern Broadsides in 2009. His Antipholus has a beefy confidence that evaporates rapidly and comically when events turn uncanny; and he makes pleasingly ferocious work of the slapstick violence with which he repeatedly punishes his perplexed servant. He's extremely well-matched by Claudie Blakley as Adriana, who believes herself to be his wife, but is in fact married to his brother; and by Michelle Terry as Luciana, Adriana's frustrated sister (both pictured, above, with Paul Bentall). A pair of high-maintenance Essex girls in tight dresses and teetering heels, both women are a serious temptation to Henry, not least when they track him down to a grotty snooker hall, where an impassioned Blakley clambers precariously atop a baize table; and when he makes advances to Terry behind her sister's back, she trembles with reciprocal lust.
So wild is the whole ride, in fact, that Cooke sometimes seems the tiniest bit in danger of losing control; but that's not inappropriate in a play where double vision and mistaken identity make everyone doubt their own sanity. And the final scene, with its unravelling and reunions, has real emotional heft. This is comedy with bite, all the better for the touch of the maniacal that tinges its laughter.
Derangement sets in, with an ambulance screeching on stage, giant hypodermics and straitjackets brandished, and creditors and relatives in hot pursuit
rating
Explore topics
Share this article