The Resistible Rise of Arturo Ui review - 'Lenny Henry covers Trump's greatest hits'
The Resistible Rise of Arturo Ui review - 'Lenny Henry covers Trump's greatest hits'
The Donmar Warehouse targets a modern monster via Brecht's Hitler satire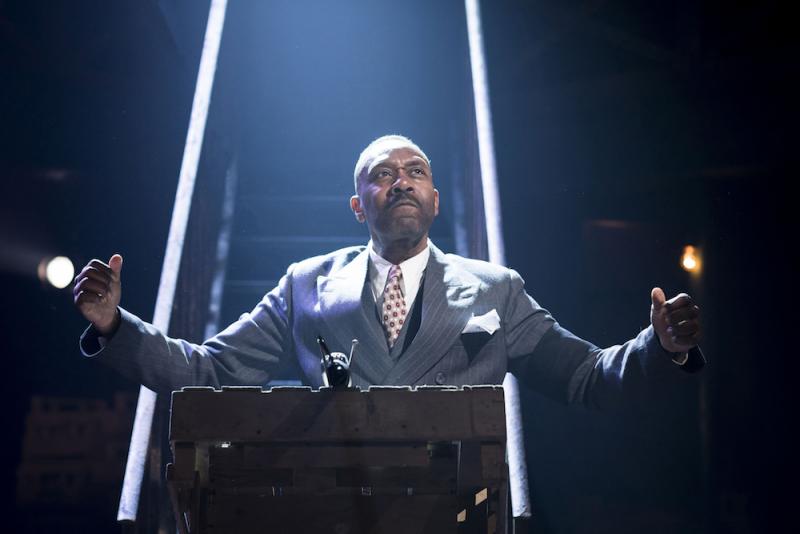 'Lend me your ears': Lenny Henry's mobster emerges as a calculating political orator
It's a bigly Trump-fest over at the Donmar, with adaptor Bruce Norris determined to make Brecht great again – or at least pointedly contemporary.
Despite a legal disclaimer in the knowing prologue, the current tangerine regime looms large, replacing (or indeed merging with)
Hitler
as the main target in this parable of emerging demagoguery, set in Thirties gangland
Chicago
.
All the Trump greatest hits are here, covered by Lenny Henry (pictured below with Simon Holland Roberts and Philip Cumbus) in the title role, from "nasty woman", "losers", "paid protestors" and "I have all the best words" to the law and order platform characterised by buzzwords "crime", "immigrants" and "wall". Plus a thin-skinned fixation on media coverage, glaring conflicts of interest and obsession with winning. Subtle it is not.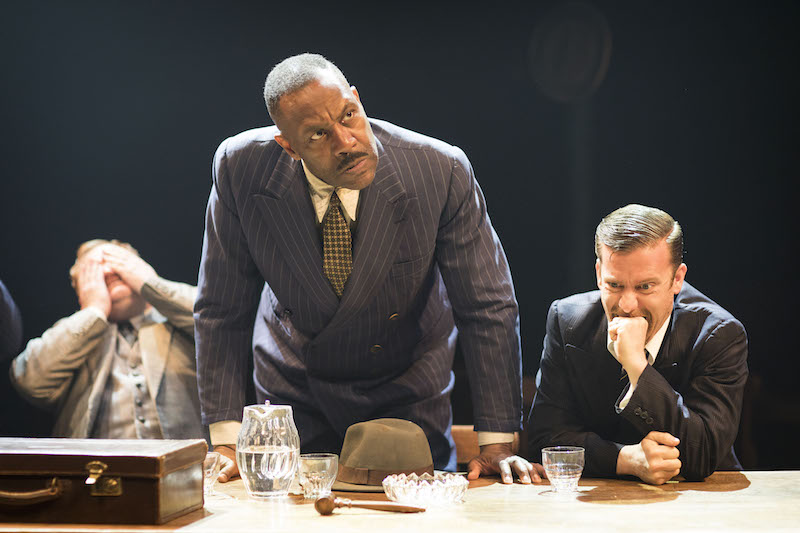 The immediacy is physical too, with the theatre's stage-level bank of seats removed to create a sultry speakeasy in which the actors can prowl the audience and (you have been warned) draw unsuspecting spectators into the drama. Kudos on press night to – in particular – the cheery corpse and the game if bewildered chap placed on trial. But, as the conclusion hammers home, we are all on trial here: if we don't actively object, we are complicit.
Brecht's 1941 play borrows from Shakespeare and the glamorised American gangster movie in his allegorical portrait of the rise of Hitler. Arturo Ui (Henry) is a small-time mobster who muscles in on the Chicago cauliflower business, eventually "annexing" nearby territories as well. This rise – springing, it is suggested, from unchecked, morally vacant capitalism – may well have been preventable.
Norris's Trump jibes don't match the specificity and accuracy of Brecht's German paralleling; nor, arguably, does this immature autocrat-wannabe deserve the suggestion that he's capable of such coherent plotting. The barrage of explicit – rather than theatrically allusive – references to The Donald becomes a tad wearying, and is likely unnecessary when the staging of this play in 2017 is a such clear statement in itself.
Simon Evans's buoyant cabaret-style production, with husky jazz covers of pop songs and sultry styling from Peter McKintosh, is certainly engaging – and a good reflection of the politics as entertainment trend that birthed the first reality TV President. The standout scene is Henry's slouched, shambling Arturo learning a more impressive physicality in order to emerge as a leader: a mincing walk that tips into goose-stepping, a Nazi salute lowered into imposing folded arms, and the rhetorical tricks and accompanying gestures borrowed from an actor's rendition of Mark Antony's famous oration.
Henry effectively navigates the transition from low-level thug, pouting when his name disappears from the paper, to menacing manipulator and finally untouchable commander. His earlier Arturo occasionally strays into The Simpsons' Fat Tony territory, as he has a little too much fun with the gangster archetype, but his assured physical work is purposeful – as when he waddles astride a chair in order to scoot it intimidatingly close to someone. If his final turn isn't as chilling as it might be, that's perhaps more a symptom of the giddy, Trump-saturated framing than Henry's portrayal.
Tom Edden (pictured above) leans firmly into that riotousness, offering not one but two show-stealing turns: a flamboyant journalist ecstatically reporting the blood-splattered drama, and a soused, old-fashioned thesp whose wild gesticulations are amplified by his cane and swirling cape. Michael Pennington provides a necessary counterweight as the alderman seduced into corruption and left frail and hollow in futile remorse; likewise Justine Mitchell maintains the impassioned voice of the moral opposition, even as the court case in which her dogged defence lawyer fights becomes a breathless farce. Yet the latter scene is symptomatic of a production that winds up more comedy roast than true horror.
We are all on trial here: if we don't actively object, we are complicit
rating
Explore topics
Share this article