The Comedy of Errors, RSC, Barbican review - Shakespearean Christmas panto |

reviews, news & interviews
The Comedy of Errors, RSC, Barbican review - Shakespearean Christmas panto
The Comedy of Errors, RSC, Barbican review - Shakespearean Christmas panto
A noisy, busy comedy that loses its anchor somewhere in the chaos
Thursday, 25 November 2021
Guy Lewis (Antipholus of Syracuse) confronts his servant Dromio (Jonathan Broadbent)
"Am I myself?" At the tangled centre of Shakespeare's comedy of two pairs of identical twins, servant Dromio asks the question on which everything else hangs. The delivery is exasperated, the context bantering, but the words are the flimsy door onto an existential void this early play constantly threatens to tumble into.
How can we know ourselves if others do not? Is it enough to be ourselves, or must we also enact and perform those roles? What if society casts us in another?
Rubber-legged contortions; slow-mo exaggeration; sight gags and sound-effects; everything but the banana-skin
In the context of a pandemic that saw us all shorn of the basic actions and accessories of identity – no job to do, no office to go to, no social life, nothing to dress up for or vary the domestic routine – the questions take on greater urgency. Stripped of our world-mirror for 18 months, are we the same people coming out that originally went in?
First staged back in June at the RSC's brand-new outdoor auditorium in Stratford, this Comedy of Errors is more interested in clowning than philosophy. Rather than straddle the play's rumbling fault-lines, director Phillip Breen arrives equipped with gallons of acid-bright paint, props and zany sitcom energy, ready to cover them over. Shout loud enough, his staging seems convinced, and no one will notice the violence and the doubt stirring underneath.
For the most part he's right. A pre-Christmas Barbican audience seemed restless for delight, uncomfortable through the play's solemn setup (whose glance towards hostile immigration policy and xenophobia landed particularly keenly on the eve of the worst ever death-toll in the Channel), impatient to get to the jokes. They soon came: rubber-legged contortions; slow-mo exaggeration; sight gags and sound-effects; everything but the banana-skin.
Breen's pacing is keen, his crescendo carefully calibrated. Designer Max Jones's muted, geometric space supplies an Ephesus that seems deliberately anonymous: airport concourse meets conference hotel meet shopping mall. We could be anywhere (and anyone). Djellabas, plenty of gold braid and the occasional palm tree place us somewhere exotic, as do the rhythms of the rather tedious quartet of singers, but it's purely cosmetic: an idea of a place rather than a place itself, just as Doctor Pinch (Alfred Clay, here transformed into a new-age guru) turns out to be more East End than Eastern mystic.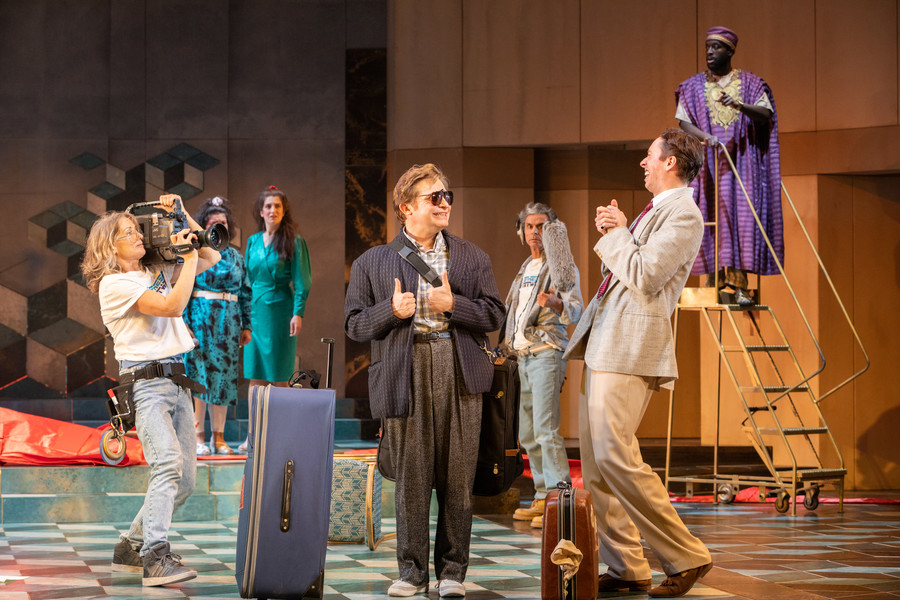 Into this deliberate blank Jones explodes an 80s glitter-cannon. It's all here: white stilettos and leg-warmers, scrunchies, big shoulder pads and even bigger hair. The effect, combined with the manic pace of dialogue and the tireless physical comedy, is Jane Fonda does Shakespeare: fake the smile till you feel it; buttocks perpetually clenched, ready for the next pratfall; just one more repetition before we feel the comic burn.
The cast go gamely where Breen leads. Guy Lewis (Antipholus of Syracuse) and Rowan Polonski (Antipholus of Ephesus, pictured above with Broadbent) loaf about in linen as the ultimate Englishmen abroad, Polonski's tighter-coiled energy playing off Lewis's just-got-lucky, lipstick-smeared ease. Jonathan Broadbent's Dromio (Syracuse) gets the lion's share of the physical comedy, while Greg Haiste (Ephesus) is all voluble patter (though a comedy routine episode nearly comes a cropper).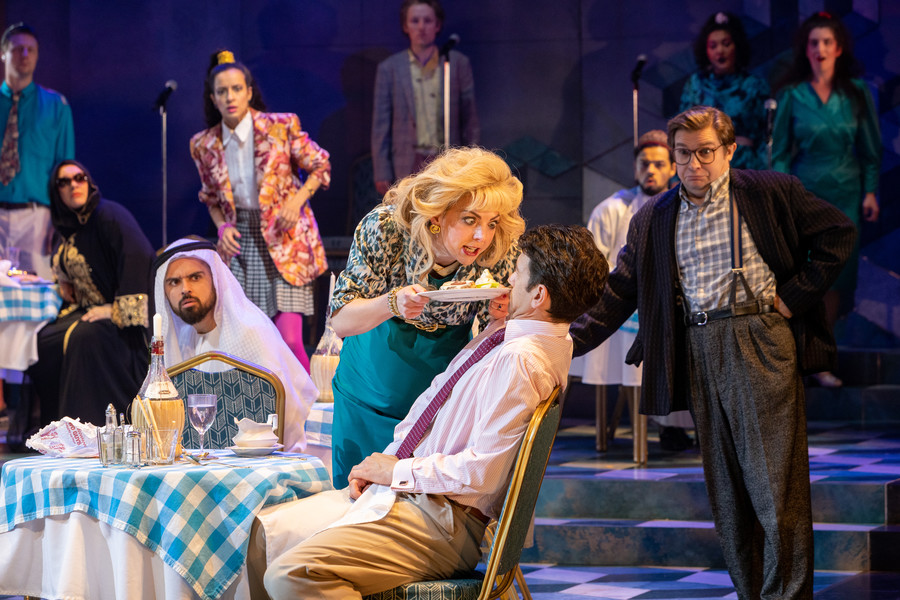 All bug-eyed intensity and outrage, Naomi Sheldon (pictured above with Lewis) makes an irresistible Adrianna, whose pregnancy (inspired by the cast's original Adrianna, Hedydd Dylan, now on maternity leave) adds a welcome vulnerability to the warring- husband-and-wife dynamic. And there are appealing camoes from Zoe Lambert's staunch Aemilia and Baker Mukasa as the exasperated goldsmith Angelo.
There are plenty of laughs and lots to look at, and if you concentrate very hard this noisy, busy Comedy of Errors helps drown out the existential doubt for a couple of hours. For some that's a selling point; for me it's the problem with a comedy that, if it's to really fly, needs to feel the doubt and do it anyway.