Brighton Festival 2012: Vanessa Redgrave, The Rest Is Silence, Hangover Square |

reviews, news & interviews
Brighton Festival 2012: Vanessa Redgrave, The Rest Is Silence, Hangover Square
Brighton Festival 2012: Vanessa Redgrave, The Rest Is Silence, Hangover Square
England's most important and eclectic arts festival gets underway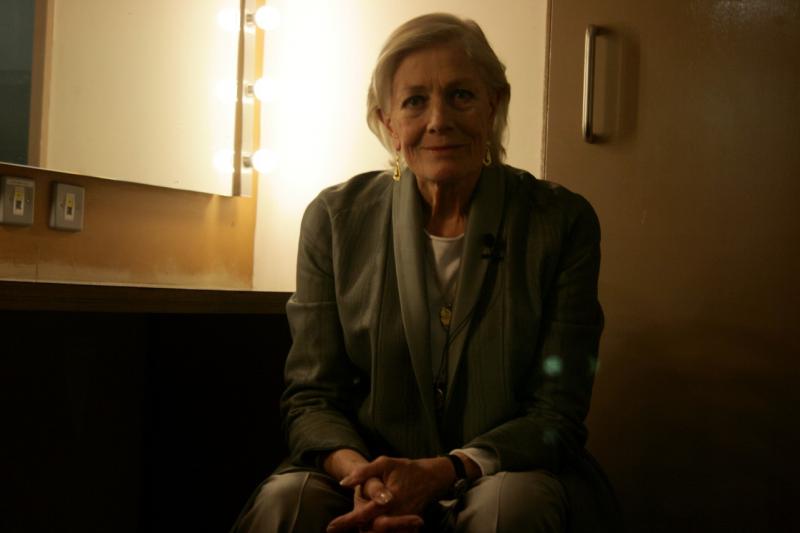 'The director's vision is the only one that matters': Vanessa Redgrave, Guest Director of the 2012 Brighton Festival
If you weren't already aware that the Guest Director of the 2012 Brighton Festival is acting royalty, the preponderance of fop fringes and artfully flung scarves at the Dome Concert Hall on Saturday night was a good clue. Vanessa Redgrave is the figurehead for this year's reliably eclectic (if a little conceptually convoluted) programme. And judging by the opening Q&A, dotted with as many grassroots political activists as members of the Redgrave clan, she's going to be a busy one.
Would she come to a meeting next Saturday? asked a hopeful man from the Labour History Movement. Alas, she said, next Saturday she'll be on stage at Theatre Royal Brighton narrating A World I Loved – but give the Festival a buzz to arrange a good time and she'll be more than happy to fit in a talk on Socialism and the Sixties.
Tristan Sharps is a genuine visionary with far too obsessive an intelligence for gimmickry
That left the evening free for clips and reminiscences from some of the actress's ("please, I like to keep that word") 60-plus films, from Karel Reisz's Morgan! (where she learnt that "the director's vision is the only one that matters") via Isadora ("the hardest work I'd ever done or ever have done since") to worrying about putting James Nesbitt's back out in Ralph Fiennes' Coriolanus. Getting inside a character like the vitriolic militarist Volumnia is a bit like picking a lock, she said – and important because, in life generally, "people would like to, and ought to, be understood better".
While she couldn't always remember the titles (her sister Lynn was particularly wonderful in "The Something-Something of Fish…"), Redgrave was elegantly persuasive on the subject of film's "small but vital" capacity to make a difference. She surprised the audience by saying film had influenced her stage work far more than the other way around, though, "you wouldn't believe how many films I've been in where the director and cinematographer don't mind that you've got a candle growing out of your head… How little we see – how very little we see."
Fittingly, Saturday also saw the premiere of The Rest Is Silence, a cinematic deconstruction of Hamlet by site-responsive theatre pioneers dreamthinkspeak that will continue on to London as part of the World Shakespeare Festival following an (already extended) Brighton run (pictured right, photo by Jim Stephenson). Artistic Director Tristan Sharps is a genuine visionary with far too obsessive an intelligence for gimmickry. So when we heard he was building a multi-reflective structure within a disused warehouse on one of the more desolate coastal stretches of nearby Shoreham, we knew he must have good reason.
With the extraordinary 2010 Brighton Festival hit Before I Sleep, dreamthinkspeak made the audience feel like kings of infinite space as we wandered at will through 70,000 square feet of a disused Co-op building. For The Rest Is Silence they bound us in a nutshell – or rather an ingeniously constructed black cube whose walls are at once mirrors, video screens and see-through panes through which we watch the tragedy unfold all around us. Decked out in Scandinavian minimalist chic, it's a structural rendering of the play's atmosphere of claustrophobia and moral and mental collapse. The film element peaks as handfuls of earth are thrown on to the video above our heads until the whole audience is sealed in the darkness of Ophelia's coffin.
Otherwise this is a much straighter take on Hamlet than you might expect. The boldest textual move is to rip Hamlet's soliloquies from his mouth and scatter the fragments between the other characters as they snoop (and, in the case of Rosencrantz and Guildenstern, snigger) through his notebooks. Denying Hamlet ownership of those great moments of existential torment makes a powerful point about the sort of world we're dealing with: privacy and dignity go firmly out the window just as the audience peer voyeuristically in. It also denies Edward Hogg's awkwardly intense, Jo Nesbo-reading prince (whose tufty black ponytails make him look like a 30-something bird that still wasn't ready to fall from the nest) quite enough of a shot at engaging the audience.
Vanishing Point's 2011 Edinburgh hit Interiors, which comes to the Festival on Tuesday, also takes place behind a glass fourth wall. If The Rest Is Silence seems voguish as a result it'll be unlucky. "Will you change how we see Hamlet?" we asked Sharps when we visited the set build back in March. "This I don't know," he said. "Because for me, this is how I've always seen Hamlet."
A final thrill for voyeurs and film fans (not to mention interior decorators): the immersive installation Hangover Square launched on Friday night (with whisky cocktails, natch) and will run until the end of the Festival. Marking the 50thanniversary of author Patrick Hamilton's death, it recreates two sets from an imagined film version of his seamiest study of obsession, some of which takes place in Brighton. The period detail is painstaking, from the Players Navy Cut fag ends to the dank wallpaper glistening, just perceptibly, with tendrils of blood. Stepping into such a vivid scene from literature is a disconcerting, disorientating experience. Imagine a National Trust tour crossed with CSI – and a very Redgrave-esque challenge to really, truly concentrate on what you see.