Joan Miró: The Ladder of Escape, Tate Modern |

reviews, news & interviews
Joan Miró: The Ladder of Escape, Tate Modern
Joan Miró: The Ladder of Escape, Tate Modern
The Catalan artist lurched from style to style - and the results weren't always pretty
So how do I feel now, confronted by six decades of Miró in this ambitious Tate Modern survey? It's the first in the UK for 50 years, as well as the first since the artist's death in 1983 aged 90. And by bringing together all five of his large-scale triptychs for the first time, the curators have certainly pulled out the stops. So do I feel a little tug in this grown-up, hardened heart? Do I feel drawn once again by the cutesiness of it all, and will I purr with delight at Dog Barking at the Moon (main picture)?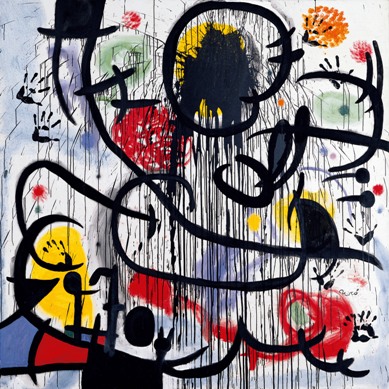 The answer has to be no, and not just because I'm over it, but because, as this exhibition shows, Miró was Miró, the quintessence of the artist we think we know, in relatively few paintings, and for a relatively brief moment in his life. And stylistically, he lurched all over the place, not as an innovator, but rather as an imitator, often years after the movements to which he was drawn had faded politely into art history. And some of the results are really not great. His flirtation with Abstract Expressionism, in his canvas May 1968, 1968-73 (pictured right), is, for instance, a torpid mass of splattered black dripping paint, blotches of primary colour, hand-prints and his usual signature mark-making. There's no uplifting harmony, but neither is it, as would befit the title, a conflagration of fury and anger. Miró just couldn't emit that kind of energy, neither in his youth, nor here in his mid-seventies.
And take his series of burnt canvases, 1973 (pictured left), which are here displayed hanging from frames in the middle of the gallery, like stiffly dried linen. The wooden backing of each canvas is exposed, so that they resemble the bars of a window, and though there is no accompanying pyrotechnical performance, the work seems a rather stiffly elegant nod to Metzger's auto-destructive artworks of the early Sixties.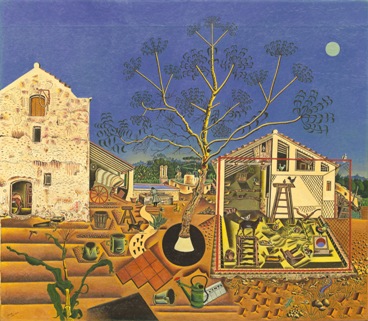 Of course, we should really begin much earlier. Having become acquainted with Surrealism in Paris, Miró, in fact, emerges as fully Miró-esque in the mid-Twenties, though certain of his motifs are already in place in the folksy, meticulously detailed paintings he did of his parent's farm in Tarragona. These early paintings, such as Vegetable Garden and Donkey, 1918, and The Farm, 1921-2 (pictured right), employ a Cubist space and an intricate, collage-like surface and in them we spot many of the details that will emerge, schematised, just a few years later: the dog barking at a high moon; the tapering ladder; little star-bursts of foliage; plump birds with their decorative fantails; the sinuous curve of brightly coloured footpaths; and foot or hand-prints. This is the enchanted land of children's book illustration, and with only the barest hint of disquiet in the gnarly twists of a spindly tree.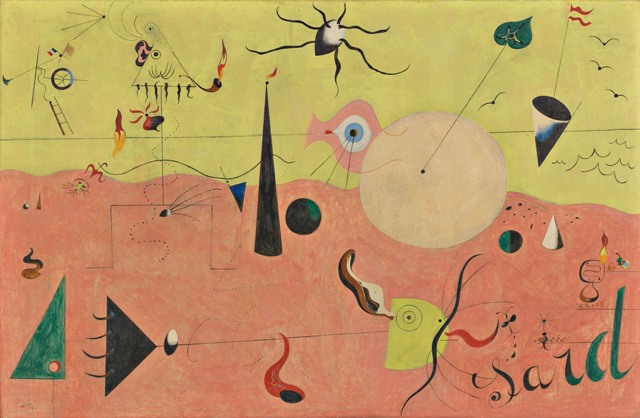 From here it's a short leap to
Catalan Landscape (The Hunter)
, 1923-4
(pictured left)
, whose tightly arranged signs and symbols and geometries will soon be discarded for something looser, less regimented, as if setting them free from the rigours of reason - though for obvious reasons, finding a visual language for the unconscious has rarely been a wholly successful endeavour for most artists.
And I have not yet talked about politics. This is a survey intent on recasting the Catalan artist as a political artist. He was, indeed, one who had lived in interesting times, spending much of it in self-imposed exile in France during the Spanish Civil War. He then, in what he himself called an "internal exile" returned to Spain to live under Franco's regime, just as the German Army were marching through the Low Countries and preparing to invade France.
But the curatorial conceit seems woefully laboured, as much as it had been when Tate Liverpool insisted on interpreting individual paintings by Picasso in last year's Picasso survey Peace and Freedom, through the warped and reductive lens of world affairs. This survey tends towards the less absurdly specific, but even so. The ugly, parti-coloured Still Life with Old Shoe, 1937 (pictured right), is, to my mind, a little less about Miró's psychological response to the political landscape - although I'm certainly not negating its impact on Miró's life as a whole - and slightly more about the insidious influence of Dalí, as we can surely see for ourselves.
It is therefore a relief to reach the room in which Miró becomes his Miró-esque best. Even for a non-fan like me the selection here from his Constellations series (pictured left: The Escape Ladder, 1940), the first instalment of which he finished in 1940, is beguilingly exquisite. These small paintings on paper are densely packed, with sea-urchin creatures, wormy creatures and microbial life. Unlike Picasso, who could be playful without being twee, the problem with Miró was that he often steered far into cloying terrain. In Constellations, the small working surface perhaps helped contain his worst excesses.
Share this article