DVD: The Queen on Tour/A Royal Occasion |

reviews, news & interviews
DVD: The Queen on Tour/A Royal Occasion
DVD: The Queen on Tour/A Royal Occasion
Two BFI anthologies are also histories of film and fashion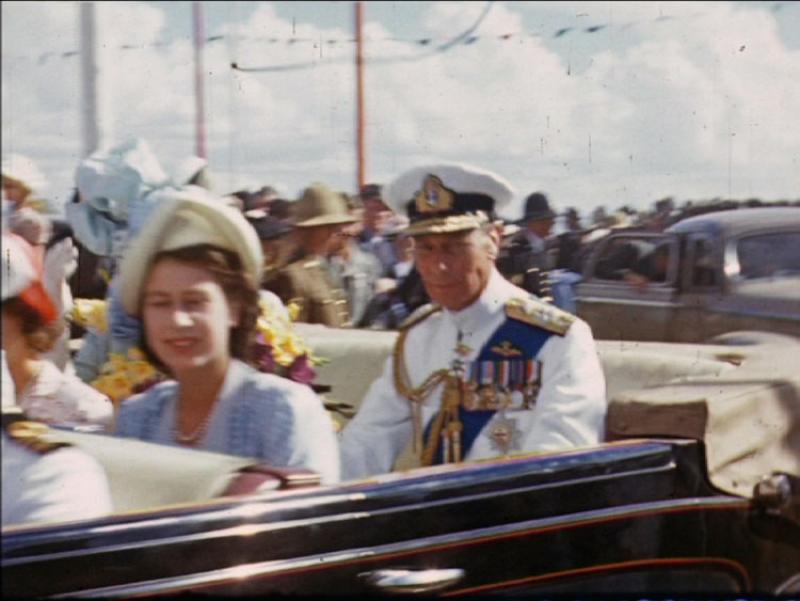 'Surprisingly fashionable, even glamorous': still from 'The Queen on Tour'
BOAC, BEA, and Britannia: the recent past is so near and yet so far. All have now disappeared from the national consciousness but, in these two DVDs, the flagship planes of the British Overseas Airways Corporation and British European Airways appear – in improbable colourways – bookending royal tours in stirring shots by British Pathé News or British Movietone as commissioned by the Central Office of Information, to be shown mostly abroad.
So, too, the royal yacht sailing serenely into ports world wide, a safe haven and elegant entertainment venue for heads of state. The COI Collection Volume Seven: The Queen on Tour spans 1953 and 1971, ending with the Queen in Turkey; newsreels were to vanish and short snippets on television to take over.
These anthologies from the BFI work on several levels: in A Royal Occasion: From Queen Victoria to Elizabeth II, for example, as a short history of film itself, with amateur scratchy black-and-white footage capturing, say, Queen Victoria's 1897 Diamond Jubilee and royal morale-boosting visits during the Great War to the East End, Woolwich, and East Coast shipbuilding yards. It was "the war of the workshops as well as the battlefield".
Travelling through India and Burma with the Prince of Wales in 1922, we witness both his undoubted charm at work, and the acknowledgment and even playing up to the camera on the part of the crowds (the elephants were quite indifferent); film by then had become pervasive. There are curiously tender films, albeit formally staged, of the Yorks, Bertie and Elizabeth. The body language of their daughters, Princess Elizabeth and Princess Margaret, is already psychologically revealing – one a competent, kindly older sister, the younger already restless and attention-seeking.
The home front was important. In 1961, a special film was made of the Queen in Bristol phoning on the first direct telephone to Edinburgh, a thing of wonder. But the world was calling: punctuated with the presentations of thousands of bouquets, there are visits to orphanages, hospitals, schools, and endless performances of native dances.
The Queen's scores of different outfits are surprisingly fashionable, even glamorous, and the variety of hats astonishing; the diamonds travelled, too. Throughout, Philip follows, hands clasped behind his back, but he goes solo to Antarctica. The Queen's oft -repeated words, "Our Commonwealth is based on mutual trust and help," could be delivered without irony. It was another world.
Watch a clip from The Queen on Tour