theartsdesk in Cape Town: Mandela Trilogy |

reviews, news & interviews
theartsdesk in Cape Town: Mandela Trilogy
theartsdesk in Cape Town: Mandela Trilogy
Rehearsals of the Mandela opera which gets its European premiere in Cardiff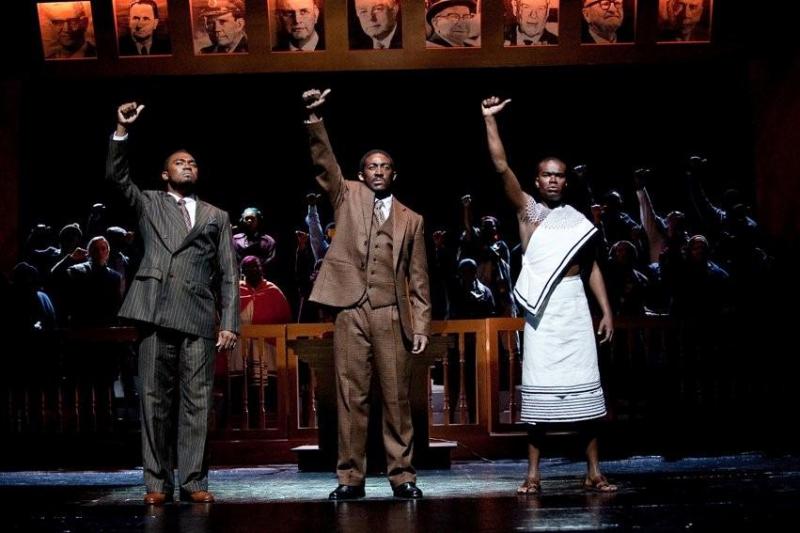 'The drama and choral power is there in the courtroom scene which brings all three Mandelas together'
"Come to the front with those guns. You need to frighten those poor Brits – pah, pah, pah, pah, pah!" Michael Williams hurls his fist forward as if wielding his own weapon as he urges the demonstrators with their sticks and guns forward. The crowd of black singers in front of him are recreating an anti-apartheid protest in Cape Town Opera's production of Mandela Trilogy, which gets its European premiere in Cardiff on 20 June.
Williams is the librettist and director of Mandela Trilogy and managing director of Cape Town Opera. And I'm in the Opera's rehearsal room in the Artscape in Cape Town to see the last rehearsals before the company comes to the UK with Porgy & Bess and Mandela. The crowd are surging forward with placards and sticks one moment, fleeing security police another. Williams wants to keeps everything fluid so the energy never sags. The cast (pictured below right) are totally engaged.
It's very exciting singing in a language you understand
Mandela Trilogy started life as African Songbook: A Musical Tribute to the Life of Nelson Mandela and was a showpiece for Cape Town Opera during the FIFA World Cup, held in South Africa in 2010. With a new third act and some trimming it's become Mandela Trilogy, which toured South Africa to great acclaim last year. "I want the evening to be tight and entertaining," insists Williams. "It mustn't become a history lesson or a documentary."
The piece is in three acts, looking at three moments in Mandela's life. Each is by a different composer and features a different singer playing Mandela. This strange hybrid is framed and unified by three dialogues between Mandela and "the Whiteman", which show the changing attitudes of the apartheid regime. It's intriguing that Mandela is played by three different (black) singers and several different "Whitemen" are represented by one (white) singer. More on the colour casting later.
The first act portrays Mandela's Xhosa initiation in rural Transkei, aged 16. The lyrics are entirely in Xhosa and the music incorporates several traditional choral pieces into a dramatic oratorio-like score. The composer is British-born Allan Stephenson, who has lived in South Africa since 1973. When sung, Xhosa sounds surprisingly like Italian, apart from the occasional click. "It's very exciting singing in a language you understand," says Thato Machona playing the young Mandela. As a kid he was throwing stones at vehicles and going to bed to the sound of gunshots in Gugulethu (Our Pride) township. In the new South Africa Machona went on to a training programme at Cape Town Opera and has sung Leporello in Don Giovanni and in Donizetti's L'elisir d'amore. "When we sing in Italian we have coaches to translate each of the phrases and then we interpret them, but in Mandela Trilogy we know what we are singing. It's very immediate." The act ends with Mandela's refusal of an arranged marriage and departure for Johannesburg.
The second act jumps to Sophiatown in 1955. I think this is the highlight of the show. Composer Mike Campbell, Professor of Jazz at the University of Cape Town, draws on township jazz to bring Mandela's political and personal lives together. The score includes popular songs of the period including Pata Pata and Baby Ntshware plus an onstage trumpeter who is surely the young Hugh Masekela. There are protests against the forced removals of blacks from Sophiatown, a vibrant community of 50,000 people. "Despite its poverty, Sophiatown had a special character," writes Mandela in Long Walk to Freedom, "for Africans it was the Left Bank in Paris, Greenwich Village in New York. It was both bohemian and conventional, lively and sedate." Mandela is vacillating between peaceful and armed struggle and, as an attractive young freedom fighter, he has competing female admirers. The truth is simplified here to Evelyn, his wife and mother of his children; the singer Dolly Rathebe with whom he's having an affair; and the future Winnie Mandela, whom he met around this time. While flirting with all three, it's the political campaign that preoccupies him. The style here is musical theatre with singable melodies and dramatic song and dance numbers.
Aubrey Poo, the second Mandela (pictured above left), has worked in musical theatre and TV soaps for many years: "For us, he seems a very familiar character," and he raises his finger saying "Ah yes" in a perfect imitation of Mandela's slightly nasal voice. "But for me the important thing was to decide whether we were going for a caricature of Mandela or for the picture of something else within. I preferred to tell an honest story and not go for the caricature."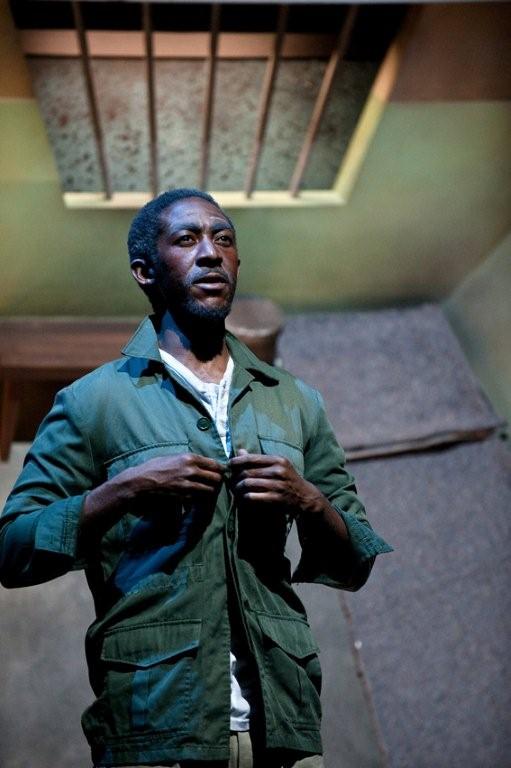 The last act covers Mandela's years of internment, from his sentence in the Rivonia treason trial of ANC activists in 1964, his imprisonment on Robben Island and his Cape Town speech after his release in 1990. Composer Peter Luis van Dijk, based in Port Elizabeth, turns to a contemporary operatic idiom. The solo vocal lines seem a little ungrateful to sing, but the drama and choral power is there in the courtroom scene – which brings all three Mandelas together - and the final Cape Town speech after his release. Aubrey Lodewyk (pictured left), who plays the mature Mandela as well as the interspersed dialogue scenes with '"he Whiteman", brings a statesmanlike authority to the role. "Everybody knows this great man, but having to depict his life on stage is a great challenge," says Lodewyk. "I went to Robben Island [now a museum] when I moved from Johannesburg to Cape Town in 2006. Now I am playing this role it took me back to what I saw. I think everybody should go there. It is part of our legacy and history."
When you go to Robben Island, where Mandela spent 18 of his 27 years of imprisonment, it is of course Mandela's cell that is the focal point. Everyone queues to take photos (cell pictured below right by author). Mandela has become an icon not just for South Africa but the world. "It's not a what-if, let's-suppose, story. It comes from a real story that did happen," says chorus member Bukelwa Velem.
Several people in Cape Town Opera – black and coloured (these distinctions are still very much used in South Africa) said that they'd never been into an opera house before the formation of Cape Town Opera in 1999. Under the apartheid regime, there was opera run by the Cape Performing Arts Board, but with white performers for white audiences. The transformation that CTO has made is incredible.
"Before 1994 [when Mandela was elected president of South Africa], it was rare to see black people singing opera in South Africa," says Mthunzi Mbombela, one of the opera chorus. "I knew of Pavarotti, but I hadn't even heard of opera in Cape Town then." Growing up in a township, he joined a church choir and was then invited into the opera's Choral Training Programme.
The influence of the church in South Africa is clear if you go into the townships on a Sunday morning. Khayelitsha (New Home) and Gugulethu (Our Pride) (pictured above by author) are vast, sprawling, densely populated townships to the southeast of the city. Almost everybody gets dressed up and goes to church on Sunday morning and then they gather for street barbecues in the afternoon. Every few streets there is a church – some in tents, some in cavernous warehouses, some simply outside with the congregation in long white robes kneeling on the grass. In the absence of formal music education, the church choirs are South Africa's music academies.
CTO's hit production of Porgy & Bess, which they are touring currently in the UK, has a South African township setting in Soweto in the 1970s. "It's so easy to relate to this story," says chorus member Andile Tchoni. "Everything that happens in Porgy is what happens in our communities – violence, drug abuse - and love, as well. It's really lifelike."
Cape Town Opera is famous for its "colour-blind" casting – their 2012 season includes Cosi fan Tutti, Fidelio, La Bohème and The Tales of Hoffman with white and black singers mixed. Ironically with Mandela Trilogy they've created something that can't be colour-blind at all. There are a couple of white singers in the chorus – and of course there were plenty of white anti-apartheid protesters – but otherwise everyone is colour-cast. The police, the judge and the "Whiteman" are white and the rest are black (and coloured). Michael Williams laughs. "I had a crazy moment when I thought our three Mandelas could be different colours and genders. A black man, a white man and a woman. But then I said, 'Michael, stop masturbating', it's the silliest idea, nobody's going to get it".
If and when it becomes a repertoire piece, perhaps that's the next step.
Mandela Trilogy is at Wales Millennium Centre on 20 and 21 June
Porgy & Bess is currently touring and at the London Ccoliseum from 11-21 July www.porgyandbess2012.co.uk/
Everybody knows this great man, but having to depict his life on stage is a great challenge
Explore topics
Share this article