In Praise of Glastonbury: Julien Temple's After Hours
In Praise of Glastonbury: Julien Temple's After Hours
What better way to get in the mood for the weekend's festivities than with this unapologetic celebration of late night craziness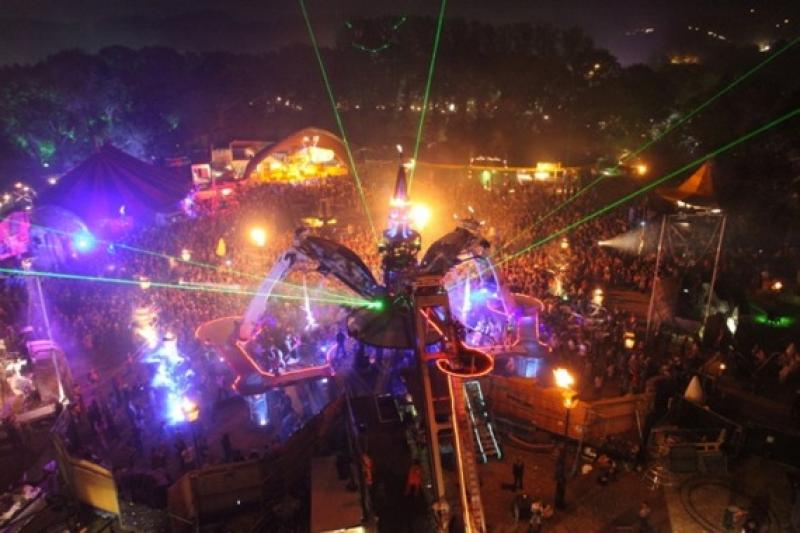 Midnight madness and metal spiders on Worthy Farm
Many of my friends find the entire idea of festivals abhorrent. It's not that they're on some appalled-of-Purley Daily Mail campaign to put a stop to them, just that the idea of staying under canvas for a few days in a field full of noisiness is their idea of Hell. Especially if the weather is inclement.
Many of them would also find the pie-eyed utopian warbling, with which this film is entirely packed, irritating in the extreme, irrelevant delusional blather in our world of international debt crisis and cynical political shenanigans.
I should state, then, that I am not one of these people. I love the Glastonbury Festival with a passion that surprises even me. It makes my spirit soar and, after quarter of a century of hedonistic investigations, I reckon it's the best party around, and certainly the most reliable. Julien Temple's 75-minute film draws attention to the fact that, once the headline acts have finished on the main Pyramid Stage, the real Glastonbury party starts in the far-flung fields in areas with names such as Shangri-La, Arcadia and, until relatively recently, Lost Vagueness. The film is a postscript to Temple's more universal portrait, his Glastonbury feature film, and follows a similar template, albeit even looser, seeking to paint an impressionist picture rather than a strict narrative document.
Eavis is a rustic old subversive in an even older English tradition who puts his money where his mouth is
"It's fun," says one of the many interviewees, "but perhaps we can change things for the better." This theme runs throughout, the idea that the us-against-the-straight-world sense of community of Glastonbury's more outré areas may bleed out into the real world. The way these areas are overseen by ageing hippies, punks and travellers who, over the years, have sought refuge on Worthy Farm, home to dairy farmer Michael Eavis and his festival, is showcased throughout. Their worldview permeates this nightworld, where giant fire-breathing spiders sit next to futurist tower blocks, New York transvestite discos and Mexican wrestling rings made from old canal lock-gates. It looks intense because it is and quite a few state that these areas are "a bit scary". They should be. If you want comfort, stay at home or, at least, go to bed once U2 have finished.
It is also pointed here that continuing this aspect of the festival in the face of "insurance industry motivated regulation" requires real commitment, something Eavis has. He is a permanent presence in the film, cockier about his success than he used to be but cheekily likeable, a rustic old subversive in an even older English tradition who puts his money where his mouth is, clearly regarding Shangri-La etc as an extension of the original Seventies festival's spirit.
In terms of music there's footage of Neneh Cherry singing "Manchild" and Neville Staple playing the Fun Boy 3 song, "The Lunatics Have Taken Over the Asylum", but it's the less well-known material, particularly shots of glistening forms dancing in thick mud in darkness to diseased tech-step breakbeat, that capture the mood better, as does the parade of no-profile ska bands letting rip enthuiastically. Complaints from those in nearby fields who find the night-time noise a bit much are also shown, but clearly Temple is firmly on the wild side. The film closes – after a sequence with Jarvis Cocker introducing "Common People", a device Temple also used at the end of the Glastonbury movie – with Eavis singing "My Way" in some small marquee or other.
Not so much a critical overview or strict history, Glastonbury After Hours is a juicy carnival of mayhem and visually extraordinary people, a reminder in this Glastonbury-free year, that, as the author and LSD evangelist Ken Kesey once famously said. "You're either on the bus or off the bus."
Watch an interview with Michael Eavis at last year's Hay-on-Wye Festival
If you want comfort, stay at home or, at least, go to bed once U2 have finished
Explore topics
Share this article