theartsdesk at Camp Bestival, Lulworth Castle |

reviews, news & interviews
theartsdesk at Camp Bestival, Lulworth Castle
theartsdesk at Camp Bestival, Lulworth Castle
Family-friendly festival is aimed at acid house fans who like an afternoon nap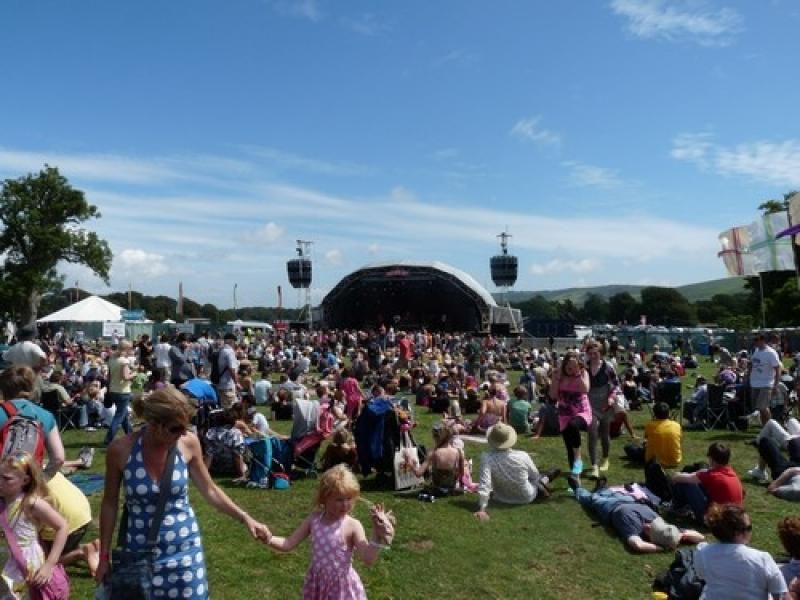 Weekend boutique festivals like Camp Bestival have become part of the fabric of British life
"Huxley! Electra!" called a plummy mummy to a couple of dawdling children. "Hurry up or you'll miss the BMX display!" Thursday night and Camp Bestival was, to a rather comical degree, looking like a playground for slightly funky middle-class families. Not that I was complaining – with an 18-month-old not so much in tow as leading the charge, I was extremely grateful for the regimented, relatively quiet campsite and the untold entertainments and comforts that CB provides.
This was my first experience of a festival with said inquisitive toddler, and the experience of having to abide by his attention span and sleep patterns made for a deeply odd inversion of previous experiences of bobbing through festivals on a cloud of intoxication.
Settling into it wasn't too hard though. It's almost impossible to state how dramatically weekend boutique festivals have become part of the fabric of British life over the past decade, and this has led to a degree of organisation on the part of both the festival and attendees that's a million miles from the traditional rock festival with its thuggish security, plastic waste thrown on bonfires and sunburnt drug casualties pooing in ditches. Camp Bestival in particular is aimed at the thirty- and fortysomethings of the acid house generation, who know how to party but can no longer go without a nice afternoon nap, let alone stay awake the entire weekend.
Thursday night consisted purely of getting settled in – and a little lost – on the campsite. I got my bearings a bit better first thing Friday, however. The Boy had decided on a 6am start, and leaving his mother to lie in, I took off with the pushchair to beat the bounds and find some coffee. Plenty of other parents were clearly in the same position, and the bleary eyes and rueful looks at every encounter were a hilarious new take on the acknowledgement of shared hangover/comedown one would expect at a festival.
We quickly found coffee and excellent cake, and also the Zingzillas – some DayGlo apes from kids' TV who were parading around meeting their public. The Boy, with excellent taste, showed little excitement – pointing and hooting briefly but, setting the pattern for the weekend, proving far more impressed by another child with a bubble wand. The abundance of bubbles throughout the site was indicative of how much the festival is about the totality of sensory experience as it is about any given show or performance.
The rest of Friday was a blur of food, Dorset cider, naps and chasing The Boy as he displayed hitherto undiscovered climbing skills on any object to hand, or exercised his social nature among the crowd. It certainly felt comfortable having him on a longer leash than usual – I have rarely been at an event with a safer, friendlier feel, and of course at every turn there would be a soft play area to deposit him in, or a storytelling session to divert his attention for five minutes or so.
Of the more formal entertainments, we managed to catch a goodly section of Jon Ronson – even funnier in person than print – reading from his new book The Psychopath Test, and chunks of Labrinth's urban-pop and the mighty Blondie on fine form, but on the whole the music on the stages blurred with that from bars and cabaret tents into a general joyful mélange. What socialising we managed proved that the crowd was far more diverse than my early encounter had suggested, too.
On Saturday we made a little more effort to structure the day as I was to DJ in the "silent disco" in the early evening and was watching the clock - although I wasn't the only family member performing (see picture left). We managed to catch a good chunk of The Gruffalo (while eating "owl ice cream", naturally), the immense medieval fancy-dress parade (with me as a sinister nylon monk, since you ask) and almost the whole set by the wonderful and self-effacing Kathryn Williams, perhaps one of the most under-appreciated singers in this country.
My DJing experience was one of the more surreal I've had. Playing at the same time as another DJ to a huge tent full of people with headphones, each able to flick between music streams with a simple switch, I quickly realised that Bill Withers and Dusty Springfield were too subtle, and ended up reaching for the Bon Jovi, watching those tuned into my set raise their fists and sing along even as the other half of the crowd were singing to Black Eyed Peas. The night ended with a stroll through the Dingly Dell, The Boy shouting at peacocks, and a fun set from the genial Mark Ronson – including a touching tribute to his sometime collaborator Amy Winehouse.
Today has again been a blur of overeating, the sight of a crowd of ninjas dancing to Fela Kuti in a cocktail bar, 2 Tone legends The Selecter clearly very much alive and kicking, the unexpected delight of Ade Edmondson's folk band covering Kraftwerk and XTC, and The Boy displaying sheer delight at every one of the very, very many helium balloons and jumbo-sized bubble wands he saw. After Lulworth Cove, to look at the legendary Jurassic Coast, it's back to the festival site to (hopefully) get nostalgic at Primal Scream playing through their 1991 Screamadelica album. That, as one children's entertainer put it, is the way to do it.