What Was it Like ? Ballerina Tamara Rojo on Dancing to 12,000 People |

reviews, news & interviews
What Was it Like...? Ballerina Tamara Rojo on Dancing to 12,000 People
What Was it Like...? Ballerina Tamara Rojo on Dancing to 12,000 People
...and what Carlos Acosta had to say about all that O2 space
Tamara Rojo surveys the empty O2: 'I couldn't hear or see the public'
Last weekend ballerina Tamara Rojo performed to the largest live audience ever to watch the Royal Ballet, at London's O2 Arena. But what was it like facing 12,000 people, and trying with her partner, the Cuban star Carlos Acosta, to tell the intimate story of two young lovers in Kenneth MacMillan's Romeo and Juliet?
She tells us it's a weirdly out-of-touch experience on that vast stage, almost like being in private. And thank goodness for the cameras.
See theartsdesk review of the event.
ISMENE BROWN: That photo (main image above) that shows you standing on stage looking out at the empty arena - what were you feeling?
TAMARA ROJO: To be honest, because I had previous experience with English National Ballet and also with Julio Bocca performing in arenas in Argentina, it wasn't such a shock. I knew more or less what I was expecting. But I tried not to be aware of it while I was performing. I think what I wanted to do more than anything was that people going to the ballet for the first time would get the best thing ever - the closeest thing to the Opera House possible. Not try to patronise them, but do the most honest and moving performance that would make them maybe question their views about what the Opera House has - and be willing to come and see other shows.
How did you and your Romeo, Carlos Acosta, agree to project this intimate love tragedy in such a huge space?
I think we both understand each other very well, so it's not an idea of sitting down and thinking it out. We're both very instinctive artists - we can feel our way around this. And we realised that with the cameras there was no need to turn up the volume in any way, because through the screens the public was very close to every detail, and would feel in some ways even closer than at the Opera House. So I think we just went into our own show. The experience felt really intimate, actually. (The pair pictured right, by Dee Conway/ROH.)
Was knowing the cameras were there a help?
A help, yes, but also there's nowhere to hide. You can't lick your lips, or brush a hair out of your eyes - everything you do has to be what Juliet would do. Especially in Act III, where it's all Juliet, because it's not like filming a DVD when you know you can edit it. Every single thing I did was going to be seen.
So was this more demanding than other arena performances?
Yes - that, and the fact that the stage was so big. Though I did have the advantage of performing [Strictly Gershwin with ENB] at the Albert Hall the previous week! But yes, it was relentless. There was no second to catch breath. Even the moment when I eventually lie dead on the bed, I was very conscious of not breathing visibly. Of not rolling my eyes even when closed, because the camera could see that. In a stage performance those are moments you can rest.
Did you take tips from rock musicians about handling the O2?
I'm quite good friends with Ronnie Wood, and what I got definitely from watching the Stones and watching Mick Jagger is the intensity of big performance. It's the high volume, turned up to the limit - but that didn't apply here because of the intimacy of the cameras. If they hadn't been there, it would definitely have been a case of everything full out.
Did the Royal Ballet coaches tell the casts how to approach the arena performance?
No, but I was watching all the rehearsals of all the casts - and I sat in lots of different seats around the arena to see the view. I had a conversation with Alina [Cojocaru, another Juliet (pictured left, by Bill Cooper/ROH)], because we shared the dressing room, about what I'd noticed, and how much make-up you can wear with camera close-ups and so on. It was trial and error for everyone. Because I've done arena performance, people did ask me a bit about it - how does it feel and what will happen? But you can't really put it in words until you do it, and everyone will feel it differently. I'm quite good at blocking the venue out.
How aware were you of the public? Lots of people were still coming in while you made your first entrance as the child Juliet.
Yes. We couldn't see that. The public are far away so you didn't even hear them. Which I missed, actually. Because even at the Albert Hall you hear their response. I did hear just one little response at the end of my first scene when Juliet realises she now has breasts. But at the end I couldn't tell how much the audience were following it, and how much they were in it. You couldn't hear them. It was almost like being on the stage on your own.
I had so much space, I really could run. But for Carlos obviously it was a bit of a pain. He had to run after me and carry me all the way back
Did you consciously decide on a way to dance it and to act it so as to be visible to all those people? Many of them were two football pitches away.
Yeah, I think I like to cover a space. If you give me space - three metres, 30 metres - I like to cover it, especially with someone like Juliet. With someone young there has to be energy to waste! Young people don't care about saving energy - and that's something that's very important to show. And it was amazing because I really could run, I could run down every diagonal on that stage. But for Carlos obviously it was a bit of a pain. He had to run after me and carry me all the way back. I couldn't help it, but he was like, yes, it's all very well for you…
How did you feel that first show went? Were there any scary moments? You slipped off the bed at the end a little too far when you died…
I couldn't believe it! I've never done that before, and it had to be the O2. No, mostly I missed the orchestra - I like to see them. Also even as a reference point, having Barry [Wordsworth, the conductor] in the middle shows you centre stage, and here there was no reference point.
Did you change anything or learn something for your second performance last Sunday?
No, actually, people gave me mostly very positive comments. They could see so much of the intimacy between characters, so I think if anything the second show was easier. I felt freer, and stuck to my guns. And it wasn't in the back of my mind that I was wondering if this is the right choice.
Are there other ballets you think could survive this kind of arena show?
I think all the blockbusters could do this. Swan Lake, definitely, La Bayadère, even Giselle. It's more complicated with things like Manon and Mayerling, which would need much more support to the audience explaining the story. I think people would love to see a classical corps de ballet in a stage like that. To see the corps de ballet on a large scale creates a kind of magic.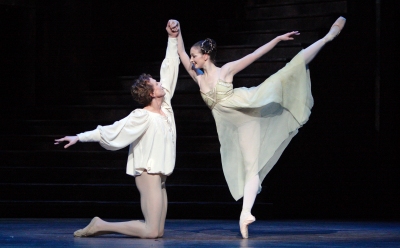 Would you do this again? Does it really hook a new audience, or is it just a big-scale one-off arena show for people who will never go again unless it's in an arena?
Well, it's an interesting question. I asked ENB management and they say it's a completely different audience at the Albert Hall from the Coliseum. It doesn't cross. However, I do think it's very important to change perceptions. Lots of people have real fear about how to behave at the Opera House, what to wear, when they can clap. Hopefully, those people will be willing to take a chance and come. But even if they don't, as an exercise in reaching people who didn't come before, there's nothing against us going to them like this maybe once every two or three years. Even if people see it as a different kind of entertainment experience, it's for them to judge our art form. (Lauren Cuthbertson and Edward Watson, the third Romeo and Juliet at the O2, pictured by Dee Conway.)
Were you conscious at all of the eating and drinking? I found it very distracting as a spectator sitting near that sort of thing, but did you notice?
It's what they do at the O2, it definitely didn't disturb me as an artist. I think popular habits have changed a lot now. People watch three channels of TV at the same time, flipping through them. We have much shorter attention spans, we go to see things and still play with our iPod. Younger people have even shorter attention spans and if they want other distractions while they're watching ballet, and it still gives them a moving, amazing experience, and still makes them question their core values, what they would do in such a story, how they would feel in such a position, all those important moral questions - then I don't care if they want to eat a pizza.
I wanted more than anything to make it that people going to the ballet for the first time would get the best thing ever
Explore topics
Share this article