David Bowie and the Story of Ziggy Stardust, BBC Four |

reviews, news & interviews
David Bowie and the Story of Ziggy Stardust, BBC Four
David Bowie and the Story of Ziggy Stardust, BBC Four
A beginner's guide rather than an insightful analysis of Bowie's alien alter ego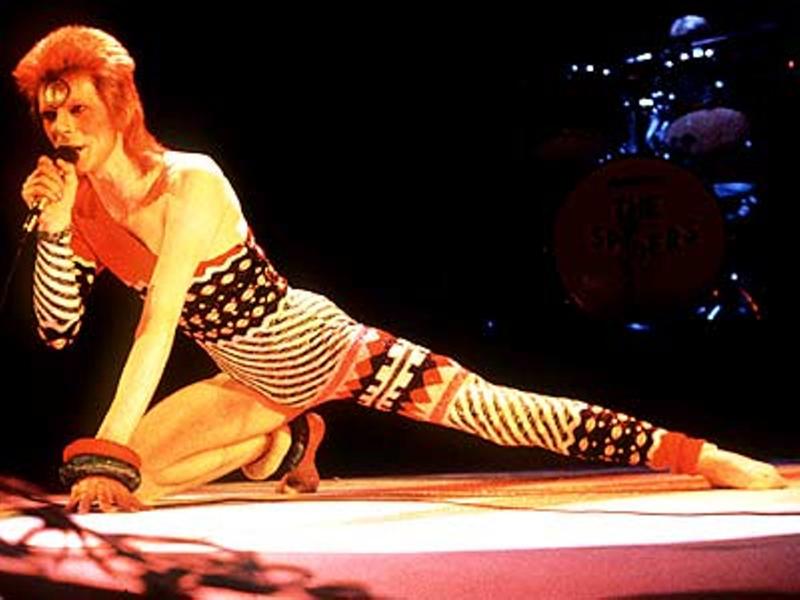 David Bowie: keeping fit the Ziggy way
Given that Ziggy Stardust was a figment of David Bowie's imagination it seems fitting that, for all intents and purposes, Bowie himself now appears to be a figment of our imagination. What's he up to these days? Is he still living in New York with his beautiful Earthling wife and daughter?
Or did he finally manage to accumulate enough wealth from his record sales to finance a return to his own home planet? These questions and many more are not even touched upon in this hour-long documentary.
However, fanciful whimsy aside, with no Thin White Duke available for comment, the programme-makers utilised the slightly corny device of having photos of Bowie's Ziggy-era visage peering through the static on a gravity-defying TV set whenever his disembodied voice had something to say between all the other contributors. But with a script as rudimentary and characterless as a Wikipedia entry, the film had to rely largely on the always spellbinding period footage and the quality of the anecdotes and insights delivered b yeveryone else.
Contrary to what this programme claimed, Bolan was the first camp bopper on the block
These contributors were equally divided between now famous fans going on about how that "Starman" performance on Top of the Pops changed the very DNA structure of their bodies (Marc Almond, Holly Johnson, Peter Hook) and Bowie contemporaries who included Elton John, Spiders rhythm section Trevor Bolder and Woody Woodmansey, and Bowie's mime teacher, Lindsay Kemp (being typically candid). Inevitably there was the usual "music on planet Earth would never be the same again" hyperbole (as if our interest would suddenly wane if something wasn't the biggest, best, greatest, finest or most life-changing). "You really did believe there was only five years left," Gary Kemp cheerily piped up at one point, referring to the apocalyptic ballad "Five Years". Really? No doubt the teenage Kemp also believed the world was going to be taken over by giant plants, if he ever read The Day of the Triffids.
Bowie himself - presumably utilising extraterrestrial powers beyond our comprehension – must have realised that Earthlings in the future would need some conveniently compact sound bites when they celebrated his 1972 creation, so once every ten minutes or so the floating telly reappeared and DB's voice intoned such gems as "I was trying to be a one-man revolution" and "The doppelgänger and myself were starting to become one and the same person". Tellingly, most of these snippets ended with a little chuckle, perhaps indicating that Bowie was well aware of the risks of sounding too solipsistic or self-aggrandising about his carrot-topped alter ego.
Suzi Ronson (wife of Spider from Mars, Mick) proved to be one of the more interesting contributors, supplying incidental details like the fact that Bowie's then-wife Angie acquired her red space-age Ziggy Stardust mullet before Bowie did. This may not ostensibly seem much of an anecdote, but as Mrs Ronson succinctly put it, "She made him brave." In other words her Yankee nerve helped him overcome his English reserve; possibly the single most important factor in the transformation of a cross-legged folk singer into an androgynous, sexually aggressive rock star. (This was apparently also the case with June Bolan and her glamrock hubby Marc.)
There was only a passing mention of Bowie's friend, hero and sometime nemesis (Bolan pictured below left with Bowie shortly before his death) and his influence on both Ziggy the fictional character and Ziggy the album. I'm of the opinion that Bolan was a bigger piece of the Ziggy jigsaw than, say, Anthony Newley (now only occasional present in the phrasing), and Lou Reed (both of whom were covered in some depth). Bolan and Bowie had been friends since the mid 1960s, they shared a love of 1950s rock'n'roll, a boredom with denim-clad late-Sixties hippydom and an otherworldly beauty which made their metamorphosis into otherworldly pop stars eerily convincing.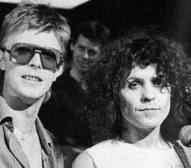 Contrary to the programme's claim, Bolan was the first camp bopper on the block. His glitter-cheeked Top of the Pops appearance predated Bowie's Man (in a dress) Who Sold the World LP cover by several months. Also, if you look at the footage of Bowie as an embryonic Ziggy performing "Queen Bitch" for The Old Grey Whistle Test (video below) you can see him pouting Bolan-style in a way he'd not done before. Just as Bowie had previously channelled Newley, Reed and Dylan he now needed Bolan's personality in order to catch up and then overtake him in the fame game they both took so seriously. Bowie's most astute biographer, Peter Doggett (featured here) has even theorised that "Queen Bitch" was about Bolan. He's certainly there on Ziggy as both an influence ("Starman") and a song subject ("Lady Stardust"). It makes skating over his impact inexplicable.
So what was new for seasoned Bowie fans in this flawed, workmanlike documentary? Not much, really. It was fun to see Mike Garson knock out even more flamboyantly version of his piano parts in "Lady Grinning Soul" and "Time" (even if both tunes were from Aladdin San and not Ziggy Stardust). And it was interesting to find out that Bowie's impatience meant that the Spiders only got to go through the songs two or three times (after which "the atmosphere would change" said Woodmansey) before recording them. But the wait for a truly insightful and intellectually engaging programme on the great man continues.
Watch David Bowie perform "Queen Bitch"
The wait for a truly insightful and intellectually engaging programme on the great man continues
Explore topics
Share this article