This World: Italy's Bloodiest Mafia, BBC Two |

reviews, news & interviews
This World: Italy's Bloodiest Mafia, BBC Two
This World: Italy's Bloodiest Mafia, BBC Two
Documentary on the Neapolitan Camorra is long on empathy, short on exegesis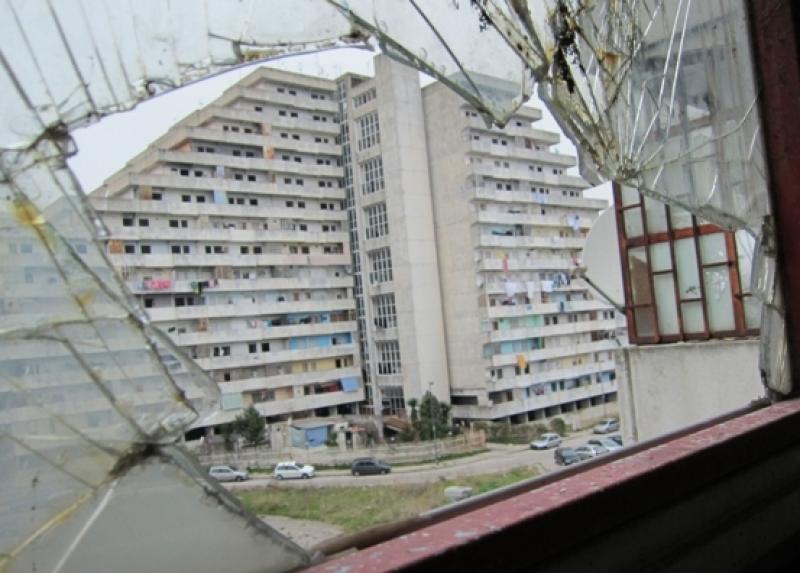 There goes the neighbourhood: A prestige Neapolitan apartment block has seen less crime-ridden days
Programmes about Italian organised crime made by the foreign media are always hampered by the finnicky nature of the beast itself: there is so much background detail that needs to be staked out at the outset that your head is whirling from information overload. Like its mainstream political parties, high-street banks and national daily newspapers, Italy has three, four or five times as many of each as any other European country of similar size.
Italy's Bloodiest Mafia didn't really bother with a comparative overview, other than to inform us that the Camorra, the Naples-based Mafia, has killed more people (3000 in 30 years) than either of its main two rivals, the eponymous Sicilian version (which is now looking somewhat tame and old school), or the Calabrian 'Ndrangheta, definitely the scariest of the Big Three (and yes, there are smaller offshoots), tending to torture its victims before topping them.
Likewise, we were told that there are "three different police forces" tasked with dealing with the Camorristi, without the full David Attenborough taxonomy treatment to lay out the important cultural differences between the Polizia, the Carabinieri and the Guardia di Finanza – and indeed why their very separateness partly explains their aggregate low success rate in tackling their target.
The only dynamic crimes we witnessed were grabbed from genuine CCTV footage
Judging by his distinguished written output over the last decade or so, one suspects that the Sunday Times' first-rate Italian-born former Moscow correspondent Mark Franchetti would have been happy to offer a more in-depth analysis of his subject. But the format of the programme was designed to create a strong subjective impression of what it feels like to live right now in what was in the Middle Ages the second largest – and until the late 19th century, arguably the most breathtakingly beautiful – city in Europe. Thus there were sympathetic but somewhat summary interviews with seven or eight victims of, or even renegades from, the Camorra, interspersed with a lot of gritty camera work (close-ups on refuse piles, dead pigeons and Vespas zig-zagging in the traffic, at six inches) plus a lot of lingering close-ups on craggy walls with bullet holes.
The only dynamic crimes we witnessed were grabbed from genuine CCTV footage - amusement arcades trashed or set alight, and a fatal shooting outside a bar (itself the most watched item on YouTube in Italy of the last view years). Like some kindly priest, Franchetti spent most of his time listening to the poignant personal histories – either confessional or redemptive. Alessandra Clemente is a law student whose 39-year-old mother was gunned down when she was a child. Antonio Prestieri, son of a Camorra killer (Italians use the English word, as well as "il Racket"), has disowned his murderous father. Pietro Russo, a mattress factory owner (pictured in white jacket with bodyguard in sunglasses and Franchetti), refused to pay protection money, and was disowned not only by his friends, but also by the local police who told him to pay up and shut up. Raffaele Del Giudice, an environmental campaigner, is trying to highlight the devastation caused to the once charming Neapolitan countryside by the illegal dumping of often highly toxic industrial waste.
The Camorra's strategic role in the city's ongoing rubbish crisis was examined, but not the pathetically passive attitude of the Neapolitans themselves in not recycling or limiting their waste output: there are no Wombles living under the shadow of Vesuvius.
Ever since the publication of Neapolitan journalist Roberto Saviano's whistleblowing and highly effective book Gomorrah, and its less convincing film version by Matteo Garrone, the visual depiction of the Camorra has shifted decisively. Earlier Italian films, TV series and documentaries emphasised the gypsy-like glitter and glamour of the female clan bosses (like certain South Asian premiers and presidents, they inherited their role on the assassination of their husbands). Their doyenne, Pupetta Maresca, was in the 1980s perhaps the second most revered woman in Europe after our own dear Queen. Then there was the Dickensian ghoulishness of their commercial practices (Camorra-approved pane fatto al forno al legno – bread would be baked using the wood stolen from old coffins whose inhabitants had long shrivelled up, American cigarettes filled with wood chips). Nowadays the approved visual style is post-apocalyptic urban breakdown, rotting 1970s housing projects with a doomy, distorted ambient music overlay. This documentary was just like that.
Share this article