BBC Proms: Little, BBCSO, Davis/ Late Night Grainger |

reviews, news & interviews
BBC Proms: Little, BBCSO, Davis/ Late Night Grainger
BBC Proms: Little, BBCSO, Davis/ Late Night Grainger
Disappointing Elgar, juicy big-band Grainger - and a dazzling late-nighter
Wednesday, 03 August 2011
They came in their thousands again last night, most – I'm guessing – for "the Elgar". Lacking faith that Tasmin Little could fill the enormous soul of that most elusive of violin concertos – a prejudice, alas, fulfilled - I put my money on the polytonal jungle Percy Grainger grows from pastoral seeds at the heart of his wacky In a Nutshell Suite. Yet unforgettably though Sir Andrew Davis swept it along, even Grainger was overshadowed by the lone, late-night transcendentalism of folk singer June Tabor.
That 10.15pm Prom was, as my companion described it, "born-again brilliant", not least given programming that slid diverse groups in and out with a skill that the more cumbersome main events haven't begun to negotiate. Indeed, I was left wondering why Davis couldn't have had Little in place at the start of the evening and segued straight from the BBC Singers' account of the bittersweet Elgar partsong "There is sweet music" in to the concerto. Voices and violin had one thing all too much in common: vibrato or, as Grainger with his dislike of all non-Anglo Saxon terminology might have put it, wobble. The wobble of the professional singers later came close to sabotaging Grainger's wordless, ahh-to-mmm arrangement of the famous "Irish tune from County Derry", though it certainly wasn't inappropriate to Little's approach. The trouble is that you need soulful vibrato, and hers always seemed to be applied from without.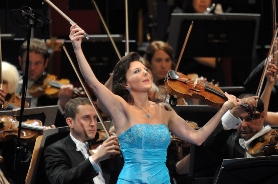 Where were Elgar's violent mood swings, the drive, the half-lights of this most volatile of concertos? Little (pictured right last night by Chris Christodoulou) offered only a modest proficiency to drive the faster runs and frolics, a decent, almost obbligato-like interplay with the orchestra in a way too intermezzo-like slow movement, and a suitable austerity in the long accompanied cadenza remembering things past – but next to nothing in the way of real fantasy. Nothing summed up the want more than her bloodless approach to the climactic triple-stopped gauntlet at the height of the finale.
A Classic FM "warm bath" performance, then, but surrounded by BBC Symphony Orchestra style at its best. Davis knows the piece inside out, and he's always proved the most sensitive of concerto partners; a couple of years back, he conducted the Philharmonia in a dazzling relationship with Canadian violinist James Ehnes (one of my choices of 2000-09 for theartsdesk). Here you could delight in the human voicing of the inner string lines, a clarinet solo of purest poetry here, the first horn making magic out of an octave drop there, but it wasn't enough.
At least the BBC players always seem alert to the return of their genial former principal conductor (pictured below by Chris Christodoulou), and there was sharp-edged relish in the more rumbustious numbers of Grainger's In a Nutshell, woodwind and brass cascading and ricocheting naughtily around the tune which should have been Australia's national anthem at the core of the "Gum-Suckers March". But it was the "tongs and bones", a percussion department way ahead of its time back in 1916, in "Arrival Platform Humlet", and above all Liz Burley's purposefully in-and-out-of-focus piano solo in the revelatory "Pastoral" which proved truly gobsmacking, one in the eye for Albert Hall languor. I love the way this anti-idyll slips from Grainger's own distinctive version of English cowpat in an oboe solo beautifully taken by Richard Simpson into the Schoenbergian mire of wartime nightmare. Exactly the sort of thing advocates keep trying to persuade us Havergal Brian's Gothic Symphony was doing earlier in the Proms, but Grainger's melodic and orchestrating genius is so much the greater.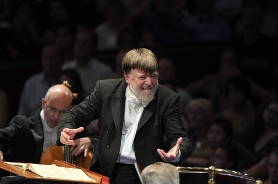 Shrewd programming left us with a consummate account of an earlier (1895) avant-gardist joker in the pack, Strauss's Till Eulenspiegel, which this orchestra played in October 2009 under Bělohlávek. It came across above all as an exercise in how gleaming good fairytale humour, led by Nicholas Korth's flawless horn jackanapes with bells on and capped most winsomely by Michael Cox's flute, finds life getting in the way. The orchestra has an army of soloists to keep the characterisation sharp but it was above all Davis's masterly way with tempo swivels - and they are legion in this part rondo, part tone poem - which made this wag such good company.
As was the late-night Prom from start to finish - indeed, it's the first I've heard to have no kind of fault or flaw, and this was because all four very different sets of performers had a burning but polished urge to communicate, which an audience always senses. We started with Tabor, exquisitely miked, bringing the Albert Hall crowds into her special brand of intimacy in an easily ornamented "Green Bushes", followed by Grainger's thousand and one variations on the same theme from a fluid Northern Sinfonia under that great multitasker John Harle.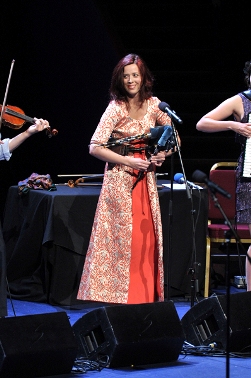 Grainger would, I'm sure, have taken special pleasure from the event's hatching up in The Sage, Gateshead. Northumbrian performers seem to have a special lack of inhibition, and so we eased happily into the haunting mesh of likeable Kathryn Tickell's smallpipes (pictured right in the late Prom by Chris Christodoulou) with the violinist, guitarist and accordionist in her band - again, perfect amplifying in the hall added to the pleasure. Their version of "Shepherd's Hey" was a tad cheesy alongside the Grainger original, but I loved what Amy Thatcher - a spirited, sweet dancer in the first encore - made of "Molly on the Shore". Its quartet version crackled along at a dangerous but gutsy pace as led by top NS violinist Bradley Creswick.
The classically trained men of the BBC Singers seemed to learn a thing or two from the lusty sea shanty of the Teesside Wilson Family - not enough from them, alas - and packed quite a punch in Grainger's orchestrally trembling arrangement of "Shallow Brown". Even so, that wouldn't have had the impact it did without the segue into Tabor's spellbinding narration of the original - the still heart of the evening, and the most haunting thing I expect to hear at the Proms this year. This is simply one of the world's great voices, going straight to the essence in its soft and low expressiveness. And the unexpected pleasures of these second (or third) concerts of the day are what make the oft-touted (but true) label "greatest music festival in the world" really stick.
Catch both Proms on the BBC iPlayer for the next seven days and on BBC Four on 4 August (BBCSO) and 14 August (Late-Night Grainger)
Hear June Tabor sing "Shallow Brown" on her album Aleyn
Share this article