Salt of Life |

reviews, news & interviews
Salt of Life
Salt of Life
Gianni Di Gregorio's follow-up to Mid-August Lunch is a delight
In his dreams: Gianni Di Gregorio's wintry sexual comedy 'Salt of Life' the relevant drugs don't work
Mid-August Lunch (2009) was the most purely enjoyable of the welcome new wave of Italian films. Watching its writer-director Gianni Di Gregorio, then 59, star as a failed Roman rogue with a lived-in face, swigging wine while failing to corral his irascible mother (movie debutante Valeria de Franciscis Bandoni, 93) and her ancient cronies, this was la dolce vita lived amiably on the bottom rung.
In a summer of lazy remakes and sequels, this odd couple's swift return in
Salt of Life
is a delight.
This isn't strictly a sequel but, as when Chaplin would bring back the Tramp, another variation on characters who are already well loved, original new stars of the commedia all'Italiana. Gianni remains an unemployed mummy's boy, this time leaving him at the beck and call of a wife and teenage daughter too. You can feel every little blow to his dignity in the tiny winces on Di Gregorio's accommodating, baggy-eyed face as his pension and time are frittered on errands. When his lawyer friend Alfonso (Alfonso Santagata) brags about a young lover, and lets him know even one of the track-suited old-timers sitting out on the street has one too, Gianni begins a doomed attempt to find an affair of his own.
Gianni's late-life crisis is made worse by the buxom Italian womanhood he's surrounded by, from his mother's gorgeous nurse Valeria (Valeria Cavalli) to old friends and flames, and flirty twins to whom Alfonso is giving breathless legal aid. Valeria's look of panicked embarrassment when he holds her hand in a bumbling effort at seduction is enough to add another few weary lines to Di Gregorio's weathered features, which as director he makes a close-up landscape of disappointing experience. Force-fed Viagra by Alfonso so he can visit a prostitute, his look down at its deflating effect as Rome's traffic defeats him is sadly unsurprised. Mother is a more minor but ever-looming presence this time, the 95-year-old outwitting him at every turn as she busily spends his inheritance, but still served by him with bickering affection. A lingering look from one of her friends is about the nearest Gianni gets to love action.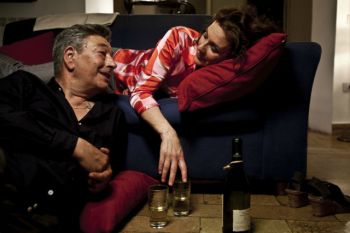 Di Gregorio made his international name as a writer and producer of Neapolitan crime exposé Gomorrah (2008), so has served his time at the tough end of Italian life. But where a typical Hollywood comedy on this subject would be manic and misogynist, Di Gregorio's alter ego is gentle, and as writer and director too he clearly loves women, every one of whom is distinct and attractive even as they remain unattainable fantasies. Though it's sometimes easy to forget Gianni has a wife at home as he sets out on each romantic misadventure, in the end his dreams of the better life to be found between his mum's nurse's breasts are neither sins nor just desserts, merely understandable longings. Wife and daughter both suspect why dutiful papà is suddenly to be found crashed out and hungover in a new suit in the middle of the day.
The greatest strength of Italian cinema compared to Hollywood's more puritan fables is its warm acceptance of human weakness, and Di Gregorio's languid, non-judgemental films breathe this spirit. The Salt of Life was inspired by his own realisation that he was becoming just another "old man in the street" as his screen-self fears, part of a universal fall into decrepitude no one escapes. But as his 95-year-old co-star proves, you can keep having fun on the way. This second film naturally lacks the surprising freshness of Mid-August Lunch. But regular visits to Gianni's world would still be a medicinal prospect.