Three Floors review - nothing like good neighbours |

reviews, news & interviews
Three Floors review - nothing like good neighbours
Three Floors review - nothing like good neighbours
Italian families crack up after an accident, in Nanni Moretti's drama
Nanni Moretti, Karen di Porto, Margherita Buy and Denise Tantucci in Three Floors
A speeding drunk driver arrows down a silent street into a Roman block of flats.
The impact's reverberations ripple through the next 10 years, in
Nanni Moretti's
soulful, Italian all-star adaptation of Eshkol Nevo's
novel
,
Three Floors Up
.
The teenage driver, Andrea (Alessandro Sperduti), sent a woman fatally careening on his disastrous course, confirming the low opinion of his judge dad (Moretti), while barely phasing sympathetic mum Dora (Margherita Buy). The smashed flat's owners, Lucio (Riccardo Scamarcio) and Sara (Elena Lietti), are more concerned by incipiently senile old neighbour Renato, who they leave to babysit their young daughter, later found nestled with him in the park. Pregnant witness Monica (Alba Rohrwacher), whose husband is working abroad till the birth, stays in her lonely flat, subject to hallucinations. These lives intersect stubbornly and tragically in the crash's aftermath. Moretti then returns at five-yearly intervals, observing foolishness, fear and circumstance inexorably eat his protagonists away, till letting some light in at last.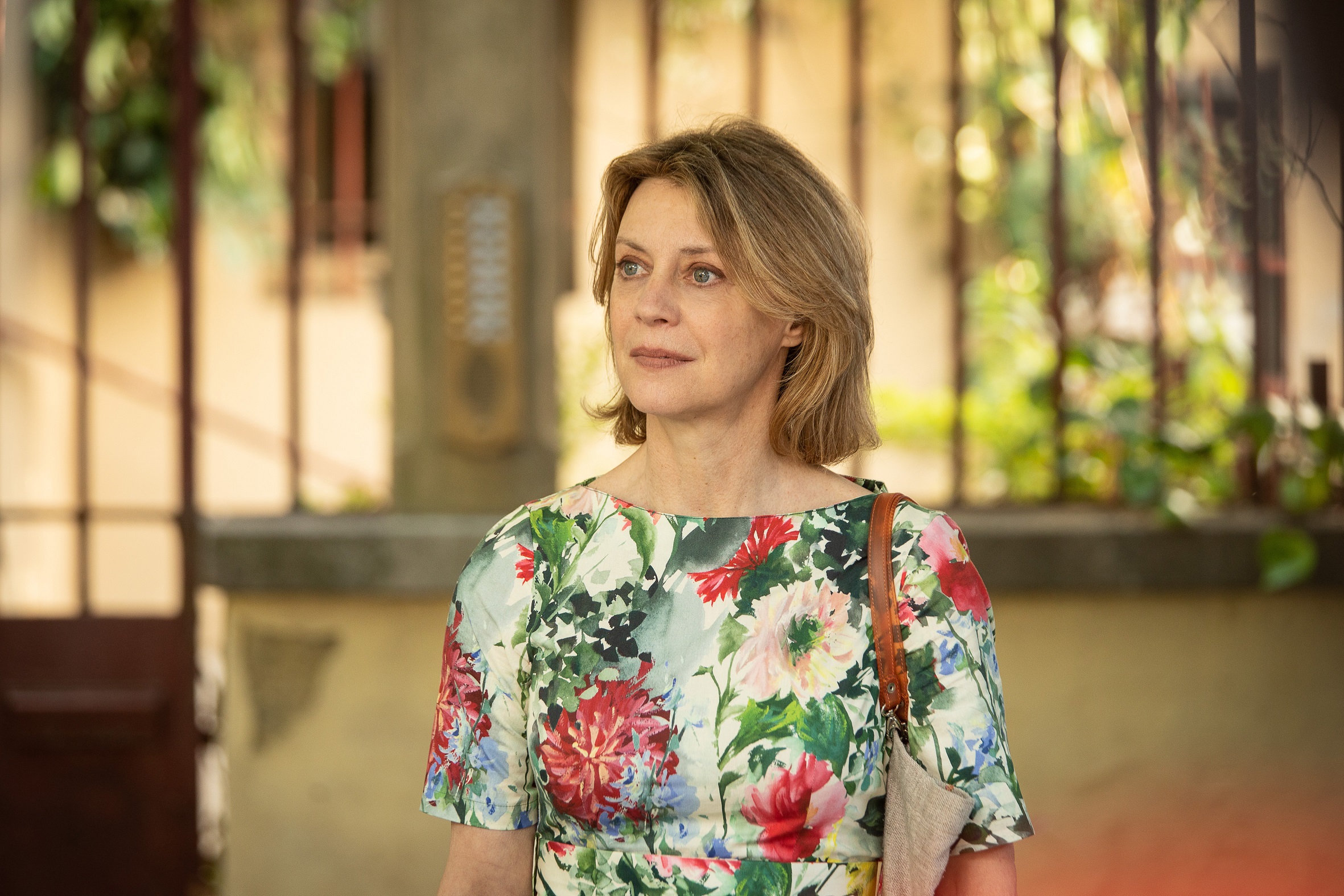 Moretti is still best-known in Italy as the comically observational, middle-class everyman of early films such as Caro Diario (1994). But alongside political satires of varying sharpness – Il Caimano (2006) dared to tweak Berlusconi when he loomed over every aspect of Italian film finance – the Palme d'Or-winning The Son's Room (2001) employed that everyman appeal in a study of shocking grief. Moretti's stiffly moral judge here, more even than that film's numb, seething dad, offers the husk of his old persona.
Margherita Buy, pictured above, an earthily real, subtly nuanced everywoman and major Italian star, was previously showcased by Moretti as a long-suffering director with family issues in Mia Madre (2015). Here she gradually emerges from the moral fog of maternal love – supporting her selfish son with no regard to his victim – to become Three Floors' heroine. Riccardo Scamarcio, pictured below with Lietti, whose capacity for charismatic danger was sealed in the gangster epic Romanzo Criminale (2008) and a cruder Hollywood job in John Wick: Chapter 2, suffers the most slow-burning self-destruction. When his daughter becomes withdrawn after being discovered with Renato, the suspicion she was abused consumes him. Renato's teenage granddaughter Charlotte (Denise Tantucci) meanwhile makes a play for him which they both regret, his obsession and sexual weakness almost jailing him, the age aspect a bitter irony.
Rohrwacher's isolated Monica meanwhile comes unstuck, eventually befriending her husband's despised estate agent brother, who's defrauded their block. If, that is, she didn't dream his transgressive, erotic attentions.
Moretti says this film about neighbours as conflicted strangers has been made accidentally timely by Covid isolation. Transplanted from the novel's Tel Aviv, it isn't a particularly Italian microcosm, and threads more intimately convincing strands than everything-connects sagas such as 21 Grams. Moretti is a fundamentally decent, optimistic man, and he's added a chapter to Nevo's story, allowing his crisis-struck characters kinder, if chastened, resolutions. If this blunts Three Floors' piercing sense of tragic flaws and fate, these people mostly deserve mercy, making his Hollywood-like softening hard to deny. The apartment block remains, an indifferent home to human foibles.