Jenny Saville, Modern Art Oxford and Ashmolean Museum |

reviews, news & interviews
Jenny Saville, Modern Art Oxford and Ashmolean Museum
Jenny Saville, Modern Art Oxford and Ashmolean Museum
An admirable technical virtuosity can't rescue these paintings from a certain glibness
Jenny Saville: Fulcrum, 1997-99
Jenny Saville rose to art stardom under the patronage of Charles Saatchi. Fresh out of art school, she was contracted to produce work that would then be shown in his gallery. The Royal Academy's Sensation exhibition in 1997 followed, and she became a fully paid-up member of the YBAs.
Making big paintings featuring big women, in the dunnish colours of Lucian Freud – to whom, as a figurative artist, she was vaguely compared – Saville's work has also, naturally, been seen as a feminist riposte to art history's male gaze.
Therefore, given her public profile over two decades, it might come as a surprise to many that this is Saville's first exhibition in a public gallery. While Damien Hirst is currently drawing in crowds at Tate Modern as part of the Cultural Olympiad (a double honour, since most high-profile British artists given a Tate exhibition would find themselves at Tate Britain), Saville's mini-retrospective is taking place outside the big metropolitan hub altogether, at Modern Art Oxford. So why, until now, the apparent neglect?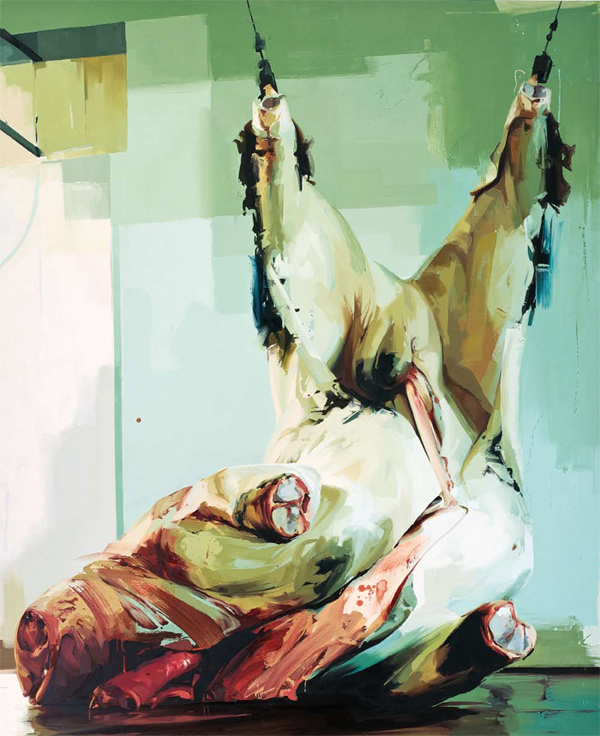 Saville's virtuosity as a draughtsman is evident, and she employs it with a direct engagement with art history. And she takes on the big boys – we not only encounter the formal language of Freud, and to some extent Bacon, but we revisit the motifs of Leonardo and Titian and many other artists plucked from the last 500 years. And therein might lie part of the problem – not that she has the audacity to engage with great art of the past, but that she does so in a way that eventually begins to pall as rather facile and glib.
Take Torso II, 2004-5 (pictured right) which is a painting of a butchered animal carcase, the only non-human subject on show. This take on Soutine is eloquent and fluid, but perhaps, in a sense, it is too fluid, too easily rendered. The thin paint glides over its surface as easily as our eyes glide over it, leaving us nonchalant and untroubled. There is no sense of friction, of traction, nothing either to repel or seduce. This is what it might feel like to look at a more polite Glenn Brown painting – his flat, rather nauseating copies of Rembrandt and Auerbach, the impasto paintwork of each artist reduced to a fake, sheeny veneer – but without any of the knowingness, without any of the wit. And if there's no sense of that irony, and your perfectly rendered surface is entirely sincere, then there is, of course, the danger of kitsch.
Indeed, this is be one of the dangers of figurative art generally, but particularly portraiture, since it inevitably engages with the art of the past in a very self-evident way. One feels that Saville's work really wouldn't look out of place at the BP Portrait Awards. And as we see from scores of artists at the National Portrait Gallery's exhibition, technical virtuosity in itself isn't enough to either sustain the gaze or nourish the intellect.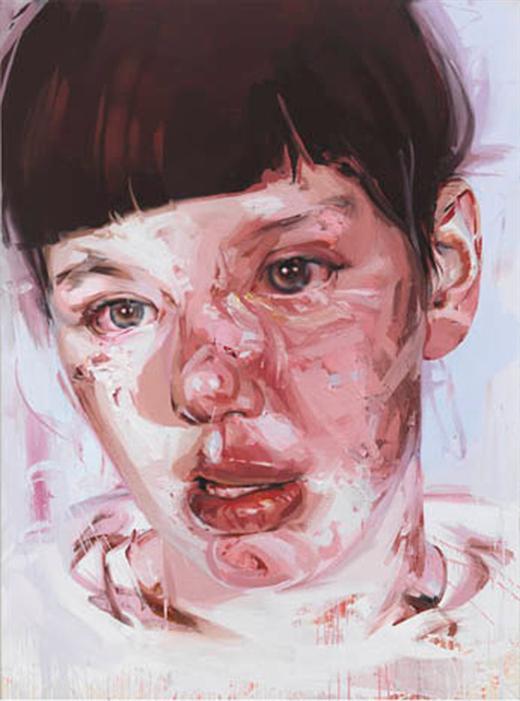 And this danger becomes more apparent when we look at some of the paintings that are more self-consciously "troubling". Red Stare Head I (pictured left) and II are almost perfect mirror images of each other. They feature a young girl with one half of her face painted, in glistening, loose strokes, to resemble torn, disintegrating flesh. The flesh beneath one vacant, blood-shot eye drags down, so that we glimpse the skull beneath the skin, the cadaver suggested by that livid flesh. The corners of her loose, bloodied mouth drag down, too, so that the impression is given of a bovine docility, a numbed insensibility. This is overripe drama, indeed, but there's something about the ease and fluidity of the shiny, shell-like painted surface that undermines further exploration – rather like Glenn Brown's facsimilies. They seem to simulate emotion rather than give rise to it.
Saville's earlier works give a hint of what's to come, but are rather more conceptually successful. In Fulcrum, 1997-9 (main picture), a sprawling five-metre-long canvas depicts the massive heft of three fat bodies: three women crushed up against the picture surface and trussed up like meat. The women appear to be almost suffocating under their own weight, but their flesh hardly resembles flesh at all. instead, these bodies are like grotesquely inflated, flesh-coloured balloons, their surfaces as smooth and as hard as pumped-up latex. But here we at least find some real engagement with issues surrounding body image that don't appear facile or glib: the dehumanised objectifation of flesh seems entirely fitting here.
Over at the Ashmolean, two large-scale drawings confront us in one of the museum's Renaissance galleries: one from a series called Pedimenti, the other after Leonardo's Burlington House Cartoon (which can be seen at the British Museum) of The Virgin and Child with Saint Anne and John the Baptist. Saville has copied the latter but has superimposed images of her own wriggling child. These two interlopers look reasonably comfortable in these Old Master surrounds. But the drawings highlight the difficulty of re-doing art history from the copybook (see Gerhard Richter's re-doing of Titian), since there comes a point when the language and idiom does indeed spill over into kitsch.
Jenny Saville is at Modern Art Oxford and the Ashmolean until 16 September
There's something about the ease and fluidity of the shell-like painted surface that undermines further exploration
rating
Explore topics
Share this article