DVD: Orlando |

reviews, news & interviews
DVD: Orlando
DVD: Orlando
Sally Potter turns Virginia Woolf's novel into a dream of a film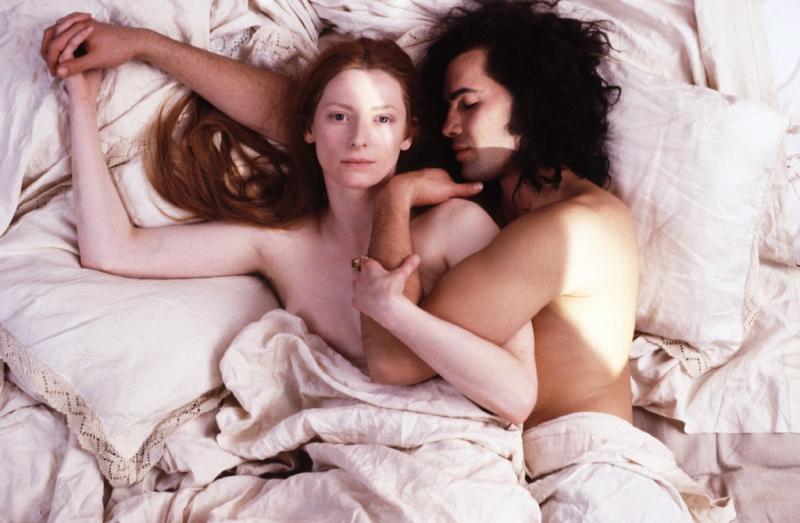 The Lady Orlando (Tilda Swinton) briefly finds love with Shelmerdine (Billy Zane)
The first time I saw Orlando, on general release in 1992, I was blown away by the beauty of Sally Potter's homage to Virginia Woolf. Beginning in 1600 when Orlando (the suitably androgynous Tilda Swinton) is a young man, the film skips and hops through to the present day. The first scene, a banquet for Elizabeth I (Quentin Crisp resembling a pantomime dame in a tall red wig) takes place after dark and, in the glow of candlelight, everything is burnished a rich golden brown.
The aged queen gives Orlando the deeds to a grand house – on one condition: "Do not fade," she commands; "Do not wither, do not grow old". Cue for immortality, and subsequently Orlando sees four centuries come and go. Instead of aging, he changes sex, but doesn't turn a hair when, after a long sleep, he wakes up as a woman. "Same person," s/he tells us; "no difference at all, just a different sex." In law, though, it makes every difference; since women can't own property, she loses the house. But she doesn't mind as, now, she is "a free spirit unfettered by position or possession" and taking her lover in her arms, tells us "I think I'm going to faint. I've never felt better in my life."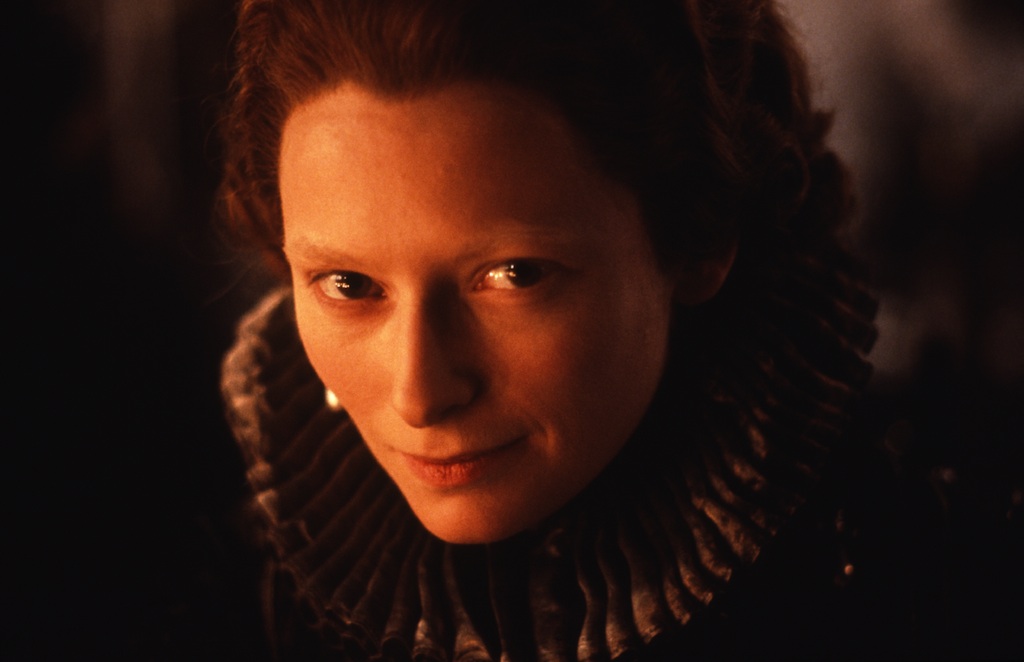 Seeing the film again 20 years on, I was irritated by the way Orlando addresses remarks to camera (pictured right) as though s/he were an observer of the story rather than a participant. Along with his/her propensity for drifting through time seemingly untouched by events, the device makes the film feel self-consciously arch.
Then there's the discrepancy between the exceptional beauty of Orlando and his/her loves – Sasha (the charmingly boyish Charlotte Valandrey), the Kahn (the suave Lothaire Bluteau) and Shelmerdine (the oh so pretty Billy Zane) – and the ugliness of the supporting cast. Caricatures of vanity, arrogance, stupidity and opportunism, they belong in a world saturated with vice, and remote and from the lovers.
As you can see, I was searching for meaning. Is "Orlando" an allegory, a diatribe against sexual inequality, or a discourse on the venality of men and the vulnerability of women? None of these scenarios fits the bill and, in any case, how can one take seriously a film with such an outrageously camp ending. A gold-clad angel (Jimmy Somerville) hovers in the sky above Orlando's head, singing falsetto "I am coming, I am coming; here I am/ Neither a woman nor a man/ I am alone and I'm in outer space/ I'm being born and I am dying." (see video below)
So I decided to watch it again – unthinkingly this time. It is obviously the answer, since I was captivated once more by the ravishing spectacle of this dream-like biographical journey through time. The film is divided into chapters headed by a date and a significant encounter: 1600 Death, 1610 Love, 1650 Poetry; 1700 Politics, and so on.
1750 Society is a gathering of poets including Alexander Pope (Peter Eyre looking sly and vengeful) who demonstrates utter contempt for women. "Conversation," he informs Lady Orlando, "is a place where one plays with ideas, my dear lady, though one forges them quite alone. The intellect is a solitary place and therefore quite unsuitable a terrain for females, who must discover their natures through the guidance of a father or husband."
Meanwhile, encased in a pale turquoise crinoline (pictured below left) and balancing an elaborate wig on her head, Lady Orlando sits caged inside the trappings of her sex and class. Each chapter, in fact, is a moving tableau that features Tilda Swinton looking gorgeous in different guises. Sally Potter's direction is exceptional but costume designer, Sandy Powell deserves even more accolades for the 40 or so luxuriant garments that she created to add so much to the film's sumptuous splendour. They had to be appropriate to different historical periods so, for inspiration, she looked at paintings, and it shows.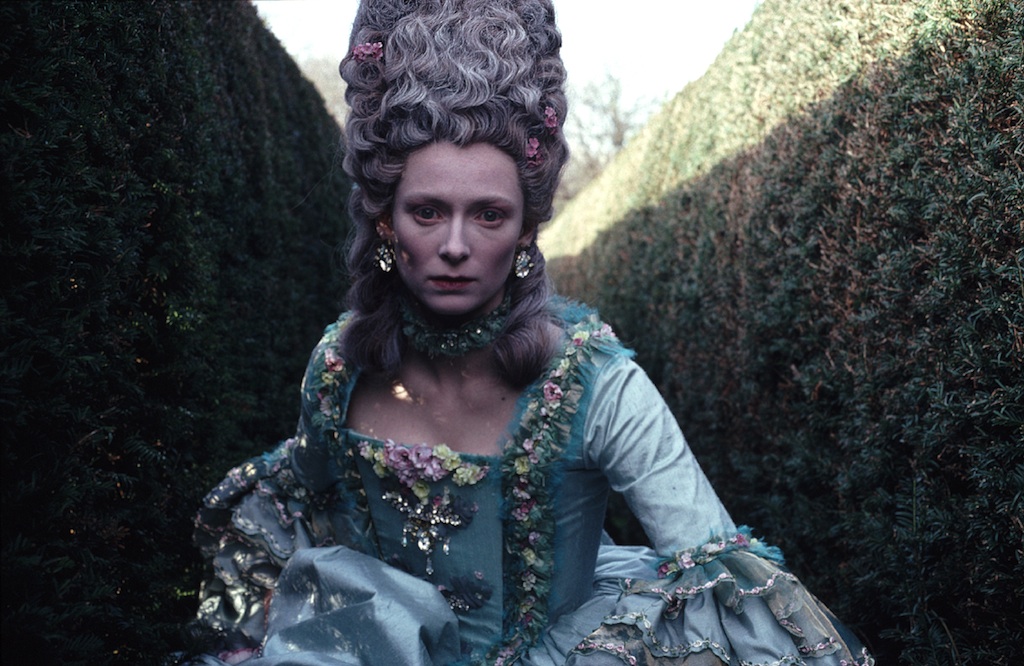 While in Constantinople for 10 years as our ambassador, Orlando goes native; we see him in the bathhouse looking like an Ingres Odalisque, swathed in cream wraps. On her return to England as a woman, Orlando is laced into a tight corset and dons a white crinoline whose voluminous skirts make it hard to negotiate the furniture, which is similarly wrapped in white dustsheets. Fast forward to the Victorian era, when Swinton becomes a Pre-Raphaelite heroine resplendent in a sumptuous, emerald green gown that offsets her magnificent auburn hair.
Virginia Woolf's novel ends in 1928, but Sally Potter brings it up to date with a visit to a publisher's office in Docklands where Orlando's draft for an autobiographical novel meets with approval. The film ends, though, under the same tree as it began, with same russet brown colour scheme; Orlando has exchanged his doublet and hose for suede motorcycle leathers. And things have gone full circle in other ways; as a young man reading poetry he looked very feminine, and as a woman watching her young daughter film the corn, she looks distinctly androgynous. Gender, it seems, is fluid, arbitrary and indeterminate. But there I go again – looking for meaning.
Along with the DVD comes an interview with Sally Potter and documentaries about filming in Uzbekistan (a stand-in for Constantinople) and Russia (where they shot the Great Frost, when the Thames froze over) and hoisting Jimmy Somerville up by crane to swing in the breeze while wearing angel's wings. After O.Ding on such a rich and fantastic spectacle, they bring you back to earth with a welcome bump.
Watch the trailer for Orlando
Each chapter is a moving tableau that features Tilda Swinton looking gorgeous in different guises
rating
Share this article