Classical CDs Weekly: Messiaen, Saint-Saëns, Meraner Curmusik |

reviews, news & interviews
Classical CDs Weekly: Messiaen, Saint-Saëns, Meraner Curmusik
Classical CDs Weekly: Messiaen, Saint-Saëns, Meraner Curmusik
Flamboyant French orchestral repertoire and operatic highlights from an Italian spa town
Juanjo Mena conducts Messiaen in Norway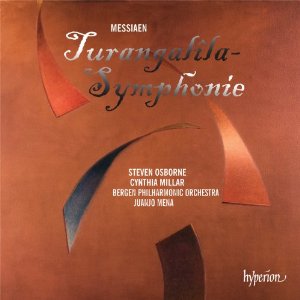 Messiaen: Turangalîla-Symphonie Steven Osborne (piano), Cynthia Millar (ondes martenot), Bergen Philharmonic Orchestra/Juanjo Mena (Hyperion)
Olivier Messiaen's epic, ten-movement Turangalîla-Symphonie has always prokoved Marmite-like reactions in audiences. It was created in the dark post-war years, eventually entering the orchestral repertoire in the 1970s. It has long provided regular work opportunities for a small band of ondes Martenot players, a 1920s vintage electronic instrument whose erotic swooning gives this piece so much character. Nervous newcomers will hopefully be shocked by the music's garish colours and sheer positivity; chord progressions recall Gershwin at his ripest and the piece is stuffed with hummable tunes. The expressive range is vast – passages of wild percussive extravagance co-exist with moments of ecstatic stillness. A successful interpretation has to balance several factors – the important concertante piano part, the timbre of the ondes Martenot and a rather rambling structure.
Long standing fans will already possess André Previn's glorious LSO reading on EMI. This new performance is just as special. Wisely, Juanjo Mena doesn't attempt to tone down the vulgarity or smooth the out the textures. He's impetuous, excitable, the Bergen players managing to keep up with his swift tempi. There's plenty of muscle on display, but the softer episodes are gorgeous, notably the cheesily-named Jardin du sommeil d'amour. Cynthia Millar must have played this piece countless times but never sounds as if she's going through the motions. I've never heard the onde's low notes in the first movement before, ringing out like blasts from an early Moog synthesiser. Steven Osborne's handling of the fiendish piano solo is effortless. He's never better than when he's in cocktail lounge mode; sample the fourth movement's bluesy closing duet with the ondes Martenot. Unmissable – this is already among the most uplifting discs you'll hear all year.
Watch Cynthia Millar demonstrate the ondes martenot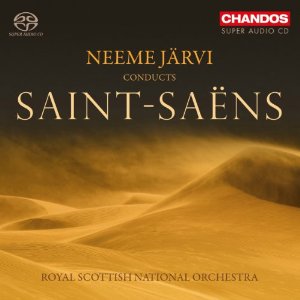 Neeme Järvi conducts Saint-Saëns Royal Scottish National Orchestra/Neeme Järvi (Chandos)
Camille Saint-Saëns had a long life; this quintessential 19th century French composer outlived Debussy, ending his days in 1921. Described by a French critic not long after his death as "a sunken vessel from which only two or three masts protruded above the waterline", he's been long underestimated and undervalued; a supremely competent, occasionally inspired composer of highly accomplished, witty and dramatic music. Several works on Neeme Järvi's new collection are familiar – the Danse Bacchanale from Samson et Dalila and the Danse Macabre but there's a lot which was unknown to me. Symphonic poems include the wonderfully exciting Phaëton, a brilliant depiction of Apollo's attempt to drive Phaeton's chariot – incessant string ostinati adding to the hysteria before a spectacular thunderbolt brings us back to Earth.
Classical literature also provided inspiration for La Jeunesse d'Hercule. Saint-Saëns's musical depiction of Hercules's youthful indiscretions can't help sounding more entertaining than hero's po-faced embracing of virtue at the work's close. Not everything on this well-performed, spaciously-recorded disc is top drawer stuff, but it's always immaculately orchestrated and entertaining. There's the slightly frenetic military march from a Suite algérienne and another, even more flamboyant, composed for the coronation of Edward VII in 1902. Danse macabre benefits from a nicely astringent violin solo and a suitably prominent xylophone. You can't imagine these pieces being delivered with more conviction; proof that the relationship between Järvi and the RSNO is as strong as ever.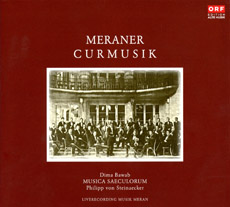 Meraner Curmusik Musica Saeculorum/Philipp von Steinaecker (ORF Edition)
Prolonged exposure to Turangalîla could leave you feeling in need of a good sit down, and this oddly enjoyable release aims to recreate a typical performance given by a seasonal scratch orchestra at a 19th century European spa. Imagine that you're in a wicker chair, knees covered with a woolly blanket whilst waiting for your next dubious water treatment. These are the sorts of pieces you could expect to hear. Philipp von Steinaecker's enterprising chamber band use original arrangements used by the spa orchestra in the Italian town of Merano over a century ago and play period instruments. Strings use lots of smoochy portamenti and a wheezy harmonium is used to fill in the textural gaps.
Soprano Dima Bawab sings on several numbers. Puccini's "O mio babbino caro" is a delectable highlight, as are two arias from Lehàr operettas. Predictably, Strauss waltzes and polkas gain extra fizz from this sort of treatment. The unlikely standouts are several downsized operatic bleeding chunks: Wagner's Waldweben from Siegfried sounds delicious played by these tiny forces. The Intermezzo from Mascagni's Cavalleria rusticana is sumptious, and there's a selection of tunes from La Bohème. You can imagine cynical players tossing off these arrangements in a cavalier fashion. Here, each one is despatched with love and careful attention to detail. Easy listening in the best possible sense.
Imagine that you're in a wicker chair, knees covered with a woolly blanket whilst waiting for your next dubious water treatment
Explore topics
Share this article