Priestley in the House: Cornelius Revived |

reviews, news & interviews
Priestley in the House: Cornelius Revived
Priestley in the House: Cornelius Revived
The son of JB Priestley reflects on one of his father's little-known plays, due for revival this week
Wednesday, 15 August 2012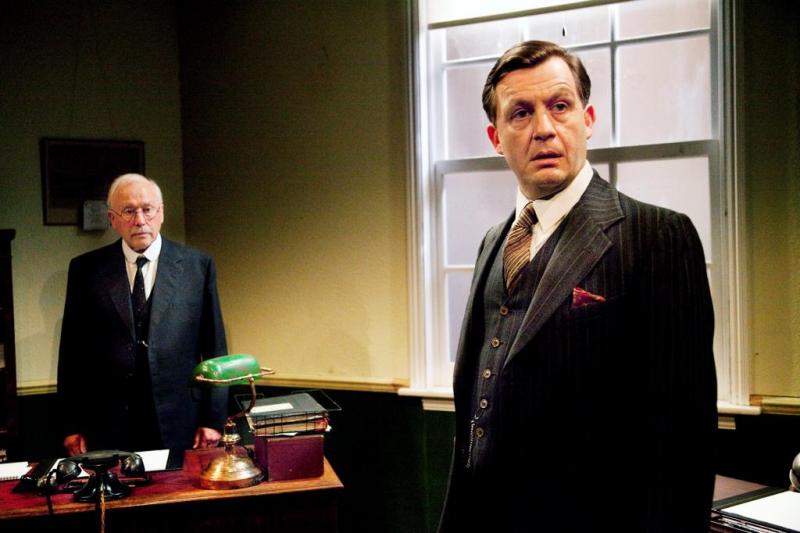 Col Farrell and Alan Cox (Cornelius) contemplate 'the exigencies of office life'
I am keenly looking forward to seeing the new production of JB Priestley's play Cornelius at the Finborough Theatre. This will be the first time I have seen the work performed, though I have of course read it. But my father always said his plays were made for the stage rather than the page. They need the skill of a cast and director to bring the characters alive and the active engagement of the audience to enhance the experience.
Cornelius is subtitled "A Business Affair in Three Acts" and takes place entirely in a London office; there are echoes of my father's novel Angel Pavement, also centred on a city office and the people who work there. What, you will ask, did JBP know about offices? Well, he left school at 16 and worked in a Bradford wool office till he joined the army aged 20 in 1914. He knew at first hand the miserable existence of the office boy, so Lawrence's outburst in Act Two comes from the heart. (The title character Jim Cornelius is the head of a failing firm.)
While the setting may seem dated, the characters remain real and truthful
In the winter of 1934 my father's play Eden End was on at the Duchess with Ralph Richardson playing the part of Charles Appleby. JBP was impressed with Richardson as an actor and a man, and they became good friends. While Eden End was still playing, my father wrote Cornelius for Richardson in the title role: brisk work because Eden End closed on 2 February 1935 and Cornelius opened on 11 March for a week's tryout at Birmingham's Theatre Royal prior to the London opening on 20 March, again at the Duchess - my father's favourite theatre.
Of the London opening JBP wrote, "It had one of the most enthusiastic first nights, together with one of the best presses, I have ever had, thanks to a very fine cast and a magnificent production by Basil Dean. I remember that some of my fellow playwrights were particularly warm in their appreciation of this piece, and yet audiences, interested but rather bewildered, never quite took to it."
However, it was revived at the Westminster in 1940, with Stephen Murray in the lead, and was produced by many of the larger repertory companies, but has not been staged recently. It will be fascinating to see how it stands up today. Although it's a period piece set in the 1930s, as so often with my father's work, it has much that is still relevant now rather than in the post-war period, not least the exigencies of office life as they effect the hopes and expectations of a group of people. But while the setting may seem dated without any of the modern technology we are now so used to, the characters remain real and truthful. It requires a largeish cast (in this case a company of 12 to play 19 roles) even with parts doubled, and this may have inhibited potential producers. Yet the writer EV Lucas liked the play enough to suggest my father wrote a sequel to follow up the future of Cornelius; but JBP didn't believe in sequels so that was not to be.
His friendship with Richardson flourished; indeed the Heinemann edition of Cornelius is dedicated "to Ralph Richardson with admiration and affection", and he later wrote Johnson over Jordan and An Inspector Calls especially for the late, great actor-knight, who was of course part of the great trinity that included Olivier and Gielgud. So the piece remains an enigma – good reviews yet baffling to audiences in ways that may no longer hold true today. How will audiences react more than 70 years later? We will soon find out.
The piece remains an enigma – good reviews yet baffling to audiences
Share this article