London Mela, Gunnersbury Park |

reviews, news & interviews
London Mela, Gunnersbury Park
London Mela, Gunnersbury Park
Free one-dayer celebrating south Asian culture captured the capital on form
Carnival dancing in the blazing sunshine
The look for many young Asian guys in deepest west London appears to focus on how thin they can sculpt their goatees. Well-muscled, chiselled even, sporting either a bowl-crop or one of those spiky, gelled, junior estate agent haircuts, and clad in the ubiquitous sports casual that hip hop has wrought, it's still their beards that draw the attention. These are pencil-thin lines from the ear to chin, interconnected by another over the mouth, part Errol Flynn, part Armand Van Helden.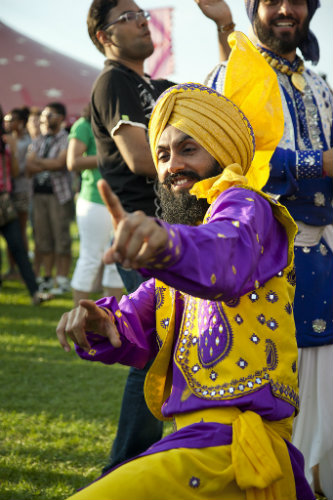 Right now, though, they're not listening to pumping bhangra, as they have for much of the day, they're watching the Philharmonia Orchestra tackle "Indra", a piece written in 1903 by west London Indophile Gustav Holst. The sounds are accompanied by an intriguing illustrative classical dance in a style called Bharatanatyam, performed by students from the nearby Bhavan Centre. With the evening sun finally tempering the heat of 2012's hottest day, it's an incongruous yet rather lovely culmination for an event that casts London, yet again, in a wonderful light.
The London Mela is a 10-year-old celebration of south Asian culture, the sounds, sights and tastes of the Indian sub-continent. "Mela", deriving from the Sanskrit "to meet", is a term for a gathering, and that's what this is, a multi-cultural free festival endorsed by Mayor Boris Johnson and funded by the boroughs of Ealing and Hounslow, supported by the Arts Council and the BBC. It's the stuff, in other words, of the Daily Mail's most feverish nightmares, and all the more enjoyable for it.
I turn up with my daughters (nine and fourteen) at lunchtime, as the sun is at its most ruthless. Instead of seeking shelter, I foolishly insist we check out the main stage. At first this seems like a good idea since a small crowd is whooping it up to the sounds of BBC Asian Network's DJ Kayper (pictured left), a female deck-mistress who really works her equipment, banging out tribalistic Indo-techno pop. Timetabled for five minutes time is Jaz Dhami. Classically trained but technologically savvy, young and good looking with a number of party hits under his belt, he's tipped to push Indian music out of its generic pop ghetto. However, it takes his band so long to tune up, my girls wilt, and that's before the band play an extended turgid intro that dallies interminably. When he finally appears, Dhami seems to be having problems with his microphone. The whole thing is a mess and doesn't bode well. We wander off.
The site is a mass of different flavours. Eighties GLC-style cause stalls haul you in to sign petitions against hospital closures and such, riotously cheery local food stalls serve up curry, paella, fried chicken, queues form for henna tattoos, a man hands out free copies of the Eastern Eye newspaper, and there's an ice cream van every ten yards. The almost complete lack of alcohol being drunk, despite a couple of onsite bars, is unnerving but, without succumbing to the trend, I eventually grow used to it. Well over half the crowd is Brit-Asian alongside a healthy percentage of white and black attendees. Families and groups of teens venture to the fairground section, flock around the five stages, or just laze on the grass fanning themselves in the heat.
We pause at the BBC Introducing tent and watch Indidginus, an act that has, apparently, time-travelled from a mid-Nineties crusty rave where their didgeridoo techno-step must have gone down a treat. Actually, this sort of stuff works well in a field so we watched their key player parping his guttural wooden instrument awhile. Over at the packed BBC Asian Network Mix tent the crowd is young and screaming, the whistles blowing, and Panjabi Hit Squad, a London duo who have remixed Mariah Carey and Jay Sean, are playing bhangra-rave that's heavily seasoned with a host of electronic dance tics. Unfortunately, after them, to even greater applause BBC Radio One hip hop don Tim Westwood, who now styles himself simply Westwood, bellows for vocal support from "All the ladies with the real hair, the real nails, the real titties and the real asses." It's time to go.
The next hour is spent with my daughters making mask-hats for the evening's carnival, integral to their day, less to mine, but I catch an impromptu performance by the excellent Red Poppy (pictured right), a female percussion outfit from Beijing whose uniformed appearance and pin-sharp synchronized drumming is a sonic thrill and top theatre. A quick tour of the site showcases further acts on the move, notably the 1st Naumati Baja Gulmi UK Nepali Traditional Band, a nine-piece whose squawky snake-charmer-style reed horns are accompanied by giant karnal trumpets, dancing women in traditional costume, and delighted local British-Nepalese throwing themselves into it with gusto.
Back at the main stage Roach Killa, the first artist to top the BBC Asian Network charts with a rap tune back in 2009, has had to call security as young men in the crowd are kicking off half-heartedly. "We don't want no rough'n'tumble," he correctly and calmly advises as police and security accompany a group of them, pumped up, shouting, blindly machismo, off-site. It is the only hint of trouble I see all day.
It's time for the carnival procession, organized effectively by Greenwich company Emergency Exit Arts. Lending out winged costumes to all who made mask-hats earlier (my daughters are both owls), we parade across the site led by the Bollywood Brass Band playing Bombay movie hits and Indian wedding music, and the thunderous drumming of the Dhol Academy. Accompanying us are a magnificent five metre smoke-breathing metal bird (that looks like the Iron Chicken off The Clangers), a gaudily decorated elephant with a steering wheel, and a gigantic green turtle on wheels.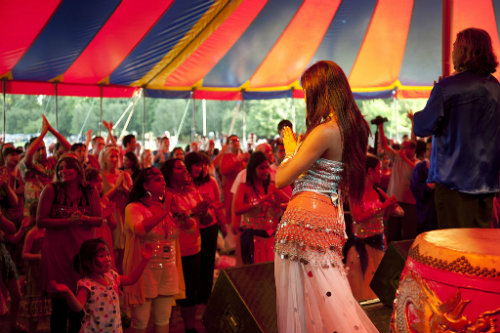 We pass the Eid Stage, a mellow Muslim area where a seated band fronted by Ustad Ali Hafeez Khan is performing the Sufi devotional music known as Qawwali. The space emanates a sense of seriousness and contemplative listening. The parade moves on towards the main stage where it goes right to the front and the crowd are a wall of phone photography. The Bollywood Brass Band clamber on stage and start in with upbeat party tunes. BBC Asian Network DJs Tommy Sandhu and Noreen Khan act as hype man and woman. After Gustav Holst's "Indra" has been dispatched Jaz Dhami returns, explaining that technical difficulties plagued his set earlier and that now he will perform a set of Bollywood classics with the Philharmonia. I don't know the songs but the crowd certainly does and they sing along, many with rapt nostalgic faces. We leave them to it and head for home, missing the final fireworks display but buzzing on a different sort of day out.
Watch the video for "Bari Der" by Jaz Dhami
Accompanying the procession are a five metre smoke-breathing metal bird and a gaudily decorated elephant with a steering wheel
rating
Explore topics
Share this article