Anoushka Shankar, Colston Hall, Bristol |

reviews, news & interviews
Anoushka Shankar, Colston Hall, Bristol
Anoushka Shankar, Colston Hall, Bristol
Sitar star and daughter of Ravi embraces flamenco
Anoushka Shankar: musical adventurer
In the age of Skype and no-frills budget travel, frontiers barely exist – at least if you're not an immigrant or refugee. World music is as much about boundary-breaking and fusion these days as it is about discovering the unsullied treasures of what UNESCO calls the "intangible heritage". Contemporary global sounds can feel like an opportunistic marriage between musicians who have little in common, or else a more appropriate union with some basis in cultural kinship or history.
You'd expect the Shankar lineage to show respect for the essences of different traditions and Anoushka Shankar, whose current UK tour combines the intensity of India's ragas with the passion of flamenco, does just that. She has an instinct for good entertainment and has gone for a show which privileges a high-octane pace. This isn't so surprising, given the young sitar player hasn't just worshipped at her father's feet, learning the rigorous discipline of the raga tradition, but spent happy hours letting it all hang out to the heart-stimulating BPM's of the club scene.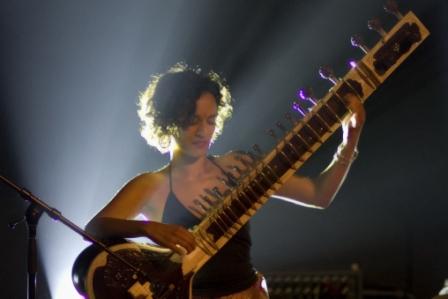 The connection between India and the music of the Roma is well documented. There was Tony Gatlif's film Latcho drom and a number of festivals featuring gypsy wedding bands from the Balkans, Rajasthani folk musicians and flamenco singers. Gypsy music has been specifically linked to the folk music of Rajasthan, but Anoushka Shankar is interested in something wider, a gut-level resonance rather than a didactic exposition of musical origins. There was nothing Rajasthani in the show, except perhaps the flowing skirt she wore instead of the more demure sari required when she accompanied her father. The Indian elements were varied: Shankar opened the evening with a brief exploration of the classic North Indian Raga bhairavi, but the percussion was provided by a South Indian mirdangam player, Pirashanna Thevarajah, rather than a tabla. Later on she played a South Indian raga. Throughout the show, Thevarajah, in the style of the South, switched between the horizontally held mirdangam, the kanjira - as small tambourine that requires virtuoso finger work, the otherworldly mirsang - a Jew's harp - and the ghatam, a clay pot with a sound all of its own. The eclectic ensemble was enhanced by Sanjeev Shankar's soulful shehnai player, the ancient reed instrument associated with Ravi Shankar's birthplace, Varanasi, India's holiest city.
By opening the show with a traditional raga, Shankar plunged us immediately into the tonal world of India – exploring the space between notes, the microtones or sruti that release the energy that remains trapped in the well-tempered scales of Western classical music. This rare moment of soulful contemplation was followed by a succession of up-tempo numbers in which the Indians were joined by the flamenco musicians – a guitarist, percussionist and the vocalist Sandra Carrasco. For 20 minutes or so the pace hardly let up as Shankar took us on a joyful ride in which the sitar and Spanish guitar melted away into each other, and Carrasco's passionate singing and the warm sounds of the shehnai blended in a manner that produced much more than the sum of the two disparate parts.
There were plenty of moments when the musics of India and gypsy Spain burned as if they were made to fuse
The mix worked seamlessly, as if this were music that had always been there, rather than evolved out of the delight in exploration and exchange which so often drives musicians of different cultures to collaborate. Ravi Shankar was one of the pioneers, playing with Yehudi Menuhin and various jazz musicians. Although these experiments brought Indian music to a much wider public, the combination felt mostly forced. The genres that were being mixed were diluted, most likely because there was, at root, not so much to connect them. Fusion has come a long way since then and Anoushka Shankar has grown up in a world where sounds clash and coexist with much more frequency and intensity than in her father's days.
The musical promiscuity that characterises our times often produces blandness and sheer bad taste, but when the musicians' instincts are right, there is a marriage at a deeper level than the matching of external forms alone, a congruence of spirit, inspiring as well as tangible. This is what Anoushka Shankar has achieved with the seeming effortlessness that blesses projects that are meant to happen. Flamenco vocals derive their visceral strength and emotional power in large part from the exploration of microtones: melisma is of the essence, as it is in gospel and soul. While the nature of microtonal exploration in Indian music takes another form, the fundamental subtext remains the same. There are those, of course, who would argue, perhaps validly, that these similarities originate in Central Asia, whose musical influences have spread through the Indian subcontinent, through the Middle East and into North and West Africa.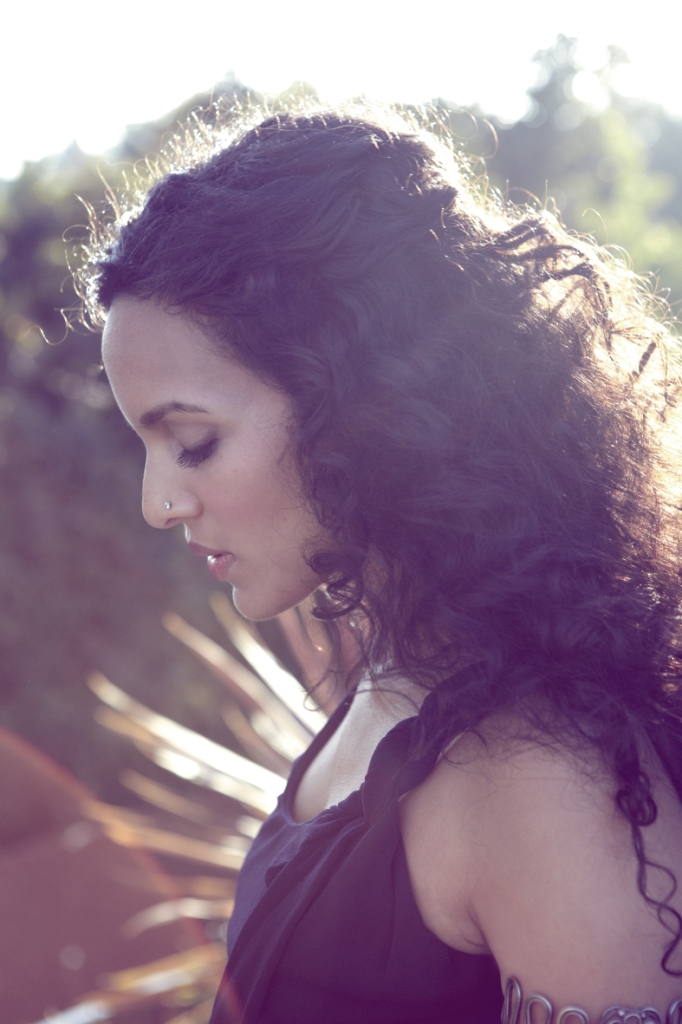 Ethnomusicological speculation aside, Anoushka Shankar's flamenco excursions hit the spot and not just on the tonal front: there is a kinship in the rhythmic sophistication of Indian music (of both North and South) and flamenco. You could hear it working. But you could also see the pleasure felt by the two drummers as they delivered their crackling percussive accompaniment, the Spaniard falling easily into the complexities of North Indian teental, the classic 16-bit cycle.
While there were plenty of moments when the musics of India and gypsy Spain burned as if they were made to fuse, there was also a level of showmanship and proficiency that became, after a while, a little predictable. There was perhaps inevitably, given Anoushka Shankar's clear mission to please, a sense of Indian and flamenco lite: the Gypsy Kings meet Bollywood – though there is plenty of sublime Indian film music and new flamenco can certainly rock. Two-thirds of the way through the concert, although the audience were still listening with rapt attention, responding to every well-timed cue from the entertainers, the relentless momentum paled a little.
It was only just before the end, when Shankar announced a series of improvisations, that things really took off in what turned out to be the high point of the evening: breathtaking solos by the two percussionists in which they broke the regular beat with cliff-hanging risk, a delightful demonstration of spiritual funk from the shehnai, and the best sitar moment of the show. There was a nervous rush in the way that Anoushka Shankar delivered her rare spoken introductions, suggesting a possible lack of confidence. She had every reason, though, to feel sure of herself and her musicians: a tad more spontaneous combustion would have made the evening perfect.
Watch Anoushka Shankar and Ricardo Miño perform "Buleria con Ricardo" in Girona (NB: Her current tour features a different line-up)
Shankar has an instinct for good entertainment and has gone for a show which privileges a high-octane pace
rating
Share this article
Subscribe to theartsdesk.com
Thank you for continuing to read our work on theartsdesk.com. For unlimited access to every article in its entirety, including our archive of more than 10,000 pieces, we're asking for £3.95 per month or £30 per year. We feel it's a very good deal, and hope you do too.
To take an annual subscription now simply click here.
And if you're looking for that extra gift for a friend or family member, why not treat them to a theartsdesk.com gift subscription?