DVD: North Sea Texas |

reviews, news & interviews
DVD: North Sea Texas
DVD: North Sea Texas
First love proves tentative in Bavo Defurne's gay-themed Flemish-language debut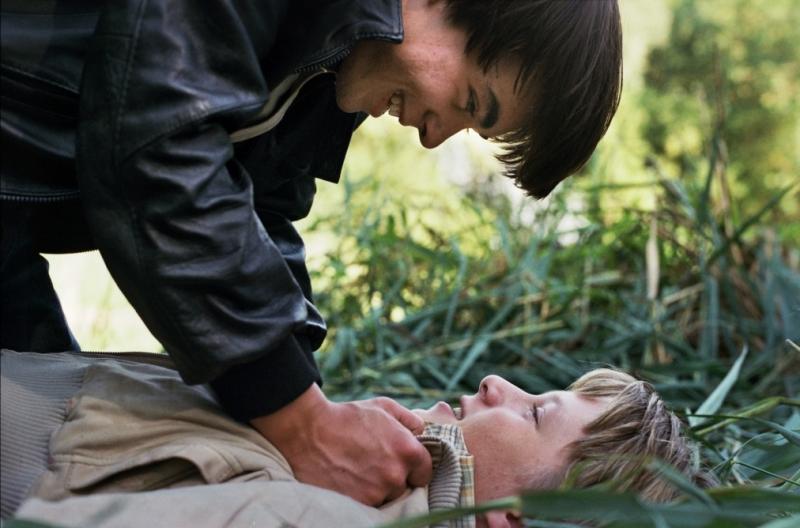 Young love on a Belgian beach - main characters Pim and Gino from 'North Sea Texas'
Bavo Defurne's North Sea Texas is a more than distinguished addition to the coming-of-age film genre, catching the painful moments of approaching maturity. Set in a Sixties provincial seaside town in Belgium, the poignancy of 16-year-old hero Pim discovering his gay sexuality rings very true, and movingly.
In a location of low-rise flats and a long, lonely beach, there's little in the place to excite a teenager except for the local bar (its neon sign explains the last word of the film's title). The excitement for Pim (Jelle Florizoone) comes more with the son of his neighbours, Gino (Mathias Vergels), who has turned 18 just as Pim turns 16: that makes for the first acquiring a bicycle, as the second moves onto a motorbike.
Such details are beautifully observed – and beautifully lensed – in this Flemish-language production. Pim is a loner, a dreamer whose dressing-up and make-up experiments give a clue to his sexuality. His mother Yvette (Eva van der Gucht) doesn't notice. She's the local accordion queen, a larger-than-life (in every sense) performer, escorted around local gigs by her not-very-suitable boyfriend-manager; at home she rarely has a cigarette out of one hand, and frequently a drink in the other. Additional drama arrives with the return of Bulgarian travelling circus artist, Zoltan, to rent their spare room again.
Since the accordion competitions often leave Pim on his own overnight, he moves towards the neighbours, where there's some welcome maternal support (fathers are very absent in this film), as well friendship from the daughter, Sabrina, a relationship sensitively depicted. But it's Gino, with his Mediterranean looks and sultry mood that draws Pim back. Camping on the beach leads to sexual adventures, but the course of this teenage passion is not smooth – for Gino it seems a diversion, for Pim it's his life-to-come. Director Defurne has conjured up a small gem that speaks far more widely than its very specific location. And speaks, finally, with a welcome, optimistic accent.
Watch the trailer for North Sea Texas
Camping on the beach leads to sexual adventures, but the course of this teenage passion is not smooth
rating
Share this article