Parade's End, Series Finale, BBC Two |

reviews, news & interviews
Parade's End, Series Finale, BBC Two
Parade's End, Series Finale, BBC Two
Tom Stoppard's Ford Madox Ford adaptation wraps up on an emotionally rich if structurally flawed note
Saturday, 22 September 2012
Christopher Tietjens (Benedict Cumberbatch) finds himself shedding outmoded values on the front line
"There used to be among families...a position, a certain...call it 'parade'." So stammered Benedict Cumberbatch's rigidly principled, increasingly broken Christopher Tietjens at the climax of last week's penultimate Parade's End, echoing his own line from the series' first episode as he struggled to justify his fidelity to adulterous wife Sylvia (Rebecca Hall).
In the kind of verbally shrewd reversal that has defined Tom Stoppard's meticulous, occasionally magnificent script, a frustrated General Campion told him "there are no more parades for that regiment". Tietjens was the last man in line, and the finale fittingly saw him abandoning his post at long last.
You would have to be made of stone not to have been charmed by the pair's final shy, smiley dance together
That's in the metaphorical sense, rather than the literal – the episode in fact found Tietjens heading into the trenches to become second in command to a battalion, following an enjoyably farcical fight with clownish cuckolder Potty Perowne (Tom Mison). Cumberbatch has spent much of his performance looking on the verge of tears, and there's never been better reason than in this final hour.
First tasked with the alien responsibility of offering comfort to his terrified fellow officers – his clinical reassurance that one's faculties cease immediately before death could not have felt more perfectly in character – he's then burdened with the discovery that his would-be commanding officer had been driven mad by war. The revelation made for one of the episode's subtlest and most haunting scenes, a sub-Colonel Kurtz exchange in a darkened tent that somehow says more about the impact of war on men than any of the later trench action.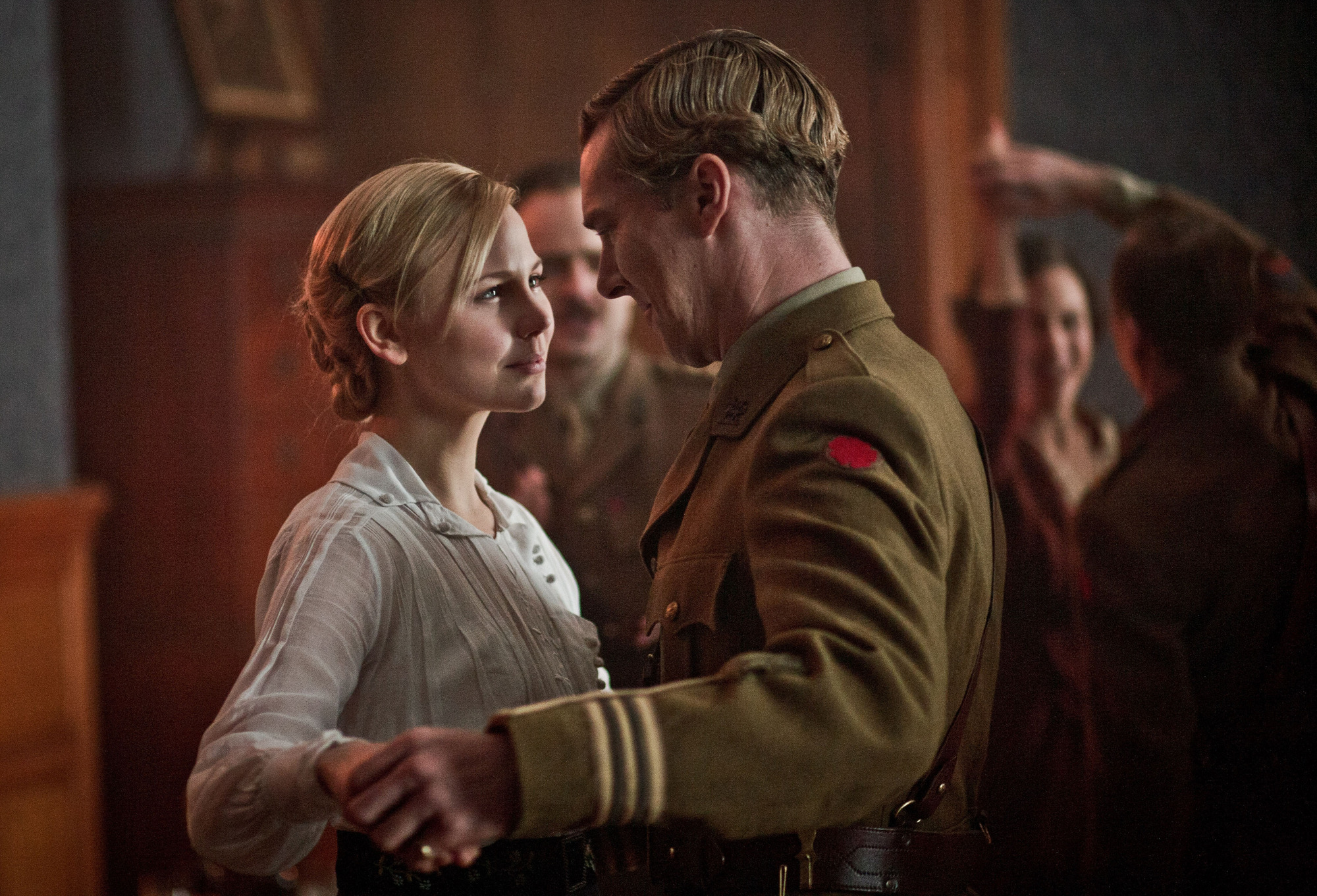 Tietjens could easily have been a tricky character to invest in without the inner monologue provided by the page, but Cumberbatch's performance has been faultless and often achingly moving, a painful juxtaposition of emotional stiffness and deep, crippling vulnerability. And with Tietjens finally stirred by war to relax his iron grip on past values, his endlessly frustrated romance with meek suffragette Valentine Wannop (Adelaide Clemens. pictured above) finally found some resolution.
The relationship has remained touching largely by virtue of its relative absence from the actual narrative – one suspects Valentine's rather ill-defined character would have begun to grate otherwise, but their separation allowed her to be cast as little more than A Good Thing, which we want Tietjens to have at long last because he is A Good Man. And cynicism aside, you would have to be made of stone not to have been charmed by the pair's final shy, smiley dance together.
Hall, an endlessly watchable and intelligent actress, has valiantly steered the character of Sylvia away from the vampy soap opera villain she at times threatened to become, but her final, desperate maneuvering here felt a shade wearisome; the same character beat played just one time too many. Still, her confrontation with Tietjens and her love rival Valentine (for whom she's invented a series of hugely entertaining and patently Stoppard nicknames), much like her bedside confession last week, allowed for shadings of something much quieter and sadder from Hall.
Sylvia (pictured left) may in fact have been the most notable casualty of this episode's odd, jumpy structure, which felt far more pronounced than in previous instalments. It's substantially more difficult to feel sympathy for a spoilt and wilfully selfish housewife when her scenes are regularly intercut with scenes of trench warfare. Moreover, even the trench warfare never quite gathered the emotional momentum it should have, because it was in turn intercut with humdrum updates from the domestic front. Dividing the two plotlines, rather than trying to combine them through editing and somewhat clumsy segues, might have made for a smoother finale.
Nevertheless, Parade's End has been a compelling, thematically rich and fiercely intelligent drama, as frequently moving as it was unexpectedly comedic. Adapting a tetralogy as sprawling and historically expansive as Ford Madox Ford's is close to a fool's errand, and Stoppard, director Susanna White, Cumberbatch et al have pulled it off with valiance and grace. Unlike the ITV drama to which it has been pointlessly compared, this is a series that will continue to reward on rewatching.
It has been a compelling, thematically rich and fierecely intelligent drama, as frequently moving as it was unexpectedly comedic
Share this article