Richard Hamilton: The Late Works, National Gallery |

reviews, news & interviews
Richard Hamilton: The Late Works, National Gallery
Richard Hamilton: The Late Works, National Gallery
An exhibition casting light on the late artist's erudition, but these works appear lifeless and inert
'Le Chef-d'oeuvre inconnu - a painting in three parts', 2011
This small, posthumous exhibition illuminates Richard Hamilton's life-long engagement with both the art of the past and the latest techniques and technological possibilities available to visual artists in the 21st century. He played with photography, computers, notably digital manipulation, and even built several of his own computers. And he was as fascinated with print media – utilising found imagery from all kinds of publications - as with pencil and paint. He was a polymath.
Hamilton has been long credited – although he did not appreciate the label - with inventing British pop art with his collage Just what is it that makes today's homes so different, so appealing in 1956. The absurd domestic interior was enlivened with a muscleman, posing with a lollipop imprinted with the word Pop, a Hollywood stripper lolling on a couch, a huge tape recorder, television, comic book poster (entitled young Romance) and an enormous tin of ham. It is dense and surprisingly small, and one of the most influential works of art of the last century. Typically, it was actually a design for the poster for the seminal Whitechapel show, This is Tomorrow. It is also an example of the sheer richness of Hamilton's allusions, a factor throughout his work.
For all his scintillating and tenacious intelligence, these paintings are curiously unappealing
Hamilton trained as an engineering draughtsman before he went to the Royal Academy Schools from which he was expelled – what a badge of honour then - and later the Slade. He has had major retrospectives, including the obligatory Tate, and at attentive galleries in Britain, but has been more lauded and appreciated abroad, especially in Germany. Personal note: years ago when we had a falling out over something I had written – or perhaps even worse, not written – I used to receive mailings from the artist of hugely serious articles about Hamilton culled from German newspapers, whose column inches far exceeded those for "culture" in the UK media.
Hamilton was a superb draughtsman and could draw with a meticulous academic technique which he enlivened early on with a fierce intensity. His illustrations for James Joyce's Ulysses were an early example of his abilities. Profoundly political, he was especially engaged by Irish causes, and enjoyed shocking imagery, as we find in his careful expositions of the Northern Irish dirty protests.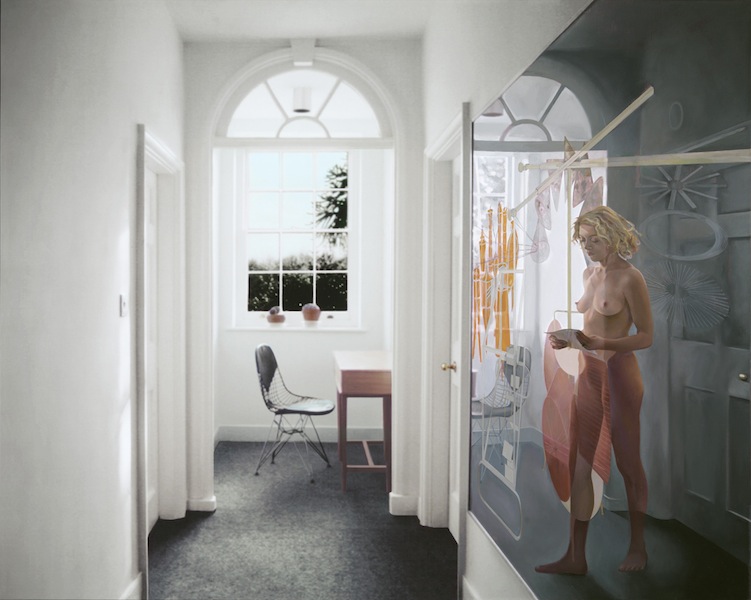 Support for CND led to the image of Hugh Gaitskell as a famous monster in Filmland. However many processes he used his art was always initially, or in its finishing, handcrafted. His most profound involvement with another artist was with Duchamp, not only in bringing him out of the shadow into the light, a key player in reviving his reputation, but in curating a major Tate show. Hamilton made a replica of Duchamp's Large Glass: The Bride Stripped Bare by her Bachelors, Even, a shadow of which appears in the National Gallery show in the oil on cibachrome painting on canvas, The passage of the bride, 1998-9 (picture above). The Duchamp appears reflected in glass which may be a mirror or the glass framing something else. Also reflected in the rather austere domestic hallway of Hamilton's own country home is an idealised nude. In this exhibition of last works, she turns up several times, in variations: sometimes blonde sometimes brunette.
And in two versions of An Annunciation she lolls cross-legged, awaiting an annunciation (by telephone) in a second floor interior of the Hamiltons' house. Both nudes appear in a neat Renaissance loggia in The passage of the angel to the virgin, a digital montage, 2007 (pictured below left).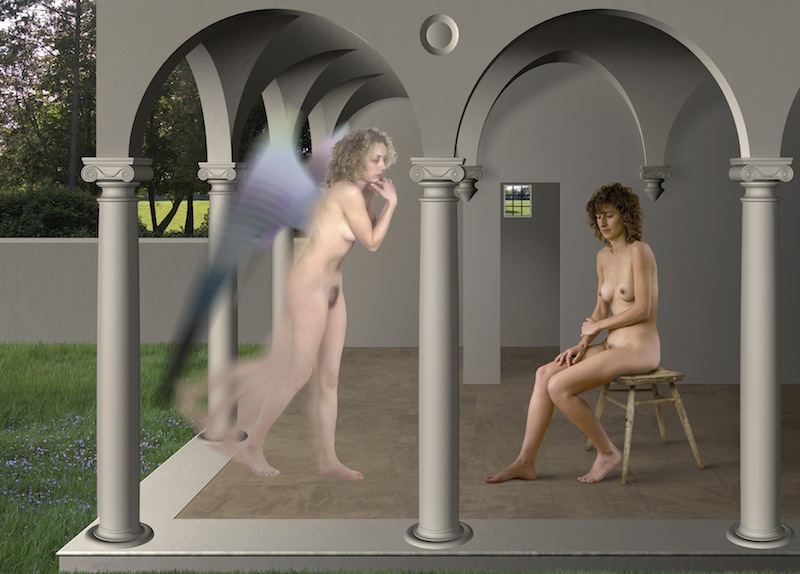 The Late Pictures are a succinct summary of his life-long engagement with a wealth of visual sources across the centuries, and totally up-to-date visual technologies. But there is one fundamental problem: for all his scintillating and tenacious intelligence, these paintings are curiously unappealing. The immaculate mat surfaces are flat, as though ironed out. Not a wrinkle – nor a gleam of light or shine - to be seen. The elements of puzzle-making are to the fore, like visual crosswords: spot the antecedents. All is a vast collage from an amazingly well-stocked brain. But the results are peculiarly inert, even somehow embalmed. The spectator is not enticed, involved, emotionally attracted.
Hamilton's last superhuman effort was the initiation, but not completion, of a triptych, with echoes of Balzac's story The Unknown Masterpiece, where an artist, gone mad, destroys his final work (main picture): Courbet, Titian and Poussin are all examining a recumbent reclining nude, an echo of countless Venuses, and even reminiscent of Velazquez' Rokeby Venus turned full frontal. The trio is full of ideas – but not life. The late Hamiltons are, except for scale, as giving in reproduction as in their actual presence.
The elements of puzzle-making are to the fore, like visual crosswords: spot the antecdents
Explore topics
Share this article