David Hockney, Nottingham Contemporary |

reviews, news & interviews
David Hockney, Nottingham Contemporary
David Hockney, Nottingham Contemporary
New gallery opens its doors with early work from Britain's favourite artist
Wednesday, 18 November 2009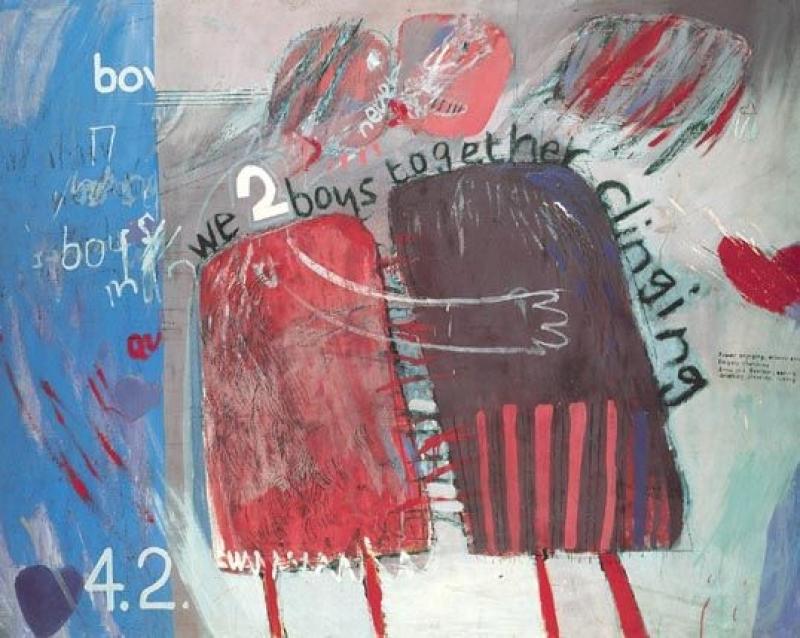 When Hockney met Whitman: 'We Two Boys Together Clinging'
Nottingham Contemporary is Britain's newest art gallery. Built deep into a sandstone cliff in the city's oldest site, its sturdy, squat exterior is clad in scalloped gold and pale green panels. Resembling your granny's old net curtains, the green pre-cast concrete is moulded with a pattern of 19th-century lace, paying homage to the city's Victorian traditional industry.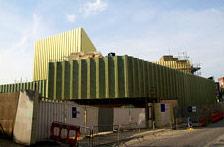 Inside, the four gallery spaces are irregular in shape: only one is in the shape of a modernist white cube, the others have angled walls, their forms following the site's natural geography. Two of the galleries are devoted to the early work of David Hockney in a show called 1960-1968: A Marriage of Styles. The other two are given over to a relative newcomer, the American artist Frances Stark. These are clever choices for a regional gallery which aims to appeal to a local population while being international in scope: one is a popular crowd-pleaser, long ago designated Britain's favourite artist, the other a newer talent whose collages and assemblages have made occasional witty reference to Hockney. Both use text, with Stark's suggestive and allusive, while Hockney's is often in the form of coded biographical references: numbers which refer to his own initials (D = 4, H = 8) or to an actual or fantasy lover (Cliff Richard, aka Doll Boy D = 4, B = 2). These works are bravely upfront about homosexuality but deploy the coded language of the persecuted as a deliberately political gesture.
The images also include fragments of poetry and simple descriptive biographical statements. One humorous etching from 1961, entitled Myself and My Heroes, depicts three sketchily drawn figures: Walt Whitman, Gandhi and a self-portrait. The heroes are accompanied by a line of text from their own writing, while Hockney's more banal statement reads: "David/I am 23 years old and wear glasses." Hockney is adept at comically deflating his own ego while nonetheless hinting at his youthful cockiness.
A Marriage of Styles takes us from 1960 and the works made during Hockney's second year as a student at the Royal College of Art - where, as an astonishingly precocious talent, he had already started to make a big name for himself - to 1968, and his last great Pop art painting here, The Bigger Splash (picture below) This latter is, of course, Hockney's greatest celebration of the wealthy suburban LA lifestyle.
The exhibition explores the enormous stylistic changes that Hockney undertook during his first sojourn to California in 1964, before which he had experimented with ease in graffiti daubs and scratchy child-like figures, and even, up to a point, the gestural painting style of the Abstract Expressionists. His graphic sensibility always came to the fore, however, even in his most "painterly" images.
But this early period is noteworthy not just for Hockney's visual inventiveness and comic wit, but because of the work's frank sexual politics and overt homoeroticism. In his major paintings Hockney either depicts cheesy muscle-bound types of the sort found posing in tight underwear in health and fitness magazines, or are the Dubuffet-like figures of his edgier, more avant-garde oeuvre, including one of his most well-known, We Two Boys Together Clinging (1961), which quotes its lines from a Whitman verse celebrating gay love.
The Sexual Offences bill of 1967, in which homosexual acts were finally legalised, was yet to come into force, but when it does Hockney's work makes another notable shift to the poppier mainstream. And it quickly discards any overt sexual references: the era of naked glistening buttocks in paintings such as Man in Shower in Beverly Hills (1964) will eventually give way to fully clothed Beverly Hills housewives.
By showing him at his most avant-garde, Nottingham Contemporary is not only exhibiting Hockney at his most sexually daring and visually inventive but also making something of a mission statement for itself: accessibility is the key, but so is establishing a reputation for serious and challenging work. On both fronts this exhibition gets off to a good start.
Explore topics
Share this article