My Brother the Devil |

reviews, news & interviews
My Brother the Devil
My Brother the Devil
Conflict on the streets and in the family in Sally El Hosaini's Hackney-set drama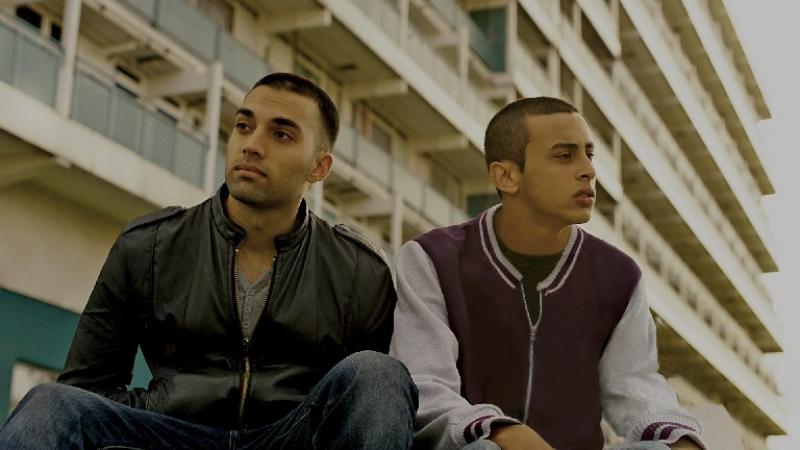 Who the devil? James Floyd (left) as Rashid, with younger bro' Mo (Fady Elsayed)
There must be a way out of their Hackney council estate life for brothers Rashid (James Floyd, very sharp on screen here) and Mo (non-professional Fady Elsayed), whose claustrophic home life lived (more or less) to traditional parental rules, contrasts with the energy of the streets outside, where drug-dealing is the most lucrative occupation and there's always a hint of violence in the air.
One of the many achievements of Sally El Hosaini's debut feature, winner of a clutch of festival prizes, most recently Best British Newcomer at the London Film Festival, is to nicely confound our expectations of how these changes are going to happen. The younger Mo, still preoccupied with school grades, can't but admire his elder sibling's street presence and authority in a local gang (Arab and black identities meld seamlessly in his DMG crowd, its chest tattoo for "drugs, money, guns"). Rash sees his own life moving towards self-enrichment until he can quit, but wants the opposite for his younger bro' - college and a path to different opportunities. The world of their parents, immigrants from Eygpt decades back, is another one entirely: Dad's a bus driver who's stuck in the old ways, while Mum lives a home life. Tellingly, it's the kids who secretly put a note or two into her purse to supplement the family budget.
But the gang bonds are so strong that he can't even buy himself out, even as Mo is itching to move into the very territory Rash is eager to abandon
Out on the street cash comes easily through drug-dealing, the threat to which comes from rival gangs rather than the cops, who have minimal presence here. Mo's induction into this way of life goes wrong first time when he's held up at knife point, but as long as knives are only being flashed the status quo goes undisturbed. When they're actually used, with fatal consequences for Rash's best friend (who had just broken out for a conventional job), a cycle of revenge killing sets in, and Floyd's character just can't deal with the next step up, guns. But the gang bonds that run right up to a top boss are so strong that he can't even buy himself out, even as Mo is itching to move into the very territory Rash is eager to abandon.
So far, so "old Hackney" good. The outsider here is Sayyid, a French-Moroccan photographer who has left family gang links back in Paris (as well as the role in Mattieu Kassovitz's La Haine which made actor Said Taghmaoui his name), and with whom Rash strikes up a friendship. Sayyid has both the glamour of the gallery world of "new Hackney", and a maturity that sees him at ease discussing Arab politics and identity with the parents over a traditional meal. Mo's threatened by this new attachment - he gets some of the film's best lines, dismissing Sayyid as a "Gandhi of Hackney" - and the younger man's discovery of what's really going on turns his world upside down (viewers may be less surprised). Hackney's character is not the only thing whose orientation can change: the younger brother is growing up, the elder one growing different.
El Hosaini and her cinematographer David Raedeker catch well the brisk world of street action, which moves as fast as the gang members (above right) rattle away to one another in their jargon. But there's nothing too down-beat about estate life itself as it's depicted (setting it apart from other films in similar locations): the sun shines on the gardens behind the blocks where Mo is establishing the first emotional bonds that aren't defined by his brother. The film's route towards denouement may be double-crossed, but it's a (perhaps) unexpectedly benign one. Rashid and Mo may yet have to fight another day, but they've grown up - away from the enclosed world where they started, and closer to one another in a much more real way.
My Brother the Devil opens on 9 November
Watch the official My Brother the Devil trailer