PID (Planet in Distress) |

reviews, news & interviews
PID (Planet in Distress)
PID (Planet in Distress)
A beautifully scored dreamscape, but the vindictive restarts mean the planet won't be the only thing in distress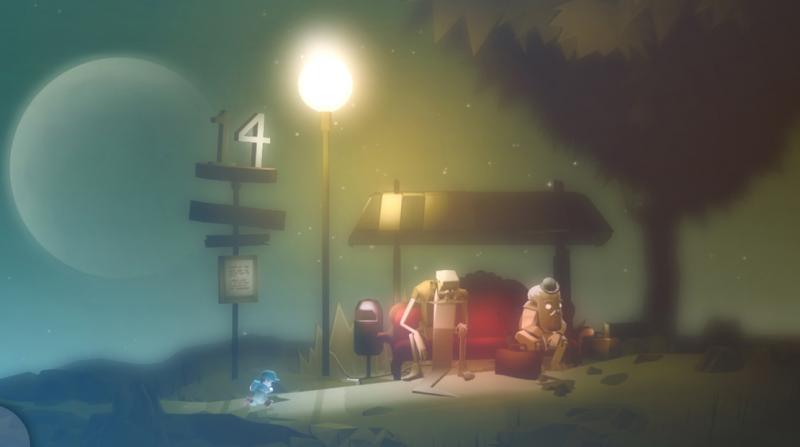 'A real treat of a game, with a beautiful aesthetic and a real sense of humour'
Kurt has fallen asleep on the space-bus on the way home from school. To make matters worse, he has been transported to a strange planet where the buses don't run anymore, trapped in the apathetic thrall of an evil man at the heart of a terrible conspiracy. To escape the planet you must first travel through its dangerous levels and fight the truly bizarre super-foes sent to prevent you from breaking the evil spell. Bet you're wishing you forgot your bus pass, eh Kurt?
This is a real treat of a platform game, with a beautiful aesthetic and a real sense of humour. A twilight haze overlays your journey through an ethereal landscape of warehouses, opera houses, caves and castles, where activity is going on all around you and where enemies can and do come looming out of the background towards you in a truly terrifying manner. It also has a fantastic soundtrack by Retro Family which alternates between the dreamy and the jazzy, and heightens the feel of the game as a dreamscape. You can also play in co-op mode and take a friend along for the ride.
There are the traditional platform obstacles to cross, like spikes and rocket launchers and lasers. But the game invents new ways of surmounting these, the most important being Kurt's use of crystals, which he uses to cast anti-gravitational beams. These beams can lift and carry away both Kurt and unsuspecting enemies. You can also use them to reveal hidden things, to climb, to alter the direction of security cameras or laser beams etc.
As you skedaddle through the levels you happen upon the planet's unhappy humanoid inhabitants, who speak in a strange, breathy gibberish translated by speech bubbles. This listless bunch will drop hints about the mysterious man and his terrible influence, but the rest you will have to discover for yourself as you collect hidden memories and suck up star constellations like a hoover. These stars can be used in vending machines for weapons like bombs, or for much-needed armour. I say much-needed because the fact is, this is a game where you will die. A lot.
There is simply no reason for PID to be as punishing as it is. The unexpected changes in the enemy fighting mechanics make the restart points appear almost vindictive. You will reach the point where you have to simply save and exit, and go eat some toast or something because this game is infuriating. That being said, blame also lies with the trigger-happy player who over-clicks and under-thinks. Be cautious about your timing because the generally laconic movement is deceptive. You may be floating peacefully through the air like a pretty bubble, but you have to throw that crystal at the right moment and angle and if you're not ready for it, into the jaws of death you go.
Despite these problems, you will find it hard to give up on such an imaginatively styled game. And with such a great soundtrack, you'll be tapping your feet while you smash your controller keys.
PID developed by Might and Delight and published by D3 Publisher. Platform: PC, Xbox, PS3. Out now