The Beach Boys: Doin' it Again, BBC Four |

reviews, news & interviews
The Beach Boys: Doin' it Again, BBC Four
The Beach Boys: Doin' it Again, BBC Four
Largely pointless 50th anniversary tribute is rescued by a few essential moments
Saturday, 01 December 2012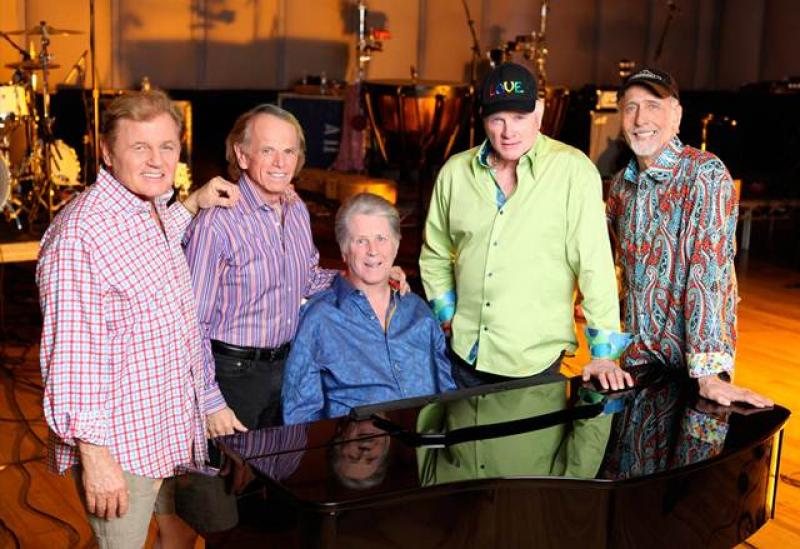 The Beach Boys in 2012, before Mike Love swung his cleaver: (left to right) Bruce Johnston, Alan Jardine, Brian Wilson, Mike Love, David Marks
"It's an expression of our collective souls coming together," said The Beach Boys' Mike Love of his band, in this celebration of their 2012 50th anniversary world tour and recent album That's Why God Made the Radio. Subsequent to the making of Doin' it Again and during the ensuing global jaunt, Love announced he was ditching fellow Beach Boys Alan Jardine, David Marks and Brian Wilson, whom he had been sharing the stage with.
Not much of a shelf life for this collective expression, with little chance of doing it again. Love's own Beach Boys – without that trio – picked up the baton after the tour.
Doin' it Again was produced by their own Brother Records, so no one could have expected it to address the internal tensions central to The Beach Boys. But the inescapable pall of recent history made taking in this carefully crafted fantasy very weird.
The magic of the Sixties is impossible to recapture
A combination electronic press kit and souvenir of the 50th anniversary tour, Doin' it Again nonetheless featured odd flashes of superb music and amazing archive clips. It was terrific to see guitarist Jardine speaking so much and - generally - so eloquently. Of the band's return, he confusingly said "instead of being a force from the past, we're going to assert our rightful place in history." And the history seen here was, naturally, necessarily selective but still perplexing - 1966's Pet Sounds moved directly to That's Why God Made the Radio, with none of intervening music or events mentioned. However charitably it's assessed, the new album is small potatoes compared to Pet Sounds.
The meat was a mind-blowing sequence of black-and-white, 16mm footage filmed at the recording of "Good Vibrations". Brian Wilson loomed over pompadoured session drummer Hal Blaine, showing him exactly what to play. Behind the mixing desk, the blissed-out Wilson nodded to what he was hearing, what he had invented. Behind him, band members chatted amiably in a workaday way. Another clip, familiar from 1964's T.A.M.I. Show, of the band performing "I Get Around" (see video below) was all the evidence needed for how fabulous The Beach Boys were in their prime.
For all its triteness, 'Doin' it Again' still had the power to thrill and stir emotions
But no matter how lush the harmonies in 2012, how able the support on stage from the non-Beach Boys musicians, the magic of the Sixties is impossible to recapture. The new versions of "Do It Again" and "California Girls" performed were great, but clocks cannot be turned back. This was, as Jardine acknowledged, about asserting The Beach Boys' brand.
David Marks was an intriguing presence. A short-stay member of the band early on, while Jardine was studying dentistry, he was on board for 18 months when they first encountered mainstream success. He talked of the early days, his relationship with drummer Dennis Wilson and the rest of the band, but (of course) the rosy glow couldn't be dented, so nothing edgy was said about Murry Wilson, the father of Brian, Carl and Dennis. Bruce Johnston offered well-worn anecdotes about bringing Pet Sounds to London, The Beatles cocking an ear to it and how The Who's Keith Moon was smitten with The Beach Boys' sound. Brian Wilson's contributions were measured, and his staccato, checklist reminiscence of encounters with Paul McCartney a poignant pointer to the fact that this man does not march to a standard tune.
For all its lazy triteness, Doin' it Again still had the power to thrill and stir emotions. The tributes to the deceased Carl and Dennis Wilson were surprisingly sincere and moving. In the end though, it comes back to that beautiful, original music. Even this largely pointless programme couldn't dim the light which shines from that.
Watch The Beach Boys perform 'I Get Around' on the T.A.M.I. Show
The meat was a mind-blowing sequence filmed at the recording of 'Good Vibrations'
Share this article