Best of 2012: Top 10 Comedy DVDs |

reviews, news & interviews
Best of 2012: Top 10 Comedy DVDs
Best of 2012: Top 10 Comedy DVDs
Our recommendations for the finest funnies to put in the Christmas stocking
Dara Ó Bríain: a top performer for more than a decade
There are oodles of comedy DVDs released for the Christmas market - here's a selection of the best.
Dara Ó Bríain
Craic Dealer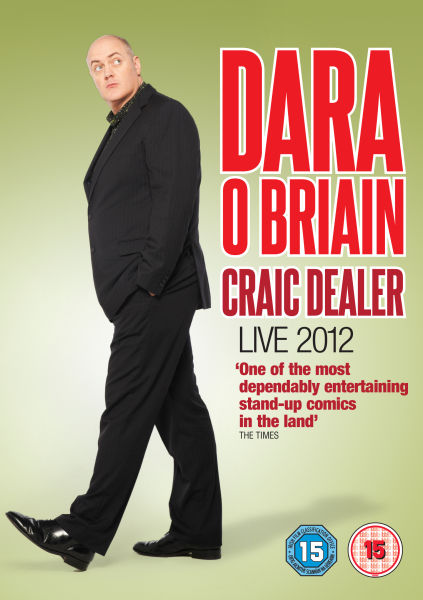 In more than a decade of watching him work, I've yet to see the hugely likeable Irish comic doing anything less than a very well put-together and gag-filled show, and this is no exception. Filmed at the Edinburgh Playhouse, it shows him at the top of his form and displays one of his great strengths - interacting with the audience and creating great comedy on the spot from it. He also talks about adult alternatives to Nativity plays, how the modern Irish diaspora is so different from the postwar one (it's all IT specialists now - "Feel my lovely soft hands"), being a TV scientist alongside Brian Cox, and he takes a witty swipe at pretend sciences - and divulges a great way (should you ever need it) to remember the difference between astrology and astronomy.
Adam Hills
Inflatable
Adam Hills has ploughed his comedy furrow at the Edinburgh Fringe for many years and has gained a large and loyal following there both among audiences and critics, but has never quite broken into the UK mainstream. But his nightly live programme on Channel 4 during the Paralympics, The Last Leg, brought the smiley Australian to wider attention in his country, and deservedly so. This timely re-release of Inflatable shows him at his best, riffing for fully 20 minutes with the audience before he even begins his set. In it he talks about the Paralympics, his artificial limb, how some cultures are inherently nice and how some people just make the world a more decent place. He veers dangerously close to the sentimental, but his is genuinely feelgood comedy and none the worse for that.
Glenn Wool
No Lands Man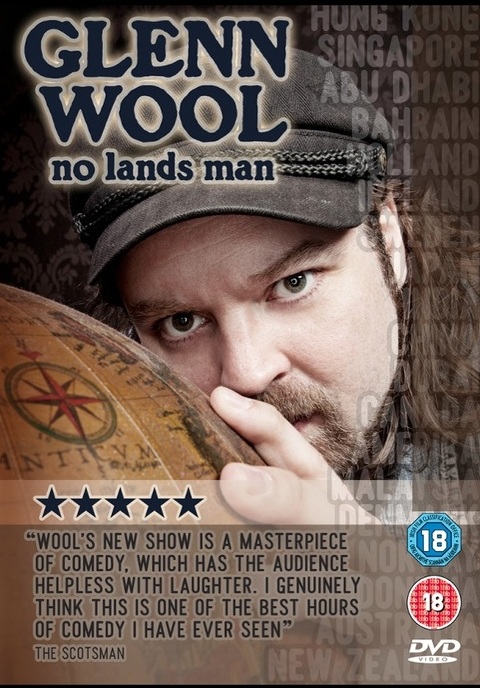 If ever a comic deserved wider success, then it's Canadian Glenn Wool, a superb stand-up whose delightful playfulness with language makes his surreal flights of fancy ones to relish. On this DVD he tells the story of how he upset some border guards on his travels and ended up with a rubber-gloved finger (not his, nor a lover's) up his anus - an occupational hazard, he admits, for a man who looks like "a member of a Lynyrd Skynyrd tribute band". Along the way he also tells a very amusing story about how he came to miss an Iron Maiden (his heroes) concert, helping beavers out of a fix and the joys of language. He's a master of the callback, as the finale of this shows proves.
Stewart Francis
Outstanding in His Field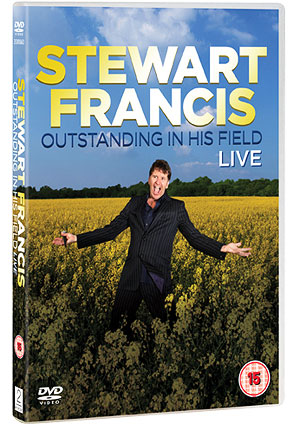 Recorded at London's Hammersmith Apollo, the Canadian comic's DVD is gag-heavy. Known for his often acerbic one-liners and puns from shows such as Mock the Week, Francis is a great comic for a well crafted joke and a delayed payoff, but also for riffs on imaginary characters in his life. His material ranges from the perils of family life, critics he dislikes and the shortcomings of popular TV. He's a decent impressionist as well, both in person and with words; Ed Miliband is described as looking like "a security guard who's just a heard a noise in the warehouse". The gag count is high, and the strike rate the same.
Kevin Bridges
The Story Continues...
The young Glaswegian has another crowd-pleasing DVD, this one recorded on home turf at the SECC, in front of a Saturday-night crowd during his sellout 10-night run there. In it he talks about tax-avoiding comics, the disconnect between the reality of being jobless and the Government's view of the unemployed, the recession and his dad's unlikely pretensions as an interior designer. His observational comedy sometimes takes on a quietly political or surreal edge, but mostly it's rooted firmly in the everyman, everyday reality of working-class Glasgow. Bridges has an easygoing, affable style and gets a real buzz playing off his local fans; the bonhomie in the room – vast though it is – is almost palpable.
Danny Bhoy
Live at the Festival Theatre
The Scottish comic's debut DVD is a sort of "best of" - his latest tour and some of his favourite routines recorded in front of a home crowd at Edinburgh's Festival Theatre. He has a gift for storytelling and his laidback, observational style is easy on the ear. In this show he talks about how texting may have told some of the greatest stories of history - "Peace in our time? LMAO", Hitler may have tapped out - how Scottish banknotes bring out the distrustful xenophobe in shopkeepers south of the border, different drinking habits around the world, and the joys of living in America and appearing on the David Letterman Show, when he greeted Matt Damon with the words, "Good heavens, it's you!"
Daniel Sloss
Live
The young Fifer, who started doing stand-up at the age of 17 four years ago, recorded his debut DVD at King's Theatre in Glasgow, and it's a "best of" of his shows so far. His parents and his girlfriend feature prominently, and as his is as yet a short life, a lot of his material features girls, masturbation and oh, some more masturbation. He delivers some old favourites - how he mistook the shaving talk from his dad as the sex talk - "You're going to learn how to shortcut it, but when I did your mum complained it gave her a rash" - shopping with his grandparents, keeping fit with his girlfriend and the Twilight series.
And three television sitcoms:
Twenty Twelve Series 2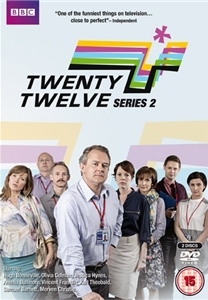 An unadulterated delight from start to finish, John Morton's wonderful pisstake on the "Olympic Deliverance Commission" tells the, er, real story behind how London 2012 came into being, despite the best efforts of its incompetent executives. There are those who believe Morton must have a had a mole in Boris Johnson or Seb Coe's office, such was the prescience of so much of this mockumentary - women's football tickets being a tough sell, for instance, or the brouhaha over the sale of the Olympic Stadium - while other elements, such as the "Jubilympics", a melding of the Queen's summer Jubilee with the Games, is simply inspired. A superb cast is led by Hugh Bonneville and Olivia Colman.
This is Jinsy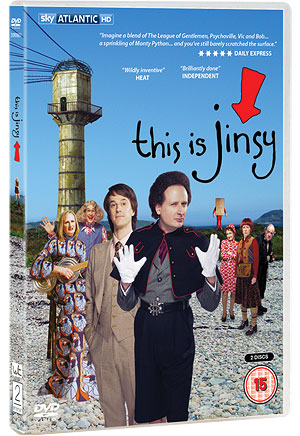 A re-release for this wacky and frankly weird sitcom, set on the fictional island of Jinsy, whose 791 residents are caught in a Prisoner-style surveillance world watched over by 1,067 "tessellators". Stars of British comedy - including Harry Hill, Catherine Tate, Kevin Eldon, Nigel Planer and Peter Serafinowicz - queue up to appear in Chris Brand and Justin Chubb's bizarre comedy (directed by Matt Lipsey), which has strong, memorable characters and songs; it's sort of The League of Gentlemen meets Monty Python. Lots of good extras, too.
Moone Boy
Irish actor Chris O'Dowd, who was previously known mostly for The IT Crowd, shot to international fame (and leading-man status) after the success of Bridesmaids. This self-penned sitcom (written with Nick Vincent Murphy) about 12-year-old Martin Moone is loosely based on his childhood growing up in 1989 smalltown Ireland, where he lived mostly in his own head with his imaginary grown-up friend, Sean, ever present. O'Dowd appears as Sean and David Rawle is terrific as Martin. Lots of good extras as well.
Explore topics
Share this article
Subscribe to theartsdesk.com
Thank you for continuing to read our work on theartsdesk.com. For unlimited access to every article in its entirety, including our archive of more than 10,000 pieces, we're asking for £3.95 per month or £30 per year. We feel it's a very good deal, and hope you do too.
To take an annual subscription now simply click here.
And if you're looking for that extra gift for a friend or family member, why not treat them to a theartsdesk.com gift subscription?