What Ever Happened to Baby Jane? |

reviews, news & interviews
What Ever Happened to Baby Jane?
What Ever Happened to Baby Jane?
The Gothic horror movie in which Bette Davis and Joan Crawford took sibling rivalry to a new level of nastiness
Saturday, 15 December 2012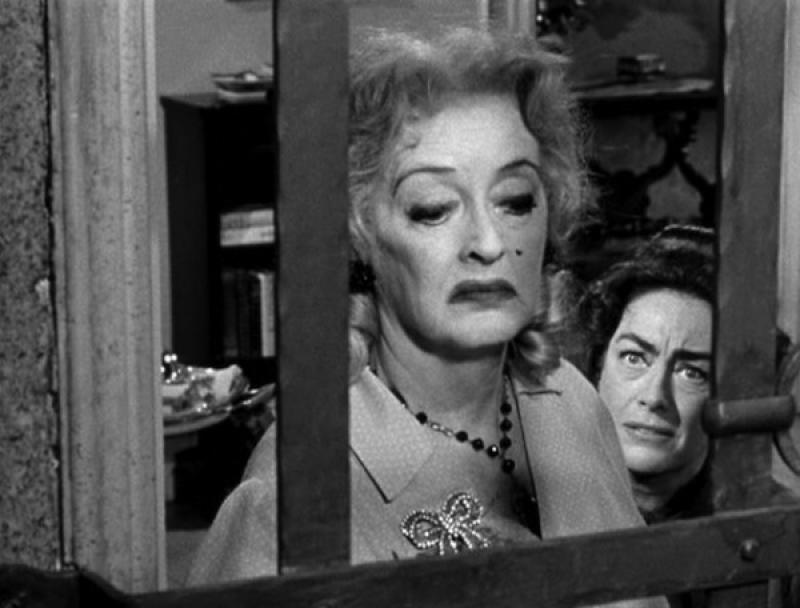 Her sister's sister: Bette Davis as Jane (left) and Joan Crawford as Blanche
Here's a rancid little hors d'oeuvre for the holiday season. The deliciously loathsome Gothic horror film What Ever Happened to Baby Jane?, 50 years old and back in cinemas, never ceases to amaze as director Robert Aldrich's strychnine-laced missive to Hollywood – his second, following 1955's The Big Knife – and as a psychodrama of Joan Crawford and Bette Davis's unfeigned hatred for each other.
The movie opens in 1917. The junior vaudeville star Baby Jane Hudson simpers through her vomitous song-and-dance numbers onstage and, enabled by her unctuous accompanist father, rules her family with her brattiness. Her sister Blanche, snarled at by Dad but comforted by Mom, swears revenge (a fact to keep in mind as their story unfolds).
Davis is formidable as a woman who lurches between lucid psychopathic cunning and curdled infantilism
Eighteen years later, a conversation between a frustrated studio boss and one of his associates reveals that Blanche, by now a major star, has a clause in her contract stipulating that for every movie she makes, Jane must make one. The latter has become a violent alcoholic and a terrible actress (though in the rushes "borrowed" from the 1933 Davis drama Parachute Jumper that demonstrate Jane's ineptitude, she's amusing as a Southern girl flirting her way into a job). We deduce from an elliptically filmed nocturnal incident involving Blanche's car that Jane subsequently crippled Blanche in their driveway.
Davis, as the toxic Jane, and Crawford, as the wheelchair-bound but by no means embittered Blanche, enter the picture proper as retired 50somethings living off their old glories (and Blanche's savings) in their claustrophobic, overstuffed Hollywood house. They live a tense, friendless existence interrupted only by the visits of the African-American cleaning woman, Elvira (Maidie Norman), and Jane's drives into town where she cashes the cheques on which she's forged Blanche's signature to buy whisky and gin.
Blanche's decision to sell the house and live independently with Elvira, who's fond of her, coincides with Jane finally flipping her lid, the result of decades of failure, inferiority, and guilt, and the rage and contempt they've engendered. She begins to torture the helpless Blanche and, ever the narcissistic Baby Jane, enlists via a newspaper display ad a pianist to accompany her as she absurdly bids to resurrect her pre-teen act.
The pudgy Victor Buono (who, like Davis, was Oscar-nominated) plays the accompanist as an unemployable faux-English manchild whose scenes with his squeaky-voiced mother (diminutive former silent actress Marjorie Bennett) are as redolent of warped co-dependency as those between Blanche and Jane.
Davis is formidable as a woman who lurches between lucid psychopathic cunning and curdled infantilism – when she regresses, her smiles are the smiles of Baby Jane before fame went to her head, and they're genuinely affecting. Driven to sadism, she transforms into one of Hollywood's great witches. No matter how many times one watches Jane serve Blanche (Crawford) that meal on a platter, cackling dementedly as it achieves the desired result, it always shocks and disgusts. It's as if Edgar Allan Poe had possessed the spirit of Lukas Heller when he adapted the screenplay from Henry Farrell's 1960 novel.
Crawford must have known that the movie could only work if she curbed her melodramatic instincts and gave Davis the floor. Her perfomance is not only necessarily less physical than Davis's, but more emotionally reticent. It's characterised by furtiveness (as Blanche, imprisoned upstairs in the house, tries to get help from a neighbour), anxiety, and, finally, fatalism. How extraordinary that these two actresses, who fought tooth and nail on the set – Davis reportedly kicking Crawford so badly in the head in one scene that she had to have stitches – should have made such a great double act. Crawford wouldn't be upstaged again, however, pulling out of Aldrich, Farrell, and Heller's 1964 follow-up, Hush…Hush, Sweet Charlotte (1964), after four days, on the grounds of illness; Olivia de Havilland joined her friend Davis in the cast.
What Ever Happened to Baby Jane? bridged the gap between Billy Wilder's Sunset Boulevard (1950) and David Lynch's Mulholland Dr. (2001), but as a critique of Hollywood's destructiveness it lacks the mordant wit of the first and the hallucinatory power of the second. Redemption (for one of the characters) comes too late to save it from its indulged grotesqueness. It is more nihilistic than humanistic – though the spectacle of the two legends in their late-flowering pomp makes it a must-see.
Watch the trailer to What Ever Happened to Baby Jane?