Perspective |

reviews, news & interviews
Perspective
Perspective
A preview of an experimental game that puts platformers into a new perspective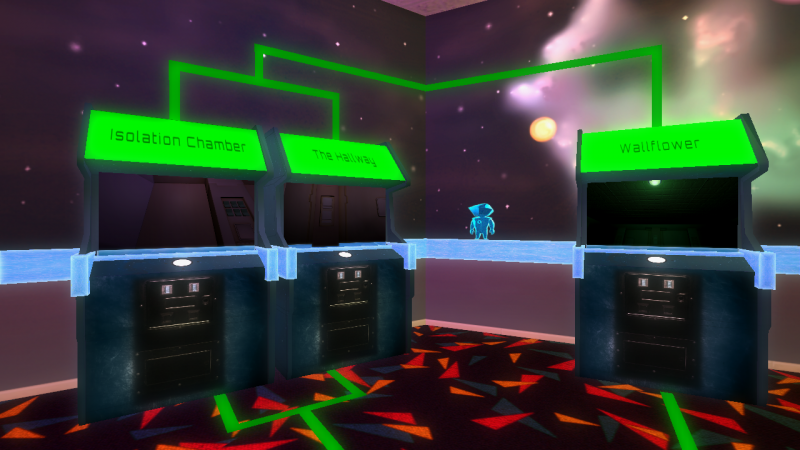 Perspective: a workout for the brain
In the world of gaming there are many pioneers, but it is those uninhibited by the constraints of the uber-publishers who have the true freedom to experiment, excel and evolve their art form. It is from the PC diaspora that the most innovative games are coming, where game-makers are limited only by their imaginations. And RAM. And processor speed. And graphics cards.
Out this month is one of these innovations. Perspective describes itself as an "experimental first-person perception puzzle game" which utilises two different dimensions in order to create and play around with – you guessed it - perspectives. The focal point is your little blue avatar, who you must move through the geometric spaces of what appear to be a surreal eighties video game arcade.
The genius if this game lies in the fact that while your avatar is in a 2D world, you the player are in a 3D one. In order to guide the character to safety, you must move around in the 3D space and find the correct perspective through which to view both the avatar and their surroundings. Once you've lined up a safe path to your goal - which can either be a portal or an arcade booth to a new level - you can then move your avatar in its 2D world, taking control of the little guy with a click of the mouse. Sounds easy, right?
Wrong. There are many feats of mental gymnastics you will have to perform in order to get your head around the mechanics of this experimental curio. For example, although your avatar is locked in a 2D world, he can still be moved around the 3D space. You might think you're just moving him across a block that is right in front of you, but step to the side and you realise you've placed him on a block at the end of a completely different room. You think he can't fit through that gap between two blocks? Walk towards him and he will shrink before your very eyes from the size of a hobbit to the size of Tinkerbell.
This game is a workout for the brain. Certainly it plays as a rudimentary platformer, but that seems to be a mere vehicle for the technology to ride as it shows off its skills. This is no real criticism; true avant-garde experimentalism shouldn't be tied down to, or diluted within, a format. However, players should be forewarned that this is an experience rather than a mission, and though it may be set in a retro arcade, there are no leaderboards or high scores here.
There is on the other hand a brilliant retro score that has eerie arcade resonances and a hint of eighties sci-fi soundtracks. All in all this is a fascinating hint at the potential of new ideas coming out of the indie developer nebula. Keep them coming.
Developed and published by Widdershins (DigiPen Institute of Technology). Platform: PC