Django Unchained |

reviews, news & interviews
Django Unchained
Django Unchained
Tarantino's exhilarating eighth film sees a former slave ruffling feathers in the deep south
Thursday, 17 January 2013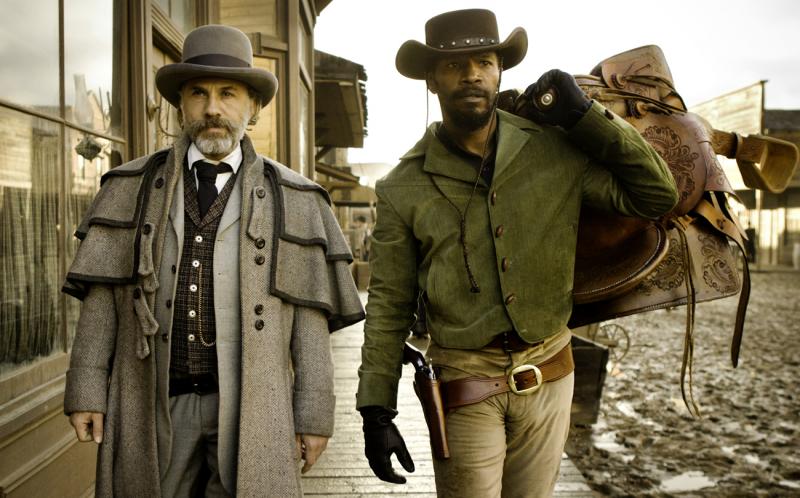 They're mad as hell and they're not going to take it any more: Christoph Waltz as Schultz and Jamie Foxx as Django
With its exuberant blood-spray, rambunctious dialogue and generous running time, Django Unchained is writer-director Quentin Tarantino's first full foray into Westerns.
Although it's not a remake, it pays tribute to Sergio Corbucci's 1966 Spaghetti Western
Django
, not only in name but in its use of the title song - which opens this movie as it opened that one - and in the fleeting appearance of the original's game star, Franco Nero (pictured below right).
The year is 1858, two years before the American Civil War, and the setting "somewhere in Texas". We watch as a pair of slave trading brutes move their shackled men by night. From the darkness emerges the unlikely figure of Dr King Schultz (Christoph Waltz) riding his mobile dentistry wagon - giant molar waggling atop it on a spring. This seemingly benign, erudite and highly eccentric gentleman is actually a bounty hunter, here for a slave named Django (Jamie Foxx) who can help him identify a trio of brothers who've escaped justice and are worth a pretty penny. One bloody confrontation later and Django and the other slaves are free.
In a pleasing turn of events, Django (pronounced "Jango" - as he helpfully explains, the "D" is silent) teams up with the likeable, egalitarian and improbably kick-ass Schultz who agrees to help him find and free his wife Broomhilda (Kerry Washington, pictured below left with Samuel L. Jackson). She's enslaved in the home of the magnificently monikered Calvin Candie. A total bastard - played quite brilliantly by Leonardo DiCaprio (pictured below right) - Candie is flanked by the differently villainous Stephen (Jackson), a snivelling traitor to his race, bent physically double as if in shame.
Despite a smattering of tenebrous thrills Django Unchained is, for the most part, as leisurely paced as Westerns of old. This is a film in no hurry to get anywhere but it's completely compelling - and when it's exciting it's damn exciting. What you have to admire is how skilfully Tarantino combines the grandeur of films such as The Searchers, the odd-couple camaraderie of Butch Cassidy and the Sundance Kid and True Grit, and the raw cult appeal of the original Django. And yet it still has the director's own snappy signature written all over it: with bravura violence, imaginatively named characters and his strongest, sassiest screenplay since Jackie Brown.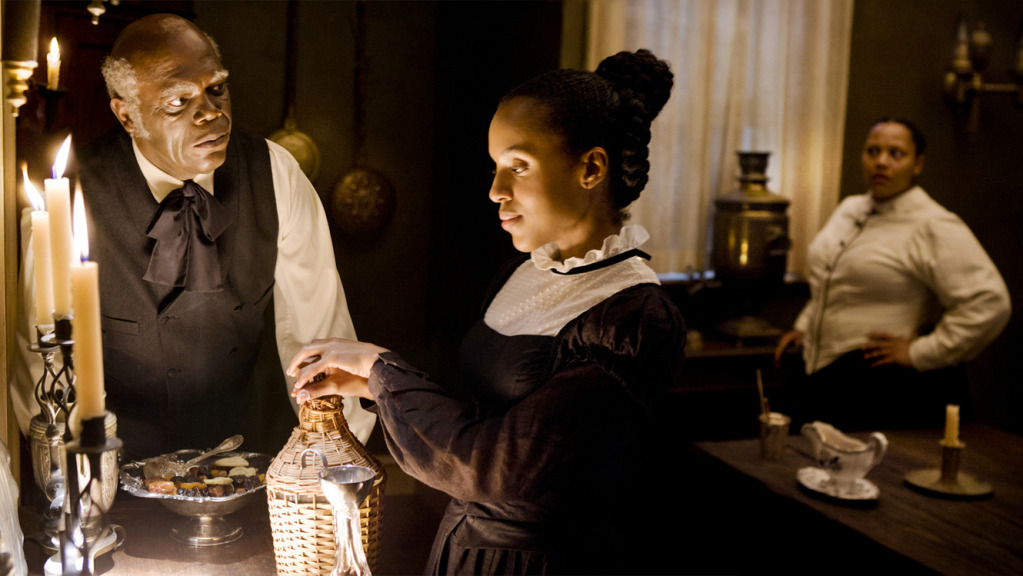 In an extremely competitive acting field, Waltz is probably the stand-out (it seems the Academy would agree, since he bagged the film's sole acting nomination). After his terrifically despicable turns in Inglourious Basterds and Carnage - in which he played a sadistic Nazi officer and white collar swine respectively - it's thrilling to find Waltz so genial, and he makes for a charming buddy to the initially humbled, taciturn Foxx. As the villainous Candie, DiCaprio simmers with violent potential and builds to a magnificent crescendo – unleashing a can of verbal whoop-ass - while Jackson is wonderfully loathsome as Stephen (like Uma Thurman, he only seems to get interesting roles in Tarantino films).
Tarantino is a filmmaker who means so much to so many and, cheeringly, Django Unchained represents an emphatic return to form. Here he is operating well within his comfort zone. His previous work has made numerous nods to the western genre, so we're in no doubt he knows it backwards, but this is far from mere cut-and-paste, and by wringing some genuine emotion from the stirring subject matter it even shows maturation as a filmmaker. Unfortunately and hugely unfairly, Django has already attracted controversy. Spike Lee has, very maturely, chosen to deride it while refusing to see it. Critics have focused on its sequences of ultra-violence (it's a western focusing on the slave trade from Quentin Tarantino - what were they expecting?) and on the frequent use of the word "nigger", which is entirely era-appropriate.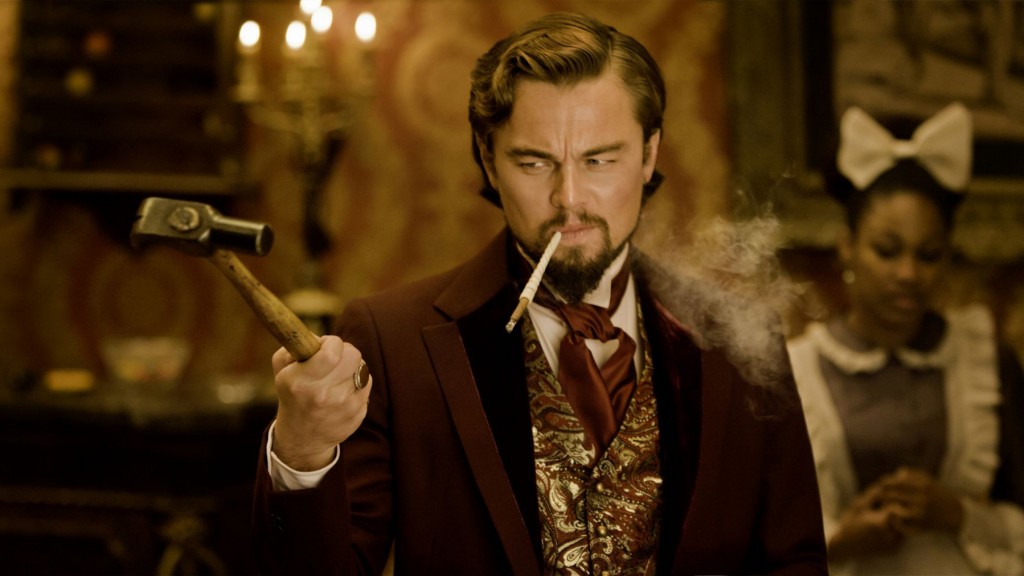 Perhaps most surprisingly, it has been criticised for a perceived disrespect toward the issue of slavery. However, this is not a film which belittles the horror of slavery. Instead it's one that shows this explicitly, sincerely raging against the barbarism and injustice and taking considerable pleasure from Django's bloody vengeance. And it's hardly lacking in heart: Django's relationship with Dr King Schultz is warm, humorous and delightful, and Washington as the much-abused Broomhilda ekes out crucial poignancy by playing it dead straight, as does Foxx himself. It seems Django Unchained's real crime is that it achieves all this and still manages to be terrific fun.
At 165-minutes is it a touch too long? Probably. Is there one ending too many? Sure. Did Tarantino really have to appear in it himself - complete with a terrible Australian accent? Hell no (though you'll enjoy the outcome of that particular cameo). Yet these are minor quibbles, for here we have 2013's first must-see. Django Unchained swaggers into cinemas, a gun on each hip, cocked and ready, with as much renegade spirit as its 1960s inspiration. Believe the hype.
Watch the trailer for Django Unchained
Django Unchained represents an emphatic return to form for Tarantino
rating
Explore topics
Share this article