Schwitters in Britain, Tate Britain |

reviews, news & interviews
Schwitters in Britain, Tate Britain
Schwitters in Britain, Tate Britain
Forgotten German emigré or imaginative fireball who influenced British art? The last eight years of a creative life examined
Wednesday, 30 January 2013
'En Morn' (1947)
The Pop Art collages of Richard Hamilton and Eduardo Paolozzi and, more recently, the wayward sculptures and installations of artists like Phyllida Barlow would be unthinkable without the inspirational presence in Britain of Kurt Schwitters. Yet the German emigré is hardly a household name.
The Tate exhibition Schwitters in Britain hopes to put that right by showing the full range of his work. These include reliefs and collages made from detritus picked up off the street; oddball sculptures fashioned from plaster, wood, stone, metal or bone; grotto-like installations that crept across walls and ceilings to engulf the space; and abstract poems like the Ursonate, performed by the artist in London in 1944 (pictured below right) which involved humming, singing and chanting nonsensical sounds. Finally, there were the realist portraits and impressionistic landscapes, which he produced to sell and are usually dismissed as pot-boilers. With this overview, the Tate hopes to demonstrate that, far from a miserable saga of poverty and obscurity, the eight years that Schwitters spent in Britain before his death in 1948 were extremely productive.
He wasn't here by choice. Having been included in the infamous exhibitions of Degenerate Art staged by Hitler to pour scorn and put pressure on artists considered politically suspect, Schwitters fled Nazi Germany in 1937, leaving his wife behind to look after their elderly parents and property. He took refuge in Norway with his son and daughter-in-law, and when the Germans invaded three years later, the family escaped on the last icebreaker bound for Britain.
On arrival, he was interned as an enemy alien with numerous other artists on the Isle of Man. They didn't allow the scarcity of materials to stop them making art and staging exhibitions, though. To earn a few bob, Schwitters painted portraits on old bits of linoleum; and although lively enough, his likenesses of fellow inmates such as Fred Uhlman wouldn't earn him a place in the pantheon of modern art. Had they survived, though, his sculptures might have. Uhlman recalls Schwitters's makeshift attic studio as having "a musty, sour, indescribable stink which came from three Dada sculptures which he had created from porridge, no plaster-of-Paris being available. The porridge had developed mildew and the statues were covered with greenish hair and bluish excrements of an unknown type of bacteria."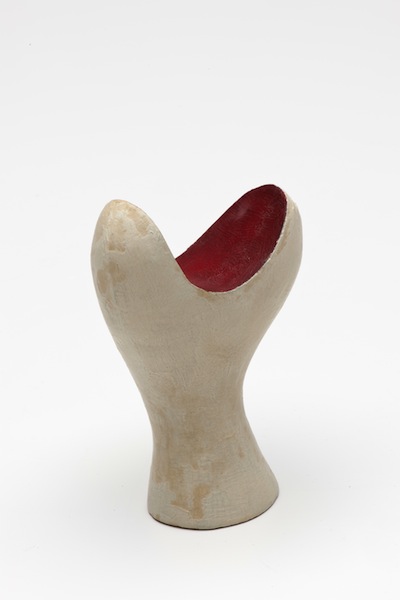 Later, Schwitters would go on to make small plaster sculptures like 1945's Opening Blossom (pictured left), using paint to emphasise the form. Reminiscent of work by Arp, Hepworth, Gabo and Gaudier Brzeska, with their simple fluid shapes they are typical of their time. But when he used bits of bone, wood or metal to create angular discontinuities and painted them to contradict rather than clarify the form, the wonderfully oddball results not only seem way before their time, but anticipate the "hand-held" sculptures of Franz West and the ad hoc assemblages of Phyllida Barlow. He was right when he wrote to his friend Moholy-Nagy: "I believe that at the moment my best things are my small sculptures."
Schwitters finally arrived in London after 17 months in Hutchinson Camp, by which time fellow artists like Moholy-Nagy and Naum Gabo, who'd also fled Germany, had left for Cornwall and the States, respectively. Wartime London was not an easy place to make a new start and, despite establishing valuable contacts, being included in several mixed shows and given a solo exhibition, Schwitters was unable to make a living. He had a stroke which caused temporary paralysis, learned that his wife had died, and that his Merzbau – a cardboard and wood installation, which spread across six rooms of his Hanover apartment and which he considered his life's work – had been destroyed by Allied bombing.
In 1945, he left London for the Lake District but, far from being a sick and lonely outsider worn down by disappointment, he had a new partner, Edith Thomas, became involved in the local art scene, was busy painting landscapes and portraits to commission, and began covering the walls of a small barn near Elterwater with a new Merzbau, which was funded by the Museum of Modern Art, New York where he also planned to exhibit.
And the impression that one gets from the work is of someone with a new lease of life. Collages like En Morn (1947, main picture) are simpler, clearer and more optimistic. The muddy blues, greens and blacks of the pre-war German paintings, collages and reliefs have given way to brighter colours and a much lighter, more humorous touch (pictured right, Anything with a stone, 1944). The few drawings included are full of vitality and, although far from ground-breaking, the landscapes are filled with an energy that celebrates the elements (one can almost feel the wind gusting about) and belies the increasing infirmity of the artist.
Because so much of his work was destroyed both during the chaos of war and by the Nazis, we shall never have a full picture of Schwitters's achievements, but this exhibition gives us a glimpse of this indomitable pragmatist who, by making the most of challenging circumstances, was able to carry on planning and producing to the very end. And his collages and small sculptures alone make him well worth celebrating.
Listen to Kurt Schwitters reciting Ursonate
A musty, sour, indescribable stink came from three Dada sculptures which he had created from porridge
Explore topics
Share this article