DVD: Anna Karenina |

reviews, news & interviews
DVD: Anna Karenina
DVD: Anna Karenina
Joe Wright adapts Tolstoy classic with daring - and succeeds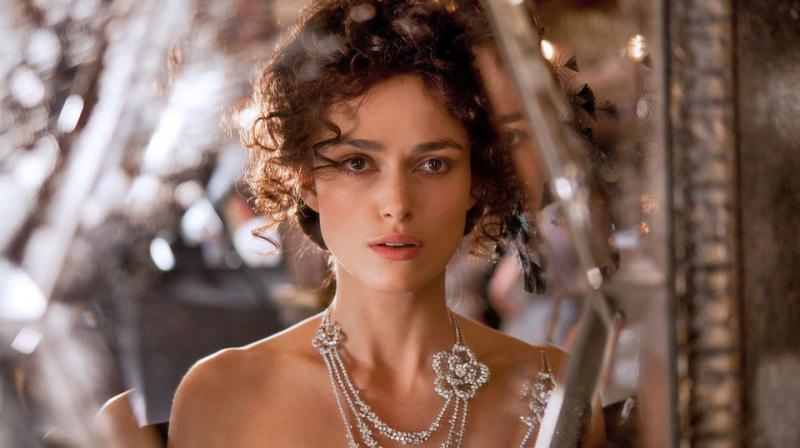 Keira Knightley as Anna Karenina
Joe Wright's screen adaptation of Tolstoy's giant of a masterpiece, scripted by Tom Stoppard, takes a big risk that pays off: the many-layered late 19th-century novel is stripped to its bare bones with astonishing brio.
He sets most of the story in a theatre, playing with the illusion created by a proscenium arch and the mirrored worlds of audience and stage. On paper, the whole thing sounds absurdly gimmicky, but Wright has a feel for both literature and cinema and his translation of a cherished classic into a piece of dazzling film works wonders with a genre that often drains literary genius of its soul.
Wright's stage is both ritual space and shape-shifting universe. Avoiding the literalism of painstaking reconstruction, he allows the audience to enter into a world of imagination – much as we do at the theatre, or indeed when we read a book: there are breathtaking shots that course through the building's spaces, from lighting platform to wings, creating a drama that unfolds in our hearts and minds as much as on the screen. A lesser director would have allowed his ingenious and original device to become a medium that obscures the message. Wright isn't a slave to style, and he plays with the form itself, as when he cuts from Seriozha's toy train to a real one steaming through the snow. At every moment in the film, the heart of the story shines through, albeit in a schematised form.
And yet, this isn't Anna Karenina lite, but a highly intelligent distillation of a novel that focuses on love, betrayal and forgiveness. The production is let down by rather one-dimensional performances from Keira Knightley as Anna and Aaron Taylor-Johnson as Vronsky. Neither has more than a limited register of facial expression, which is made all the more noticeable by the quality of the actors that surround them, not least Domhnall Gleeson as Levin, Alicia Vikander as Kitty, and Jude Law, who gives a beautifully nuanced interpretation of the troubled Karenin.
Watch the trailer for Anna Karenina
A lesser director would have allowed his brilliant device to become a medium that obscures the message
rating
Share this article