Aliens: Colonial Marines |

reviews, news & interviews
Aliens: Colonial Marines
Aliens: Colonial Marines
Will this first-person sequel to Aliens make you scream?
Aliens: Colonial Marines - Xenomorphs leap into the fray against a solitary space marine.
The gnashing teeth emerging from a slathering black mouth ‑ HR Giger and Ridley Scott's Alien design remains one of the most horrific creations of cinema: an iconic image of vagina dentata body horror and a genetically modified unstoppable bogeyman for a modern age. The film was no one-off, however.
James Cameron's Aliens sequel successfully replaced the horror tropes with incredibly tense and visceral action, while more recently Prometheus added epic scale. Even in games, Aliens Vs. Predator (in 2000) delivered a brilliant sense of enclosed fear. Given the series' heritage and mixture of tough enemies, grungy sci-fi locations and tense action, you might hope a new Aliens first-person shooter would be a good idea. Particularly if it was set as a direct sequel to the events of Cameron's Aliens.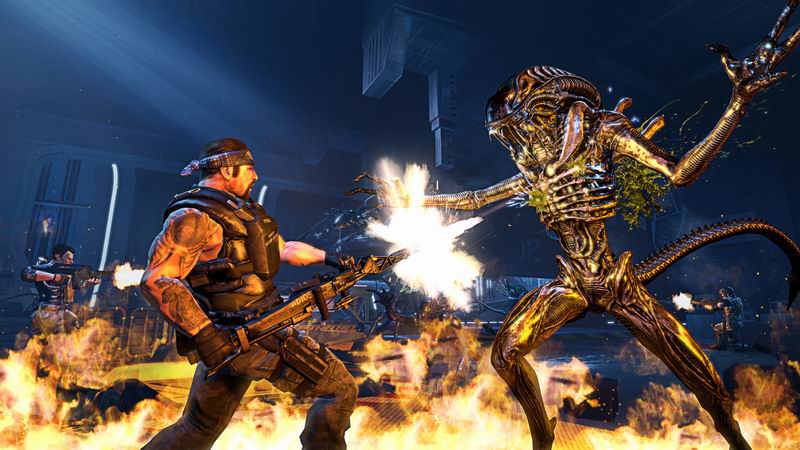 The crushing of that hope could be down to game being assembled over six years by a series subcontracted developers, with the publisher determined eventually just to push something out of the door. But ultimately it doesn't matter why Aliens: Colonial Marines is so shoddy, it just is.
The worst issue is the xenomorphs. As they square off against a group of marines sent to investigate the aftermath of Aliens, they look mostly like bow-legged, skinny-jeaned teenagers stumbling around on too much cider – they're about as scary too. To make up for this, the game just throws loads of them at you, then a load of faceless human mercenary goons who are even less scary, then only offers checkpoints to save your progress every 15 minutes. The result is dull, extended firefights that if you mess up slightly on, you're forced to endure all over again.
Lacking in ideas and genuinely scary enemies, the game is also woeful in execution – the graphics are rubbish, the level design is both bland and buggy (walking through solid walls, squadmates disappearing or freezing, bits of body floating in mid-air are all common occurences), and the dialogue could win awards for its idiocy. It's a repetitive parade of post-Generation Kill buzzwords (mainly calling your boss "actual" and saying "hoorah" a lot).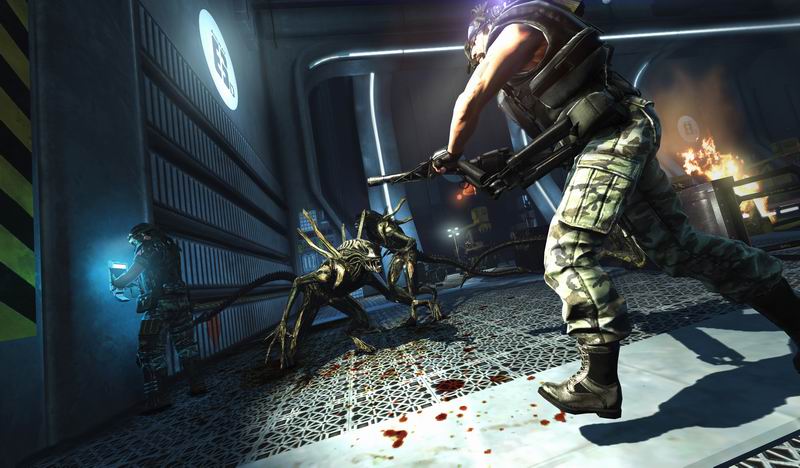 All of this would wind up with a one-star review, were it not for the multi-player element. Using asymmetric teams – aliens v marines, each with their own skills and methods – rescues Colonial Marines from utter failure. Online, in games where marines have to complete a series of actions across a map, while harried by aliens able to see in the dark and climb onto ceilings, the shock and horror of the series' beginnings finally comes to the fore.
Even online, the poor visuals, weaponry and level design aren't enough to rescue the game. If you're absolutely a fan of the series and its setting, the multi-player some limited thrills. For single-player, Dead Space 3, released last week, delivers far superior space horror action.