Four Tet & Fiium Shaark, Heaven |

reviews, news & interviews
Four Tet & Fiium Shaark, Heaven
Four Tet & Fiium Shaark, Heaven
Avant garde and embracing electronic on the live stage
Kieran Hebden and his machines
Walking into the auditorium of a packed Heaven last night, we were instantly treated to the sensation of having our bodies invaded by thousands of infinitely complex machine insects. It's rare that a band can have such an instant and disquieting effect, but Fiium Shaark's music, we discovered, is as unusual as their name in many ways.
At first seemingly entirely improvising, Rudi Fischerlehner on drumkit and Maurizio Ravalico on assorted high-tech looking percussion set arrhythmic patterns scampering around one another while Isambard Khroustaliov filled the spaces with itchy fragments of electronic sound.
They later locked into regular grooves, but the electronics remained just as freeform. Radical improvised music or avant-garde electronica can so often lose its way on a large stage, but – aided by Heaven's impeccable Funktion One soundsystem – Fiium Shaark excelled at both fine detail and creating a unified narrative. They are one of the very few acts I've ever seen who can rival Autechre for inhumanly strange synaesthesic noise-making, but extremely distinctive too: an exciting proposition all round.
Kieran Hebden – aka Four Tet – makes altogether more friendly sound. Although his mid-period breakthrough works were full of massed drums and free-jazz freakouts, he has lately tended toward warm textures and the regularity of house music's pulse. Taking the stage behind a long bench covered in electronic kit, the terminally shy Hebden raised one hand very briefly in acknowledgment of the crowd's cheers then set interlocking arpeggios going, which he wove together elegantly, actually evoking mid 20th century electronic experimentation more than any kind of dancefloor action.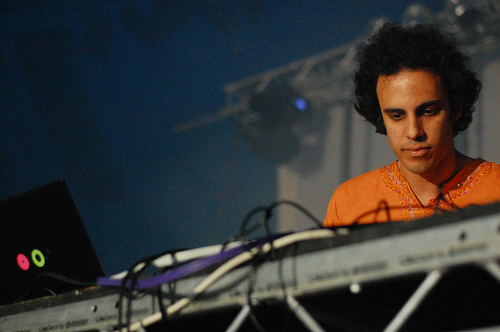 Then, though, an African vocal and monumental kickdrum came unceremoniously bursting into the mix, after which point the set was almost entirely held together by a steady beat. Within this frame, though, Hebden painted pictures with all the poise and proportion of a Mondrian or Miró – perfectly balanced geometries that hung in the air and were gone. Hebden's free / cosmic jazz influence is still there, and his real magic comes in the marriage of regularity and irregularity, chaos and control within seemingly simple forms.
Four Tet's current sound is incredibly internal music. It was fascinating to discover that when I went to the bar mid-set, the spell was completely broken and the music sounded like standard deep house; it took a moment of re-orientation and focusing when I got back into the crowd to start hearing the finer patterns within it. This is music above all made to dance to, so you become a part of its moving geometry yourself; though again served well by the soundsystem, the gig format with people packed tight and faced forward doesn't present it in its best light. Nonetheless it was a beautiful show by one of our finest electronic talents.
The real magic comes in the marriage of regularity and irregularity, chaos and control
rating
Share this article