Ballet Black, Linbury Studio Theatre, Royal Opera House |

reviews, news & interviews
Ballet Black, Linbury Studio Theatre, Royal Opera House
Ballet Black, Linbury Studio Theatre, Royal Opera House
A quad bill more promising on paper than in today's austere actuality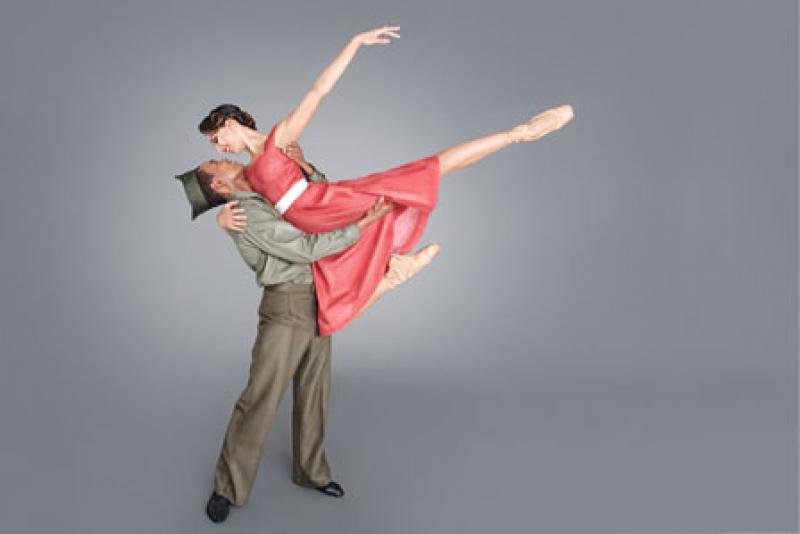 A bit school-ish: Sarah Kundi & Damien Johnson in Christopher Marney's War Letters
Ballet Black open their eighth Linbury Studio Theatre season with a quadruple bill of new works which looks promising on paper but less so in actuality. The evening begins with Robert Binet's EGAL, the title being a (now obsolete) Middle English word meaning equal, which Binet used as the piece's crux.
The work is a duet that's meant to '"xplore the possibilities and complications that might arise if two people who are completely equal in every sense and ability were to encounter each other". Even though the blurb is rather loose, the piece still doesn't manage to communicate much, if any of it.
For starters, the pairing of the dancers seemed unequal from the get-go – with Cira Robinson's forthright presence making Jacob Wye's unsureness even more apparent. The movement denotes an uncomfortable/uncoordinated feel (perhaps the aforementioned complications being aired?), and isn't helped by the hard on the ear score either (GODOT by Volker Bertelmann and Hilary Hahn).
Considering Javier de Frutos's notorious past, the piece feels very PC
There is a moment where both dancers perform a movement phrase in unison which allows them to travel and show a sense of fluidity unseen until then, as well as demonstrate the beginnings of an arm movement language that uses scythe-like sweeps to attract the eye. Binet is also guilty of one of my pet peeves – the "running around the stage for no apparent reason" trait – which always feels like a colossal waste of the audience's time and the dancers' energy.
Ludovic Ondiviela's Dopamine (you make my levels go silly) - a duet - is based around the neurochemical process humans experience when feeling bliss. Ondiviela translates this into a pas de deux of a romantic exploration of young love progressing into recognised comfort – which features some fine lifts but nothing groundbreaking - that moves into a second motif of a gestural arm idiom executed at great speed and for what feels like an eternity. Neither exploration necessarily broadened my take on bliss.
The work also features a new score, Perpetuum by Fabio D'Andrea, and Ondiviela uses the relentless rhythm and sweeping melodies well. But though the two dancers (Sayaka Ichikawa and Jazmon Voss) did the movement justice, their emotional connection didn't translate beyond the proscenium.
Closing the first part is Javier de Frutos's The One Played Twice, a work for four dancers using a Hawaiian-themed collection of music in Barbershop style. Considering de Frutos's notorious past, the piece feels very PC, to the point that it doesn't really feel like one of his. The four dancers switch between solos, duets, trios and foursomes, which have an initial abstract feel before latching onto an emotional underpinning, based upon relationships and longing. Each musical section is followed by dance in silence – which feels a bit clunky, but at least allows for a short respite from the barbershop fest.
The second half is devoted to Christopher Marney's War Letters (pictured above right) – a piece using literature ranging from private letters to poetry in order to muse on war and its fallout. The work is split into five sections, four morbid, one joyous; and Marney does well to fit so much into such a short timeframe.
The fourth movement – The Heavy Coat – is the most original, seeing Marney use a coat as a metaphor (and prop) for love and the weighted obligations that come with it. Overall though the piece is a bit school-ish, and Marney's movement language flits in a lacklustre melange of pseudo-neo-classical form and straightforward ballet-class steps. Likewise with the musical choices – hackneyed Shostakovich and (the overtly obvious) Glenn Miller.
In the current art chasm all new works should be savoured, but economic pressure also highlights the value of everything. I was impressed by the dancers and David Plater's lighting designs - yet largely deflated by the choreography.
In the current art chasm all new works should be savoured – but economic pressure also highlights the crucial value of everything
rating
Explore topics
Share this article