Goldberg, Linbury Studio Theatre |

reviews, news & interviews
Goldberg, Linbury Studio Theatre
Goldberg, Linbury Studio Theatre
Tamara Rojo and Kim Brandstrup strike gold together in new Bach ballet
Monday, 21 September 2009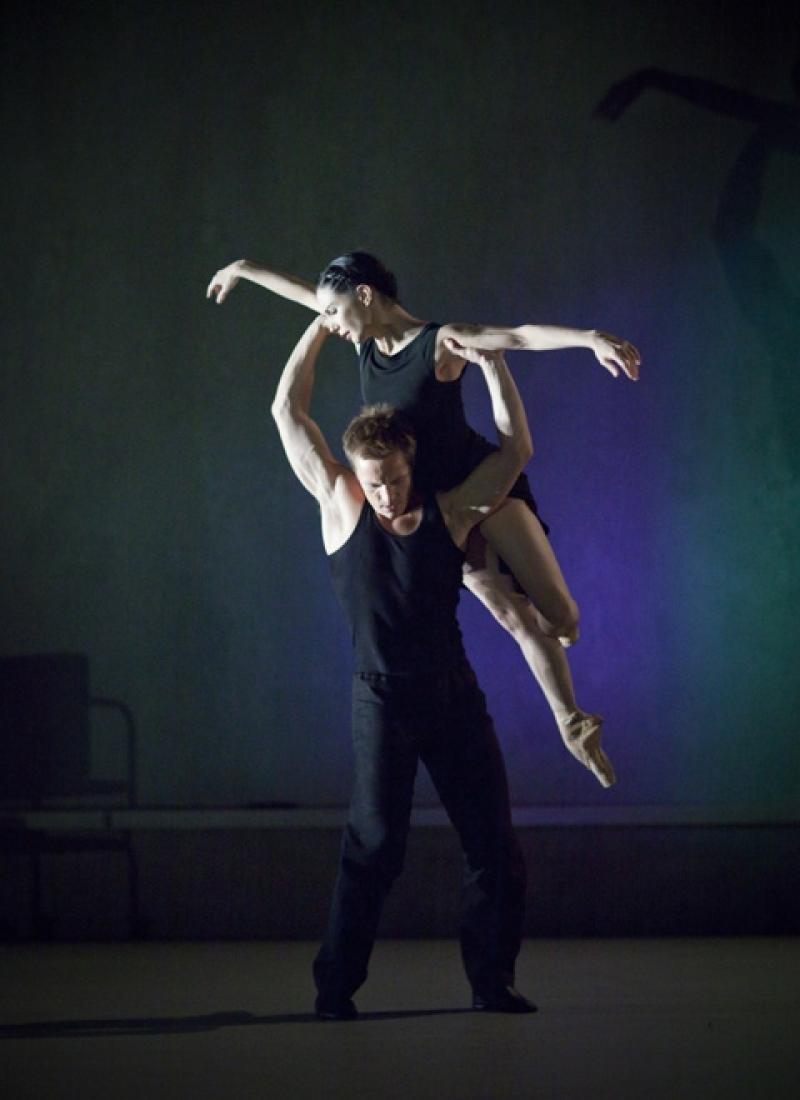 Tamara Rojo and Thomas Whitehead in 'Goldberg': an elusive triangle of drama and music
At last a seriously good new ballet created not just inside the Royal Opera House's bunker-like Linbury Studio Theatre but actually making complete sense of its space and atmosphere. Kim Brandstrup's new creation with the Royal Ballet star Tamara Rojo, Goldberg, is a beautiful, grown-up piece of fine musical feeling and drama, and with a design and lighting scheme to die for.
They came from left-field on this one, since to get anything made new at the Royal Ballet is generally a torturous business of compromise with time, cast and concept. But Rojo swung her weight about as ballerina and engineered a week of performances in the usually unglamorous Linbury, in what is still down-time for the company, the season not officially opening for another fortnight.
There has been time, evidently, to think through every detail on this. The music, not obviously danceable, is Bach's Goldberg Variations, and the challenge of what or how to dance to it has been evolved by Brandstrup and Rojo together as what they say impassively is a piece about the relationship of music and dance, but is really a collaboration by two creatures whose natural habitat is drama.
Richard Hudson has used the Linbury's awkward height to set it in a striking tall grey room with a very long ladder up to a high window, as if inviting everyone up to daylight later to clear their heads. One needs to, since what we saw last night was a multi-layered emotional narrative about a fragile, deceptive woman caught between two men.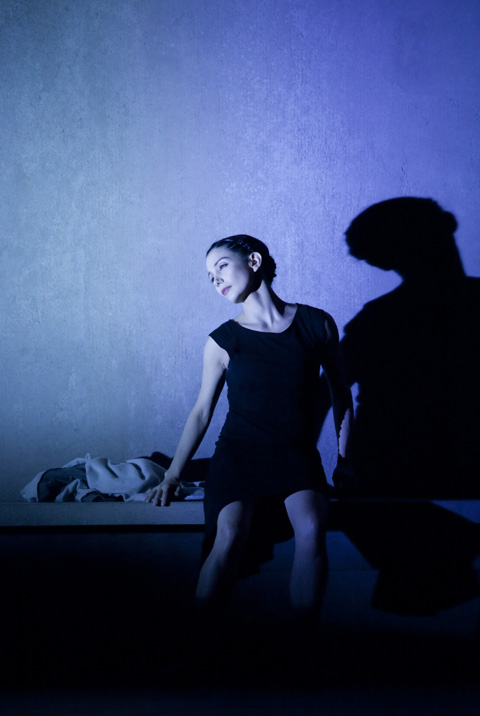 But this is only the bitter centre of the sweetmeat, which is enfolded exceedingly pleasingly in the convention that Rojo is the leading performer in a dance troupe who are learning the steps of a new dance, and she is gradually being wooed from an unhappy liaison with her domineering partner to a gentler one with the page-turner who sits by the pianist playing the Bach. (Pictured, Tamara Rojo)
The whole thing is then rendered even more amorphous by Paule Constable and Leo Warner's fabulous video lighting effects, including powdery lines that criss-cross the darkness like jet trails, evaporating almost as quickly, and some eerie sweeping bands of flat deadening light emanating from the TV set to which the dancers constantly cluster to study the recording of what they're learning.
Brandstrup is a past master at drawing slight plots in dense emotional lines, and so there are all sorts of nuances and double-bluffs going on here, much helped by Rojo's love of duplicity. I fairly rapidly formed the impression that this pale, febrile woman in black obediently dancing with her frowning partner while pummelling him in despair was more Blanche DuBois than Jane Eyre, that she had done something unforgiveable and that he (the amazingly handsome and heroically built Tom Whitehead) was possibly absolutely right to chuck his leather jacket at her so brutally.
Rojo dances on pointe, her flying limbs chalk-white against her black dress, and Steven McRae has two startling solos as the shyly amorous page-turner, and a charming way of stalking her. The two long pas de deux she has with her men push Brandstrup's fluid, emollient dance language as far as it can go - the odd scratchy thing, the odd cutting edge, wouldn't go amiss. The four other dancers are filler to this gripping threesome (pictured, Clara Barbera with Thomas Whitehead), but Tommy Franzén is a very witty lad in sneakers who does a ballet-meets-breakdance duet with her. Though again, as only Rojo can, she suggests with a glittering glance that perhaps the others are taking a risk by getting involved with her.
And how does all this go with the Bach? Inextricably. Brandstrup, a highly musical man, has imagined the piano variations as variants of time or fragments of evolution. Light slices the days apart, and Brandstrup has sliced up the variations acoustically too, so that some are played live on stage by Philip Gammon, others come from the TV set, recorded by Henry Roche - one even comes from the earphones of an iPod, which is truly post-post-modern. That deceptively simple theme is plain when stated at the start, but plaintive on its return an hour and a quarter later. Much experience has passed between statement and repeat.
But all this explanation is somehow beside the point; Goldberg is good enough not to need any explanation, elegant, atmospheric, ingeniously skilled.
goldb
Goldberg is good enough not to need any explanation, elegant, atmospheric, ingeniously skilled
Share this article