Parks and Recreation, BBC Four |

reviews, news & interviews
Parks and Recreation, BBC Four
Parks and Recreation, BBC Four
Belated UK debut for this huge-hearted comedy from the makers of The Office
'TV's finest comedy ensemble': The 'Parks and Recreation' gang
In one of the great US sitcoms, Seinfeld, the mantra of the show's producers was "no hugging, no learning". Well, Parks and Recreation - which may end up occupying a similarly lofty place in comedy history - takes the opposite tack. Warm and wonderfully witty with characters and relationships that actually evolve, Greg Daniels and Michael Schur's sitcom also features TV's finest comedy ensemble.
This perky, award-winning comedy has taken an absolute age to reach us, considering it debuted in the US in 2009 (where the fifth season has already aired). As with other such imports, BBC Four present it as a weekly double-bill.
Amy Poehler (pictured below right, who many will know from her scene-stealing appearances in Mean Girls and Blades of Glory) plays Leslie Knope, Deputy Director of the Parks and Recreation Department in the fictional town of Pawnee, Indiana. She's an endearingly chipper buffoon who we first meet surveying a little girl playing in a sandpit on her levels of enjoyment. Soon after she's uncomplainingly getting her hands dirty prising a drunk out of a slide with a broom.
Leslie possesses a boundless enthusiasm for her work and remains optimistic in the face of the spirit-sapping bureaucracy of local government. As she tells the camera: "If you get motion sickness put your head between your knees - because Leslie Knope's stopping for no one". Those who find Leslie a little too goofball for their tastes will be pleased to learn that later series see her character sharpened-up.
Parks and Recreation adopts a mockumentary style (akin to its sister show, the US version of The Office). It bears the fruit of its extensive research with material that will ring true for anyone who's worked in, or interacted with the public sector on either side of the Atlantic. It mines the farcical public meetings ("What I hear when people yell at me is people caring loudly"), the red tape, the misguided attempts to reach out to the community (a teen hike hastily becomes a pre-teen hike after a girl gets pregnant), the apathetic employees (the second episode, "The Reporter", features two colleagues engaged in a protracted game of online Scrabble).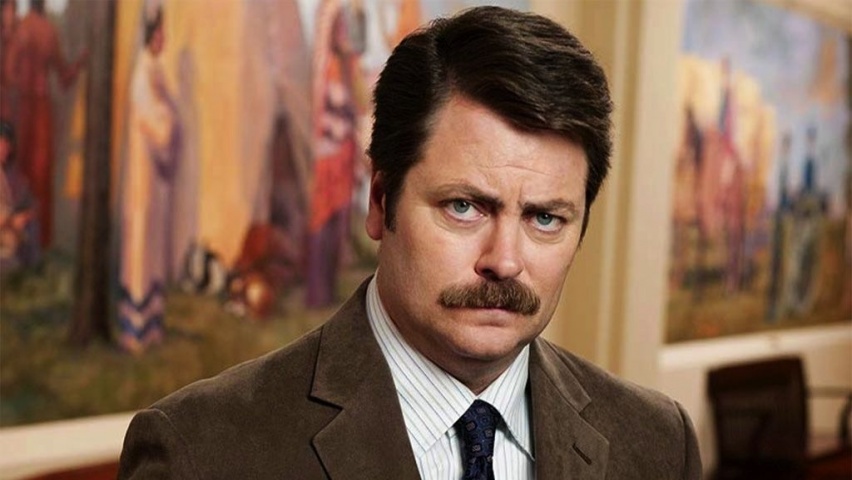 Leslie reports to lovable curmudgeon Ron Swanson (a brilliant Nick Offerman, pictured left, sporting the greatest moustache on TV). Ron doesn't believe in government and dreams of having the department privatised ("I would rather work for Chuck E Cheese's"). In the show's pilot we're also introduced to local nurse, Ann Perkins (Rashida Jones), whose layabout boyfriend Andy Dwyer (Chris Pratt) has, drunkenly, fallen into a pit behind their house, the result of a disastrously aborted commercial development. Leslie rashly promises to turn the pit into a park - and her efforts to do just that form the central premise of the first series.
Not only is it still rare for a comedy to pivot around a female lead but the burgeoning friendship between Leslie and Ann is a central feature of the show. Other characters include Leslie's right-hand man, the hilariously delusional Tom Haverford (Aziz Ansari), and deadpan office intern April Ludgate (Aubrey Plaza). By the end of season two Rob Lowe and Adam Scott will have joined the throng. Despite a cast of predominantly despondent or incompetent characters (all wonderfully performed and conceived), putting Leslie at the heart of everything means that her relentless optimism lifts and defines the show. She frequently wins over the doubters and dolts that surround her and, more than likely, she'll win you over too.
Parks and Recreation screens Wednesdays at 10pm on BBC Four