Neighbouring Sounds |

reviews, news & interviews
Neighbouring Sounds
Neighbouring Sounds
Neighbourhood Watch gets privatised, with dubious results, in a fine first feature from Brazil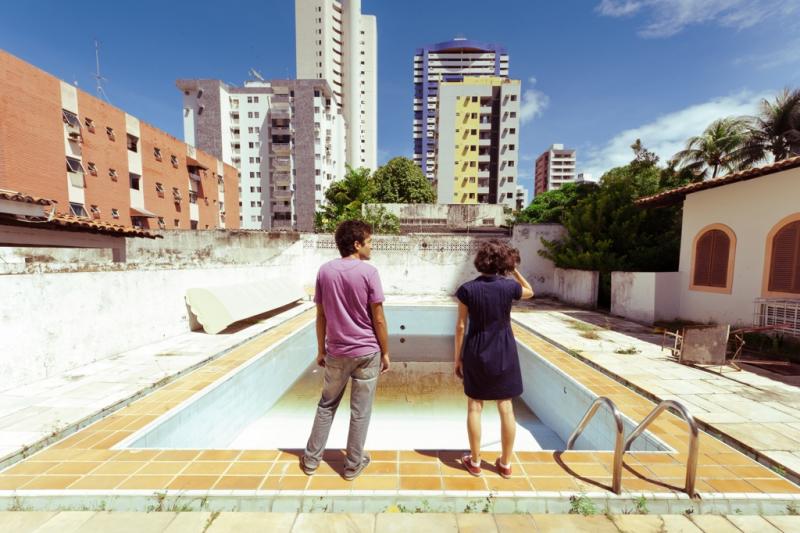 Gustavo Jahn's pampered playboy would rather chase girls than sell real estate
With the customarily narrow perspective that informs much film distribution in the UK, we might be forgiven for assuming there is just one subject in Brazilian cinema: crime; in particular, the drug-related gang wars in the favelas. We certainly haven't seen much to suggest otherwise, since City of God.
Of course, with 100-odd movies released each year, there is a far greater breadth at play. Like their counterparts throughout Latin America, Brazilian filmmakers are adept at depicting their fluid, culturally and socially diverse societies on screen, often in films that defy genre or any such easy description. Neighbouring Sounds is one such elusive film; it's also one of the best to come out of that prolific industry in recent years, with a quality that is hard to resist.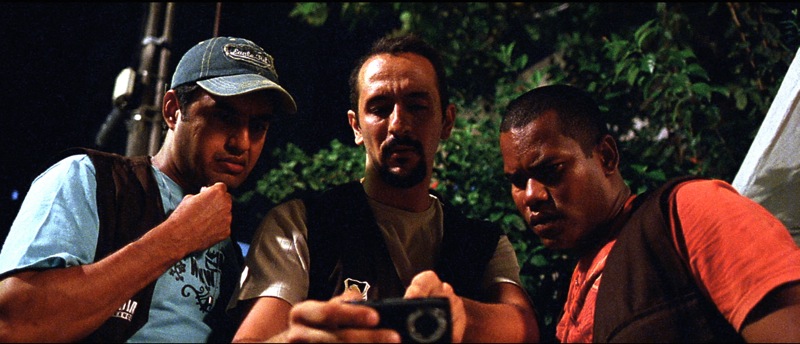 An immensely assured first feature by Kleber Mendonça Filho, it is set almost entirely within a middle-class district of Recife, a coastal city in the northeast of the country. The neighbourhood is on the rise – literally as well as metaphorically, as new high-rise developments sprout up, shoving poor dwellings into their shade. This tight proximity of class groups fuels the plot and a tension that bubbles beneath every second of screen time.
Filho opens with an ambiguous prologue, involving a selection of old, black and white still images of rural workers, the meaning of which only comes into focus towards the end of the film. He then jumps into colour, the present, the city, a feast of movement, of bicycles and roller skates, kids playing, an introduction to the neighbourhood accompanied by energetic, percussive beats. Wam, bam, we've arrived.
Then he slows the pace, in order to introduce his characters, and a slow-burn plot whose three chapter titles – "guard dogs", "night guard", "bodyguards" – highlight their paranoia.
João (Gustavo Jahn) belongs to a family which owns most of the land and property in the neighbourhood. Though working as a sort of family estate agent, for all intents and purposes he's a playboy, charming, well-intentioned but self-absorbed. Bia (Maeve Jinkings) is a housewife, living in a nice courtyard home and with her own, resourceful way of satisfying her whims – whether poisoning a neighbour's excitable guard dog, blowing tell-tale marijuana fumes into the vacuum cleaner, or masturbating with the help of a washing machine.
There's also João's bad apple cousin, his grandfather Francisco (W.J. Solha), a retired sugar baron who walks around with the assumption that everyone will do what he tells them and, last but not least, Clodoaldo (Irandhir Santos, above, centre), head of the private security firm who offers the neighbourhood round-the-clock protection, whose indelibly shifty features suggest he poses the biggest threat of all.
Filho continues a tradition of Latin films that concern class, predicated on the moneyed penchant for domestic servants and conspicuous security; La Zona, from Mexico and A Week Alone from Chile both concerned crime within gated communities. This Brazilian neighbourhood may not be enclosed, as such, but we're constantly made aware of gates, metal bars, the oppressiveness of concrete, the temptation to voyeurism, the clash of architectural forms echoing the rivalry of their occupants.
Music, sound, camera angles and editing all combine to build tension and suspense. And then there are the sequences that come out of nowhere – dozens of youths climbing like Ninjas into Bia's courtyard, an elevator ride that threatens to boil over, a night-time stroll full of foreboding and, on the film's one excursion out of town, a waterfall suddenly turning to red.
In many regards the filmmaker Filho most evokes is not Latin American, but the Austrian Michael Haneke – not the softened Haneke of Amour, but of Code Unknown and Hidden. Like Haneke, Filho is keenly aware of the black comedy of his social situations. The tenants meeting in which the ghastly occupants discuss whether to sack their aged doorman for sleeping on the job is extended to elicit maximum cringe value. And when one of João's prospective buyers learns that a previous occupant had thrown herself from the building, her first response is to ask if there will be a discount – for "negative energy".
Watch the trailer for Neighbouring Sounds
Music, sound, camera angles and editing all combine to build mystery and suspense
rating
Explore topics
Share this article