Life and Death in Pompeii and Herculaneum, British Museum |

reviews, news & interviews
Life and Death in Pompeii and Herculaneum, British Museum
Life and Death in Pompeii and Herculaneum, British Museum
An exhibition that powerfully connects you to the life of an ancient civilisation
Cast of a dog. From the House of Orpheus, Pompeii
"In the midst of life we are in death." This is a line we may feel compelled to reverse as we encounter the first exhibits in the British Museum's extraordinarily powerful exhibition, for this is a display vividly bringing the dead to life in the very midst of their extraordinary demise.
But then, "ashes to ashes" conveys particular resonance, too, for we all know that Pompeii, a town situated in the Bay of Naples, and its lesser known, less populous neighbour Herculaneum, were both covered in a thick layer of ash when Mount Vesuvius erupted in AD79. In a single day, up to 15,000 inhabitants died in Pompeii, while Herculaneum's toll is thought to be around 5,000.
One encounter with a waving willy that lightens the mood is a statue of a drunken Hercules
The dog is the first artefact we encounter (main picture). We are witness to its pitiful last moments, its convulsions of agony frozen in perpetuity. Its collar tells us that this was a guard dog, and that it was tethered to the spot where it died. But it's not the actual body that's preserved, for what we encounter is a perfectly formed cast. In the 1860s, Giuseppe Fiorelli, the director of excavations at Pompeii, had made body casts by injecting Plaster of Paris into the spaces left by the long-since decomposed corpses. The hardened ash had created perfect cavities through which to pour the plaster and breathe a simulacrum of life into the dead.
For centuries, both towns lay buried and largely forgotten by the world. It was only in the 18th century that excavation work began to uncover their histories, and to piece together the extent of the calamity that had befallen them. The Romans themselves had been unaware that Vesuvius posed any danger. The tremors and earthquakes that were frequently experienced by those living under its shadow were never connected to volcanic activity. An eye-witness account by Pliny the Younger gives us a first-hand encounter with the eruption, but for many centuries that account was thought to have been exaggerated for dramatic effect.
The unique conditions that created a moulding of ash to form around the dead in Pompeii ensured that wooden furnishings were completely incinerated. In Herculaneum, where the heat impact had been much greater, flesh was burned to the bone; there are only skeletal remains. However, a much higher temperature ensured that wooden objects survived remarkably intact: the stock of furniture that's survived from Herculaneum has already been likened to a Roman Ikea, though one might argue for the higher quality of Roman craftsmanship.
Still, one sees few changes in terms of the design of a table, or a baby's cradle, which is one of the most poignant exhibits here (pictured above).
Displayed alongside the Pompeian dog, are a trestle table and a small fresco, both from Herculaneum. The carbonised table looks very similar to the one depicted in the fresco, in which an attractive young couple, both naked to the waist, pour themselves wine. Further along we find a mosaic depicting a lively dog whose collar is similar to the one worn by the dead dog. Both mosiac image and dog were found in the same dwelling.
The exhibition has been designed like the Roman villa of a wealthy family. We go from room to room, exploring the living quarters, the kitchen, the bedroom, and the beautiful frescoed garden in which birdsong plays.
Garden statuary is rather different to what we might expect in a more modern household. Romans had a rather relaxed attitude to sex and tumescent cocks are everywhere to be spied. In their humour, these Roman citizens were happy to display body parts that other civilisations have regarded as distinctly private. (Here I'll bring up just one note of irritation: the labels that emphatically insist that these displays are humorous but not sexual seem somewhat unconvincing; humour, sex and titillation have been perfect bed fellows since time immemorial, even, one suspects, among the Romans, and this determination to separate what's funny from what might also be perceived as erotic or titillating seems odd).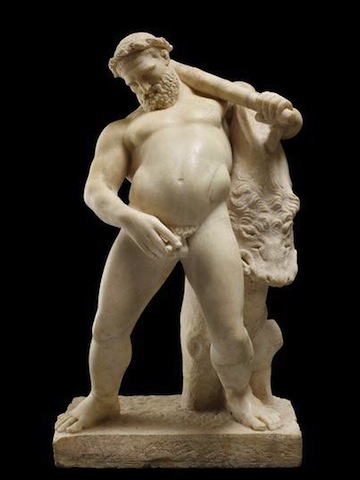 One encounter with a waving willy that lightens the mood is a small marble statue of a drunken Hercules (pictured left), the demi-god who gave his name to Herculaneum. He has obviously enjoyed a long night out with Bacchus and is now taking a well-deserved pee. Meanwhile, a tavern painting uses the humour of a cartoon storyboard to remind customers to behave.
The funny and the disarmingly moving are interweaved, but little prepares you for the emotional impact of the last gallery. In this stark, narrow room, empty except for human casts, we find the so-called "resin woman", lying prostrate with her face frozen in a rictus of agony or terror; and finally the family of four: the mother with her child in her lap, her arms raised in the attitude of a boxer due to the tightening of tendons in extreme heat, while her child rears up, perhaps to claw at the wall that's no longer there to his right. Overcome by searing heat, the father rears back, while another child lies slightly separated from the three.
It's a desperately affecting, haunting sight. But what stays with you, in fact, is the sense of a living community, the sensation of vibrant life, and how much we feel connected to these people in their ordinary humanity.
The funny and the disarmingly moving are interweaved, but little prepares you for the emotional impact of the last gallery
Explore topics
Share this article