Narrative, Royal Court Theatre |

reviews, news & interviews
Narrative, Royal Court Theatre
Narrative, Royal Court Theatre
A newly devised play by the wild man of British theatre gets mired in its own inconsequentiality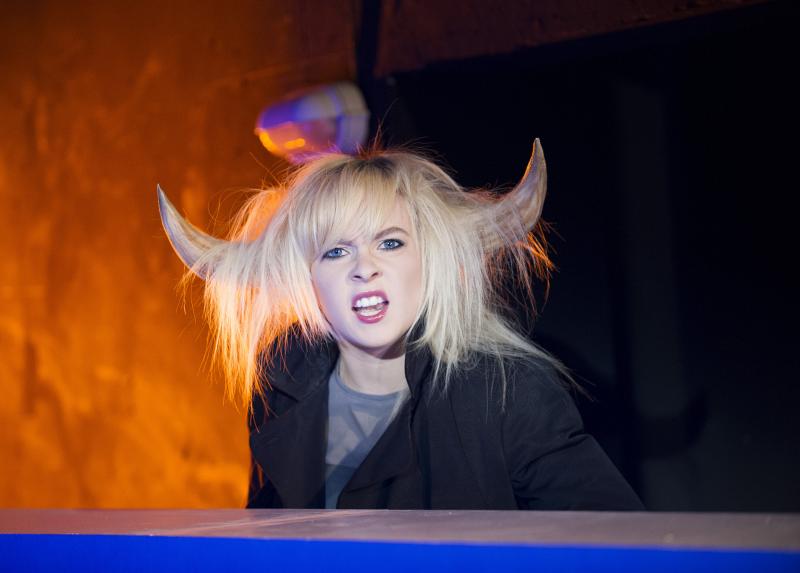 Feeling horny? Imogen Doel in 'Narrative'
Anthony Neilson is the wild man of new writing. However, this reputation, which has been provoked by shock-fests such as Penetrator (1993) and Stitching (2002), belies the fact that some of his best work, such as The Wonderful World of Dissocia (2004), exudes a warm humanity and offbeat humour. But perhaps the most significant thing about some of his recent work has been his concern with process.
Instead of writing a play and then handing it over to a director and actors, Neilson creates his stories in rehearsal. So his latest 110-minute piece, Narrative, began life with the bald title of A New Play by Anthony Neilson. During the rehearsal period, Neilson took on the role of director and — aided by the cast — created a play about storytelling and life choices. But is it any good?
None of these stories develops in a satisfying way
The evening starts off with great promise. A scene from a cave painting at Lascaux is projected: it shows a wounded bison butting a man. This poses a problem of interpretation: if the man is meant to be dead, then the story is Man Wounds Bison, Bison Kills Man. But if the man is not meant to be dead, then there is no story, only the image of a struggle.
Neilson takes this fascinating insight into storytelling and presents a series of stories, none of which has a proper ending: one couple is breaking up, a mother campaigns against a new drug that she believes is responsible for the suicide of her son David, a young woman kills her best friend in a random knife attack, an actor lands a huge Hollywood role as Elastic-man, to the chagrin of his less successful friend. But he's troubled because he has been handed a photograph of an arsehole — and he doesn't know who's responsible!
But none of these stories develops in a satisfying way, and they are all subverted by their own imploding lack of meaning. Likewise, the characters are media folk who move in the world of fiction — they are actors, directors, script writers, PR people — and they experience life as unpredictable and often meaningless. They are insecure; they need therapy.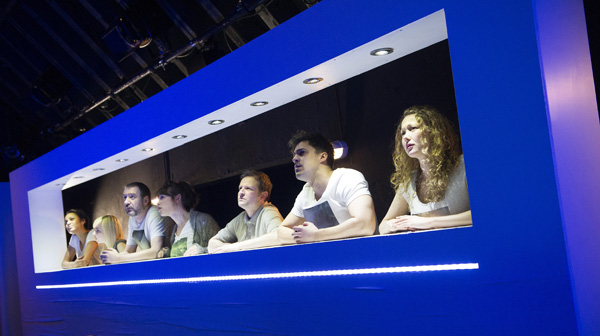 Narrative uses lots of storytelling devices: we see rehearsals for an advert for a computer Foot Mouse, songs, snatches of arguments between friends or lovers, a poem, a questionnaire, odd conversations, direct address to the audience and small mini-scenes. There is a joke about YouTube and another about Skype; there are metaphoric tales and gradually the cast don bison horns.
Yet, sadly, there's a strong sense of inconsequentiality in this anti-play. The deliberate fragmentation of the narrative and the mash-ups of the storylines become gradually more and more draining. Slowly but surely, I felt my will to live start to ebb away. Of course, there are some humorous gems buried in the dross and these cast bright beams in the gloom. But the questions about life that the piece raises are buried in the process that created them.
As the troubled and spoilt characters, the ensemble cast (pictured above) spend much of the performance wearing T-shirts with pictures of themselves as children, showing how our lives are stories in which we change but remain the same. But despite the best efforts of Zawe Ashton, Imogen Doel, Brian Doherty, Christine Entwisle, Barnaby Power, Oliver Rix and Sophie Ross, Narrative remains more of a good idea than a production that repays intense interest.
Slowly but surely, I felt my will to live start to ebb away
rating
Explore topics
Share this article