Brass Band Battle: Serbia vs Mexico, Barbican |

reviews, news & interviews
Brass Band Battle: Serbia vs Mexico, Barbican
Brass Band Battle: Serbia vs Mexico, Barbican
Two loud and proud brass ensembles tear it up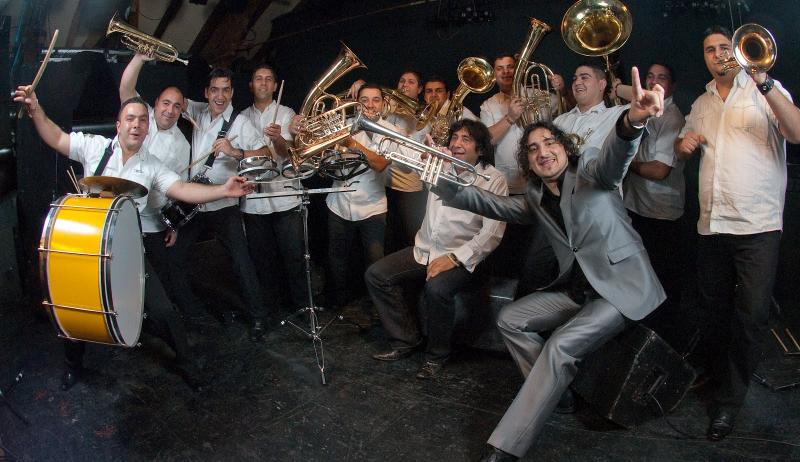 Boban & Marko Markovic Orkestar: Winner on points?
Remember the Brass Band Battle of a couple years ago? The one that pitted Romania's Fanfare Ciocarlia vs Serbia's Boban & Marko Markovic Orkestar on CD and stage? The concert at London's Koko was great fun, less a "battle" and more a good humoured showcase for two great Gypsy brass bands to tear it up.
Balkan Brass Battle was such a success it toured for two years. Then Boban pulled his Orkestar out. He has now broadened the brass battle by lining up against Mexico's Banda Estrellas de Sinaloa de German Lizarraga. Mexico and the Balkans share a popular brass band tradition that stretches back to military brass bands of the 19th century. Back in the Eastern Bloc era Mexico and Yugoslavia shared non-aligned status and Mexican movies were very popular in Tito's nation. So the idea of Mexican banda musicians and Balkan brass players lining up against one another is not too far fetched. The world premiere of this "showdown" of sorts took place in London as part of La Linea festival (see video below)
While the Mexicans' stayed in party tempo all night the Serbs' pulled out all kinds of tricks
While I have seen Boban Markovic perform countless times I've no previous experience of Banda Estrellas de Sinaloa de German Lizarraga – what a mouthful that is! – but if they're coming all the way from sunny, violent Sinaloa (one of the Mexican states most devastated by that nation's drug wars) to chilly London then I was sure they would be pretty damn hot. Indeed, it's rare for Mexican musicians to visit the UK – busy at home and in the US, they rarely have to leave for Europe.
Initially it looked a one-sided battle: seventeen Mexicans versus 10 Serbs. But, as in boxing, sheer bulk isn't everything. The Mexicans opened with a blaring party tune – banda is many things but it is not subtle – and kept this frantic, hi-energy tempo going for the rest of their performance. The Markovics' decided on more subtle tactics, debuting with a lovely piece of eerie Balkan atmospherics, Boban and Marko (father and son) trading yearning trumpet lines as their orchestra conjured up a cloud of sound that suggested much to come.
And much did come, although nothing as memorable as that opening number. While the Mexicans' stayed in party tempo all night the Serbs' pulled out all kinds of tricks including, rather predictably, playing the tunes that first became famous when featured on the soundtrack to Emir Kusturica's films Time of the Gypsies and Underground. Admittedly, these are Balkan anthems and got huge roars of approval but to this seasoned Balkan gig goer they are as predictable as hearing a blues band perform "Mojo Working".
The Mexicans in the audience loved the banda band and danced up and down the Barbican's narrow stairways and right onto stage for what has to be the biggest stage invasion this lovely but rather staid venue has ever seen. That in itself could be seen as anointing them winners but no referee was to be found and the orchestras continued to share the stage, blowing hot and loud.

Find tickets and information for La Linea Festival