Hot 8 Brass Band, Jazz Cafe |

reviews, news & interviews
Hot 8 Brass Band, Jazz Cafe
Hot 8 Brass Band, Jazz Cafe
The authentic sound of New Orleans brings sweat and swagger to London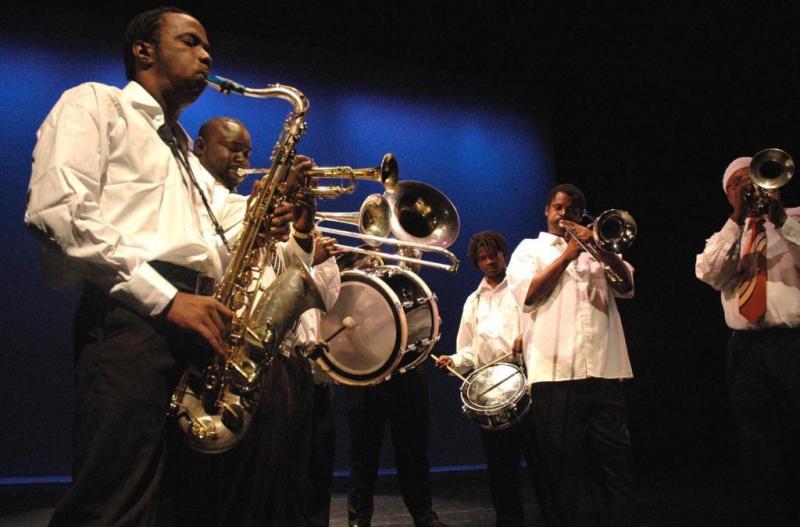 Hot 8 Brass Band: the power of the collective
New Orleans brass remains the elemental party sound of the Crescent City with groups of young black men providing a bright, swaggering soundtrack to jazz funerals and second line parades. Originally, the brass bands grew out of working men's clubs that acted as de facto unions in the then segregated south.
The likes of Louis Armstrong (and many others) got an early musical initiation via playing on the street and even today it's possible to visit New Orleans and find brass bands busking in the French Quarter or, if more established, crowding onto a stage in a local bar.
The Hot 8 Brass Band formed in the Treme neighbourhood in 1995 and had their debut album Rock With the Hot 8 released on Brighton label Tru Thoughts in 2007. The band's sound, while still rooted in New Orleans jazz, included a huge dose of hip-hop with 50 Cent and Snoop Dog tunes getting a brass reworking. Spike Lee included the band in his documentary When the Levees Broke, Lauryn Hill took the band on her worldwide tour as both support and her horn section and David Simon has featured them in the Treme TV series. Also commanding the band attention is the shocking level of member fatalities: New Orleans has the highest homicide rate of any US city and three Hot 8 members have died violently while another died of hypertension, and trumpeter Terrell Batiste lost his legs in an automobile accident.
Such tragedy might, one reasons, lend the band's music a bleak blues. Not at all. Taking the stage of a packed Jazz Café, the Hot 8 Brass Band played with incredible swagger. Their opening number employed a Parliament-Funkadelic riff about "wanting the pure, uncut funk" and straight away a damp Friday night was transformed into a sweaty celebration. Years of playing on the street ensure that the Hot 8 are both very loose and very tight: notes get punched in at just the right place.
The eight-piece band consist of a bass drummer and a snare drummer – both worn around the musicians' stomachs – who bash out a rolling clatter of a rhythm, two trumpet players, two trombone players, a sousaphone (this huge brass instrument providing the bass line – of sorts – for brass bands) and a saxophonist. And while brass bands always maintain a shifting membership the sax player, a tiny youth with long dreads, looked barely old enough to shave. Yet he could play. No doubt about it, New Orleans still produces hot musical talent.
The audience last night was very London: young and old, black and white, men and women – music lovers who like their funk greasy. While the brass players are all talented, they were rarely encouraged to solo: this is ensemble music with one player acting as MC – he chanted, shouted, sang and encouraged the audience to party - while the band blasted huge blocks of sound behind him. Anyone who has spent time in New Orleans would have recognised the elemental African-American groove, one still found on Second Line parades and behind the Mardi Gras Indians' Creole chants. If there is a future Louis Armstrong in the band – and the young dread certainly has talent in abundance – he will need to move on as this is very much music made as a collective.
The Hot 8 played for around 70 minutes then packed up their instruments on stage. A crowd chant of "one more tune" forced them back to provide exactly that. They have their sophomore album out some time this year and promise to return. Get your dancing shoes ready.
Anyone who has spent time in New Orleans would have recognised the elemental African-American groove
rating
Share this article